Watching six-year-old Olly Martin looking excitedly through the cowshed office window at milking time, it's not hard to envisage a fifth generation continuing a family farming tradition in the Waikato.
Olly is the son of Shane and Melanie Martin who are in an equity partnership with his parents, Peter and Karen, on Kereone Rd near Morrinsville.
Peter's grandfather set the ball rolling, running a dairy farm near the former Kereone School.
Son Laurie – Peter's father – came on board there in the 1950s and in 1969 started the Kereone Rd operation.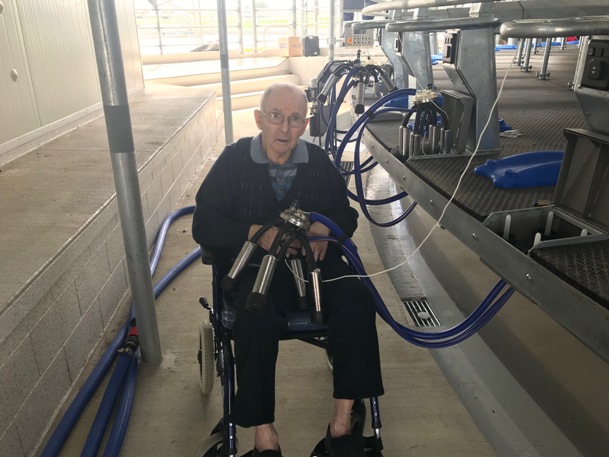 Laurie Martin, who passed away in June aged 88, in the new rotary shed.
Laurie Martin bought part of a property owned – in separate shareholdings – by former Piako MP and Government Minister (later Sir) Stan Goosman and Butland Industries (of Chesdale cheese fame).
Peter says his grandfather knew Stan Goosman, who originally ran sheep and beef on the property, pretty well.
During the Great Depression of the 1930s Stan Goosman started a transport business at Waihou, near Te Aroha, and was later a roading contractor.
He was the Member of Parliament for Waikato, Piako (twice) and Waipa through the late 1930s into the early 1960s.
In the first National Government (1949 to 1954) he held six portfolios including works, transport, marine, housing and railways.
He became Sir Stan Goosman in the 1965 Queen's Birthday honours.for political and public services, passing away in 1969.
Peter Martin attended Kereone School until age 9, completing his education at Morrinsville Primary, Morrinsville Intermediate and Morrinsville College.
Laurie Martin ran 350 cows when he came on board in 1969 and at the time was the biggest supplier to the former Morrinsville Dairy Company.
He passed away earlier this year, aged 88.
In 1975 Peter started milking on the home farm, but left in 1983 at the age of 22 and spent 19 years on a dairy farm along Matuku Rd on the other side of Morrinsville.
From a family of five – four farmers – Peter then returned to Kereone Rd.
More land was acquired over the years, now milking almost 1250 cows on 300ha.
Peter and Karen, who married in 1982, started out on the Goosman block (127ha) milking 450 cows in a 30-a-side herringbone shed.
In 2007 an adjoining 67ha property was added to the portfolio, with 240 cows milked in a separate 20-a-side herringbone shed.
Shane and Melanie came on board in 2013.
After attending Tauhei School, Shane went on to Morrinsville Intermediate and Morrinsville College.
Born in South Africa, Melanie is a proud "Morrinsville girl".
After leaving secondary school Shane became a builder, but injury saw him change to working on a sheep and beef property.
He did have some previous farm experience through a "holiday job" fencing.
Shane says he started thinking going into dairying, particularly with Melanie – then a personal assistant at an accounting firm in Hamilton – wanting to tackle a farming job with her husband.
After a "bit of scouting", his father asked the pair to come and work for him and Karen.
Shane and Melanie started out on the smaller block and two years later entered into an equity partnership with Peter and Karen.
It involves two companies – Martin Parks and Martin Dairies – dividing the land and stock/milking sheds' interests.
The "Parks" name comes from the first initial of family members – Peter and Karen and children Shane, Abbie and Regan.
Recent years has seen the operation add on a 180ha run-off at nearby Tauwhare and a lease of 46ha on the other side of Kereone Rd.
This year a spectacular 70-bail rotary shed was completed in the centre of the two adjoining farms on Kereone Rd, bringing the milking operations under one roof.
Shane says they put through 950 cows in two-and-a-half hours in a shed which blends high-tech with staff and cow comfort, coupled with top quality materials and a visually attractive finish.
The Martins supply both Fonterra and Tatua, through the previous farm set-up.
They currently employ five fulltime and two part-time staff.
Karen says the family farming partnership is now in a period of consolidation.
Although Shane chips in that a fourth "herd home" will be erected before Christmas.
The previous three went up in recent years, along with a new silage bunker.
Peter admits he "can't sit still", so retirement to the beach may be some time away.
He can claim, rather proudly, to have removed the last set of cups in the final milking in the old shed and put on the first lot in the new complex.
Peter laughs that says the 10-year plan will probably see him become "the boy" and Shane "the boss".
While not getting too far ahead of themselves, Shane and Melanie says young Olly is already "very farm-driven".
Watch this space…