Phil and Sandy Radford probably broke most of the cautionary rules around commercial risk when they began their own business in 1989.

Sandy was nine months pregnant, they had few financial resources and their software business was in a field dramatically different from Phil's qualifications as a civil engineer.

Radford Software Limited founder Phil Radford.

Yet in true entrepreneurial tradition, from those at-home-office beginnings, Radford Software Limited has grown into a success story with 27 staff and an enviable reputation for designing and developing inventory and inventory-related software applications for the horticultural sector.

Initially, Phil had just a handful of clients and taught himself to write software to meet their needs. He combined an understanding of the practical issues involved in managing and tracking crops, with the IT know-how to create custom-designed programmes.

Much of his early work was for packhouses and coolstores in the kiwifruit industry, driven by the then New Zealand Kiwifruit Marketing Board, itself a leader in using technology to track and trace pallets of kiwifruit.

Today Radford Software has the ability to track fruit from the time it's picked in an orchard right through to the moment it reaches the port for export, and growers and postharvest operators are using the systems to enhance their businesses.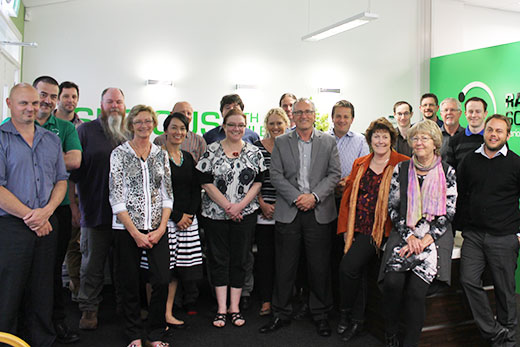 Phil Radford – centre front, with some of Radford Software Limited team.

Post-harvest operators have worked closely with Radford Software's team in the development of the web-based kiwifruit orchard management programme Grownote, which is already well used within the apple industry.

The programme provides a database to manage one or several orchards and includes an event diary for orchard tasks such as spraying, and detailed orchard information down to individual blocks.

A mapping overlay can track different orchard operations, such as the placement of pollination hives or which blocks have been picked.

Among kiwifruit orchardists using Grownote is Zespri director Nathan Flowerday.

Phil says being able to accurately record and access information about all aspects of crop management is becoming increasingly essential.

That's not only for the efficiency of the businesses involved, but also because of the food safety and traceability demands of international customers and consumers.

Apollo Apples in the Hawke's Bay was among early adopters of the Grownote system; and orchard operations manager Lachlan McKay says the programme has been very beneficial.

"For our business, the implementation of Grownote has been hugely valuable. We now manage harvest a lot better.

"Our efficiencies have improved greatly. Grownote has become a crucial tool in the growth of our business."

Leading supplier of hot house produce, NZ Hothouse, is another enthusiastic user of Radford Software. The custom-design programmes are used in its packhouse and glasshouses to track and manage a diverse range of produce dispatched to a diverse range of clients.

Recently, the Radford team has been working with Meadow Mushrooms to design and build solutions to help improve efficiencies in that business too.

Custom-designed software is a hallmark of Radford Software, which takes into account the different needs of each horticultural crop.

Phil is a strong supporter of the Zespri single point of entry marketing system and admires how the marketing company has continued to maintain premium prices for fruit offshore.

As well as designing custom software for specific clients, Radford Software is also working on a new reporting module called Insights, which it believes will have wide application for a number of industry sectors.