The Bayliss family have been dairy farming on 95 hectares midway between Cambridge and Te Awamutu since 1956, currently milking 240 cows all year round, with split calving seasons.
As well as dairy farming, from 2012, Kerry Bayliss had a stock feed haulage business, and a small number of contracting vehicles, servicing his own and neighbouring farms.
Sons, Jarred, 30, and Brogan, 26, inherited their father's "real passion for agriculture" and followed him into the family business.
"We'd grown up on the farm, relief milking and driving machinery, so we definitely had the bug in us," says Jarred.
Brogan went into the dairy farming side of the operation, enjoying working with animals, and the variety of tractor and general farm work.
"I really appreciate working outside in nature, with the views, so farming really suits me," says Brogan.
Jarred "followed the diesel", preferring working with the big agricultural machinery.
He worked for a large contracting company for a few years, driving agricultural machines, but he also owned the family contracting company with Kerry.
"In 2019, Dad was looking to step back a little, and Brogan decided to buy out Dad's share, so the business became ours, with my wife, Jess, overseeing the administration side," says Jarred.
"I saw it as an opportunity to invest in something for my future, and our family's future," says Brogan.
The newly formed Bayliss Bros (pronounced as in 'goes') have been diversifying and expanding the contracting business, and Kerry is managing the family farm.
The brothers saw a niche for a smaller, family run agricultural contracting business, covering the general Waikato, but with the main hub in the Waipa area.
"We value the relationships we have with the farms we work on, and that social aspect is just as important as being able to deliver the work in the timeframe promised," says Brogan.
While they work long, long hours from the end of September through to the end of March, they make time for their families, and slowdown in the winter months.
"I've got two little girls and Brogan has his first due any day. Spending time with our families is important to us. It's not all about money, it's about family too, and building something sustainable for their future," says Jarred.
Kerry, and Jarred and his family live in houses on farm, but Brogan lives in town.
Diversification is the way forward
"We carry out a wide range of contracting services including re-seeding, grass and maize harvests, planting and groundwork, digger and trailer work, and haulage, so our shed requires both versatile and specialist machines," says Brogan.
The brothers have bought some outright, and some on one or three year leases.
"Farm machinery is a massive investment, so we view things from season to season. Sometimes interest rates are great and buying outright is appropriate, but other years, leasing is a good option," says Jarred.
The team has expanded to a full time driver for haulage, Ryan Murphy, and two full time staff on the agricultural side, operations manager Todd Doolan, and James Greenhalgh.
In the winter months the team help out on the home farm, and have regular work with places such as the kiwi orchards, Fieldays and Revital, and farm race and trailer work with their digger.
"Winter's a time to catch up around the place, get everything in great working order for the next season, and do maintenance on our own farm," says Jarred.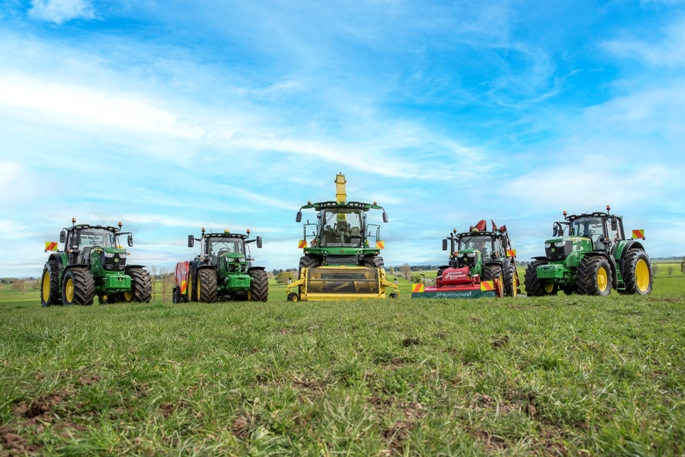 Some of the Bayliss Bros agricultural machinery fleet.
The fleet
Jarred's eyes light up at the sight of the pride of their fleet, a powerful self-propelled forager, fully equipped with precision agriculture technology. For Brogan, the addition of this GPS technology is the icing on the cake.
"Cropping and harvesting are not simply driving a tractor, there's quite an art to it, which my slightly OCD nature finds very satisfying, and the accuracy from this technology makes it even better," says Brogan.
"We use this technology on four of our machines, and once the mapping for a paddock is stored, it really increases our efficiency," says Jarred.
Modern technology also plays a role in product quality with fodder crops analysed for things like moisture content, starch content, and dry matter content as it is cut.
Machinery maintenance of a smaller nature is carried out in-house. Having grown up tinkering with tractor engines, it's all part of the job for the boys, who utilise a qualified mechanic friend to help them. Larger jobs are carried out by their local dealerships.
Brogan feels he gets the best of both worlds, as he relief milks on the family farm, and gets to drive the big machines.
With two little girls, and soon to be a third, making up the next generation so far, maybe the business Jarred and Brogan are working so hard to build for them will need to be changed to Bayliss Daughters in about 25 years.