Espalier is believed to have been started by the ancient Romans.
In the Middle Ages, the Europeans refined it into an art, and it is still a sought after look in the smaller gardens of modern times.
It is the practice of controlling woody plant growth for the production of fruit, by pruning and tying branches to a frame.
Reporoa couple, engineer Keith Nicolson and school counsellor Helen Bissett, bought their first property together in 2004 in preparation for their retirement years. The 4 hectare block offered paddocks for Helen's horses and room for UK born Keith to set up a retirement project.
The aesthetics of the varied contour and crystal clear trout stream running through the property were also selling points for the property.
"In the UK, 10 acres is considered a pretty sizeable piece of land, and with intensive cultivation, people make money from it. Whereas in New Zealand, 10 acres is considered a townie lifestyle block," says Keith.
Finding a retirement project
Keith knew he didn't want to breed, raise or look after animals, but wasn't sure what to do at first. The espalier idea "landed in his lap" when someone he knew wanted one.
"I was still living on my quarter acre block in Rotorua when I built a frame and attempted my first espalier with an apple tree."
By the time he moved to the 10-acre property, he had dozens of espaliers in different stages of development.
It takes three to four years to get an espalier trained and thriving. Keith makes his frames out of bamboo, securing the shapes with copper wire twists, which don't rust. He grafts trees using rootstock (base and root portion of a plant) from McGrath Nurseries in Cambridge, and scions (young plant shoots) from Richards Nursery in Blenheim.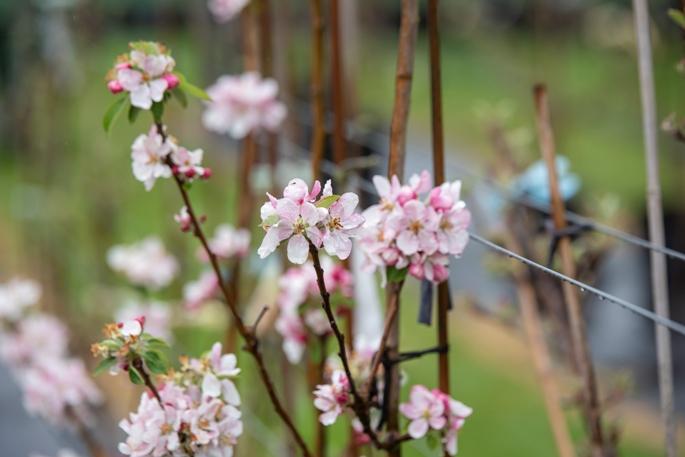 Apple blossom on an older espalier. Photo: Catherine Fry
Grafting requires a sharp knife, and the cambiums (layer of actively dividing cells in plants responsible for secondary growth) of the rootstock and scion must line up for the graft to take. The graft is wrapped in grafting tape to keeps germs out, and the top of the scion is dabbed with pine resin, which acts as an antiseptic.
"Hygiene and washing the knife between plants is important throughout the grafting process, and I've learned that through trial and error in the past."
The grafted trees are trained as soon as the graft has taken and lead shoots appear. They sit in their black polythene potting bags, with the frame pushed into the bag so training can start.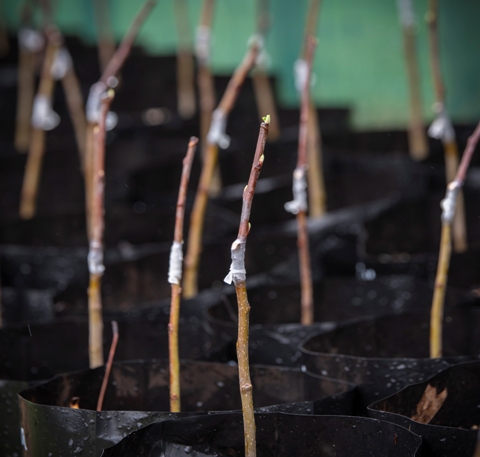 A graft that has taken, with a budding scion. Photo: Catherine Fry
Sharing the workload
Since the move, both Helen and Keith still work full time, but also run their espalier nursery, with Helen fully on board with the sales and marketing side.
"She has an encyclopaedic knowledge of what we grow, what we have in stock and where they are in the nursery. I just do the grafting and growing," says Keith.
Tauranga Chamber of Commerce member, Derek Rosier, was been an invaluable mentor to their business.
"He was excited about what we were doing, and gave us the confidence to carry on. We were offered great ideas and he suggested we set up a website and sold direct from there, and from local markets," says Keith.
Initially, only heritage apples were grown, using old favourites such as Captain Kidd, Braeburn, Lobos, Early Strawberry, Merton Russet, and Devonshire Quarrenden which dates back to 1827.
"Since then we've started pear varieties, and are trying plums for the first time this season," says Helen.
Due to customer demand, they are also experimenting with double grafting using two different varieties of plums.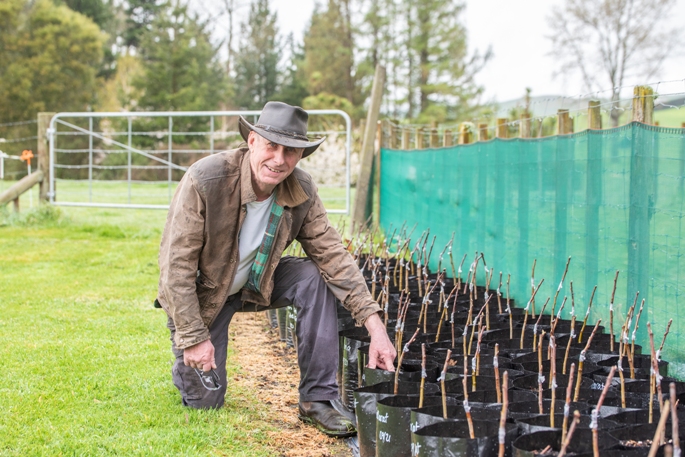 Keith Nicolson with his 2021 grafts. Photo: Catherine Fry
Seasonal maintenance
The espaliers are a seasonal process, with spraying required just before budding, after leaf fall, and mid-winter.
"We use Bordeaux mixture, which is a mix of copper sulphate, lime and water, which is an effective bactericide and fungicide for fruit trees," says Helen.
Training is constant, with espaliers at all different stages of development. Over the years, Keith has become quite accomplished at identifying fruiting buds and leaf buds. Fruiting buds are pruned and the leaf buds are the leader shoots that can be trained.
Once shaped, continual maintenance pruning encourages the espalier to fruit, so they can be abundant with fruit while only taking up a small area.
The couple describe the espaliers as manpower heavy and time consuming. They are hand hosed every day in the drier weather, with pruning and training carried out most days. Keith spends four to five hours a day working with the espaliers at the weekend, and takes a week of annual leave from his day job to do the grafting.
Both Keith and Helen are clearly doing something they are interested in and are passionate about, and now have a viable business in place for their retirement years.
www.nicolsonbissett.co.nz