Cambridge couple, Beverley and Ross Lawrenson, live on a beautifully maintained 60-hectare block on the slopes of the Te Miro hills outside the town, which backs onto protected DOC land.
Formerly a GP, Ross now works at Waikato University and Beverley works at home. The talented artist is equally comfortable when smartly dressed at one of her art exhibitions, or out in the rain in farm clothes tending to her beloved Gelbvieh cattle.
Born and raised on a sheep and beef farm in Southland, Beverley is no stranger to farm work and "was her father's right-hand man as a young girl". UK born Ross, was raised on a Sussex pig farm, but happily leaves the running of their farm to Beverley.
The couple initially bought the 25 hectare Te Miro property in 2006, acquiring a further, adjacent 35 hectares in 2019. Around 10,000 native trees have been planted on the original block, and shelter trees planted 15 years ago are providing good shade for the stock.
All the waterways are fenced and planted, paddock fences were redefined, and races laid on the older part of the property. The newer addition is a work in progress to complete the changes Beverley and Ross want.
The Lawrenson's continued to run dairy grazers for a couple of years on the initial land, and began fattening beef weaners until they saw a stand for Gelbvieh Cattle Breeders Society of New Zealand at Fieldays one year, "where some lovely cattle were on show".
"I was attracted by their great growth rates, their temperament and their beautiful colouring," says Beverley.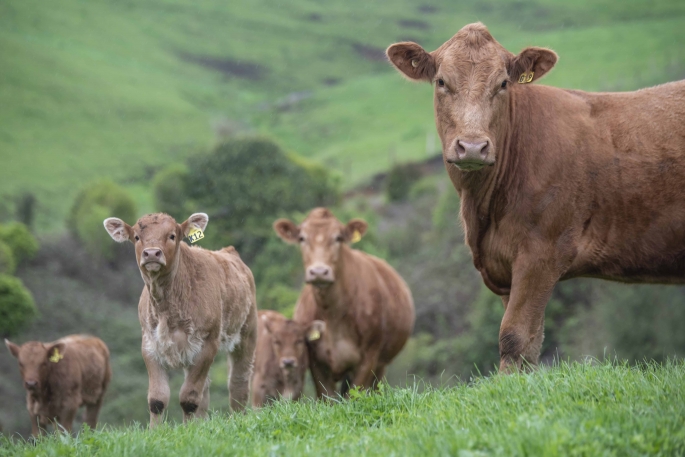 Edenbrook Stud Gelbvieh cows and 2021 season calves. Photo: Catherine Fry.
The Gelbvieh (pronounced gelp-fee) originated in Bavaria, southern Germany, during the late 18th and early 19th century, and their name means 'golden cow'.
"As with most European breeds, the Gelbvieh was originally selected for meat, milk and draught work, and they were bred for temperament to safely be milked and worked."
These traits are still valued by modern breeders, alongside the addition of genetics for natural polling. While they are now bred for their beef, their prolific milk production and wonderful maternal instincts make them great mothers. Calves often put on 1.5 kilograms of weight a day, fed solely by their mothers.
"Gelbvieh females have an early puberty and I have to be careful to keep female calves away from the bulls from five months old."
By 13 months, the Gelbvieh are ready to breed, having their first calves at 22 months and easily produce a calf each year.
In 2008 Beverley purchased eight pedigree weaners from Gelbvieh breeder Leigh Needham, and a yearling bull from breeders Sandy and Robert Mitchell, and Edenbrook Stud was born.
"I built up to 20 pedigree cows using a combination of AI and purchasing carefully selected bulls from the Society members. Since we bought the second property, I can now winter 40 breeding cows and grow on their offspring."
Beverley has four bulls, and uses them for 20 of her cows, but uses AI for the others, putting the bulls in afterwards. Since the 1970s Gelbvieh have been an important component of the North American beef scene, and Beverley imports most of her semen straws from there.
"We put easy calving bulls over the heifers and younger stock."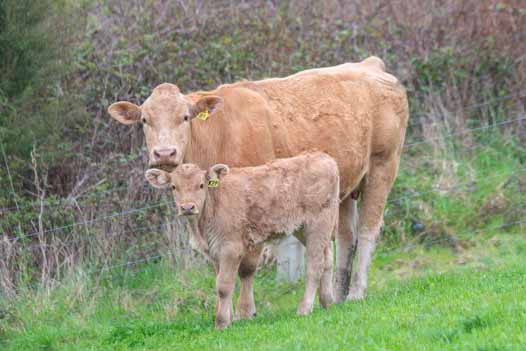 Two lighter coloured Gelbvieh. Photo: Catherine Fry
Calves remain with their mothers for around six months, reaching between 250 and 300 kilograms. Stock numbers rise to 120 animals after calving.
"My best bulls leave to become stud bulls, as they perform well when put over Angus or Hereford cows, providing hybrid vigour and improving their growth rates."
Gelbvieh are used in the Profit Maker composite cattle from Rissington.
Each season six to eight replacement heifers are kept on the farm, and the remaining heifers are sold as pedigree stock, and the remaining bulls are sold as weaners. Beverley doesn't eat her own cows, "I can't when I have so few and I know them all by name".
In her breeding programme Beverley aims for the typical Gelbvieh traits of a straight backline, deep chest, good udders and a big rump. They produce a really long, lean fillet steak.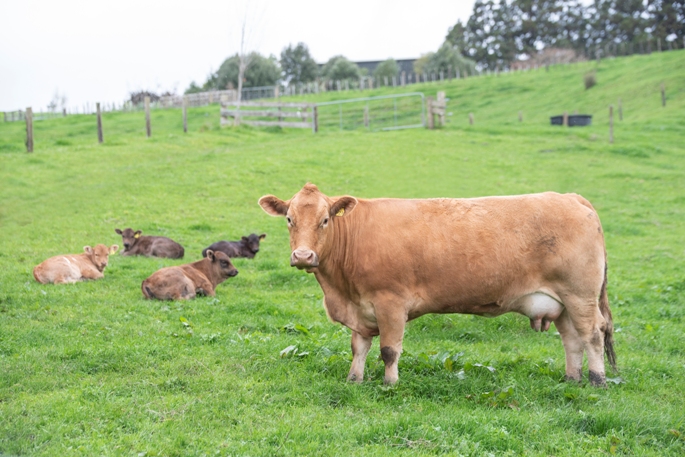 Breeding cow with the straight backline, deep chest, good udder and large rump of a pedigree Gelbvieh, with calves showcasing some of Gelbvieh hide colours. Photo: Catherine Fry
"We get all colours ranging from light creams, fawns, shades of red, brown and black. I love the dark reds, but Ross likes the black ones."
The herd is separated into small groups of cows for easy movement to paddocks of new grass. The females tend to be kept in family groups and not with cows they aren't familiar with.
All the cows are grass fed, and supplemented with bailage and hay grown on the property. They haven't had to bring in feed even in times of drought.
Having produced some stunning pedigree animals, Beverley was looking forward to showing them at New Zealand's A and P shows. Sadly, after firstly being curtailed by Mycoplasma bovis, now Covid-19 has intervened, but she hopes to be able to share her cattle with others and showcase them to New Zealand in the near future.