Service technician Shawn Luxton has been competing in the Fieldays Tractor Pull competitions since 2008. Using a tractor of his own for the first time, he was the winner of the weight adjusted class competition at Fieldays 2021.
The weight adjusted competition is more like drag racing than the usual Tractor Pull, and is generally only run at Fieldays. The tractors are weighted with sledges according to horsepower (45 kilograms per kilowatt), then it's down to a sprint to the finish line.
Shawn is a fountain of knowledge when it comes to tractors, especially John Deere ones, as he's a service mechanic for a supplier in Cambridge.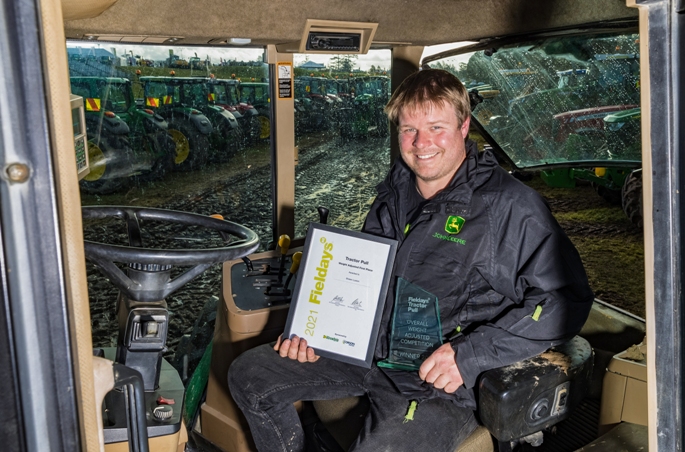 The smile says it all: Shawn Luxton after winning the weight adjusted class tractor pulling competition at the muddy and wet 2021 Fieldays. Photo: Fieldays.
Iconic tractor
He has long coveted a John Deere 7810, finally acquiring a 1998 model in April 2021.
"They're pretty iconic and prices are going up overseas, but mine's done 15,000 hours and needed transmission work, so I got it for a good price," says Shawn.
In the 90s, New Zealanders considered the 7810 to be contracting tractor, whereas on the large American farms it was considered a general purpose tractor.
Its grunty straight six cylinder, 8.1L diesel engine and 8.5 tonne weight is also ideal for tractor pulling.
"It has a good power/weight ratio, and its 170hp means it falls nicely near the middle of the 120hp and 240hp range allowed for the competition I enter.
"It can cope with a variety of conditions, holding its own with tractors above and below it in horsepower."
Shawn's 7810 needed a rebuild of its 20x20 PowerQuad transmission system, but with his mechanic skills, this didn't faze him as it's the cheapest and easiest type to work on.
"It's testament to the quality of John Deere machines, that a considerable number of parts or similar parts are still used in their machines today, and readily available."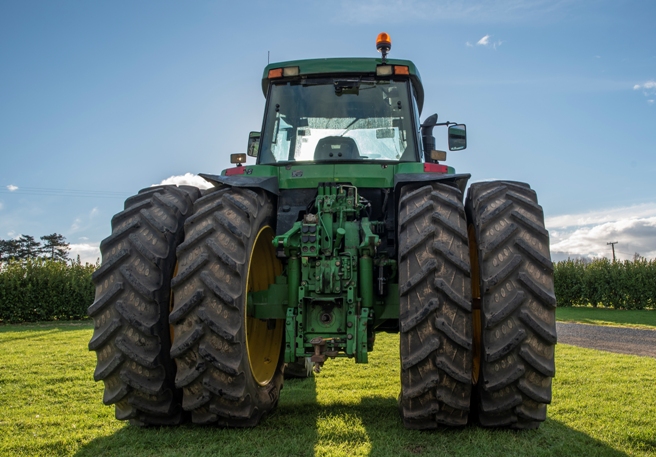 50 inch tyres on the dual wheel bar axel system. Photo: Catherine Fry.
Improvements
For the Fieldays competition, Shawn borrowed 46 inch 480/80R46 tyres for the dual wheel bar axel system. Two 600/65R28 front tyres were also required to maintain the tractor's 4WD ratio.
"I've since bought some 50 inch 480/80R50 tyres and the larger sidewall profile and flatter tyre is even better."
The tractor has a modified straight exhaust which Shawn and a friend fabricated themselves, and "it's a little louder" than he had expected!
After a little bit of painting was carried out on the bonnet and side, Shawn is happy with the condition of his 7810 – for now.