The Stubbs family have been farming sheep and beef on 664ha of steep and rolling land in the Waitomo area of the King Country, since 1915. The farm's stunning 34 million year old limestone karst landscape with dolines, cliffs and canyons above ground, and tomo and caves underground, can make farming challenging.
Today, the fourth generation of Stubbs' are running Stubbs Farm. Ben and Bex Stubbs bought the farm completely in 2006, from his parents, Alister and Ann, and uncle, Antony, who all still play an active role in the farm.
The farm runs around 800 dual-purpose ewes and 200 replacement ewe hoggets, with around 1200 to 1300 lambs born each season. They also run 40 breeding cattle and graze varying numbers of dairy and service bulls.
Ahead of the times
Currently, close to half the farm is fenced off and protected under QE II covenants. These areas are made up of original native forest and broken limestone landscape.
In the late 1970s, the family decided to reserve areas of bush during a time when government incentives were encouraging clearing to expand productive farming land.
It was common practice at the time to winter cattle in the bush, this resulted in a shockingly high loss, with the animals getting trapped in holes while searching for water.
The family have always been fascinated with the flora, fauna and geology of the area and wanted to protect the dense native bush on the farm.
"The sedimentary limestone rock has been thrust upwards by tectonic plate movement, and contains many fossils of ancient sea life. The caves hold bones of extinct birds, and the bush is home to many rare species – my father saw the value in that," says Ben.
Inspired and encouraged by fellow farmer and conservationist Gordon Stephenson, the Stubbs' started covenanting areas of land under Stephenson's brainchild, the Queen Elizabeth II National Trust.
"This was before the words sustainability and conservation were part of most farmers' vocabulary."
The Mangapōhue, Marokopa, Moakurarua and Waitomo Streams have headwaters on the property, often disappearing underground in places.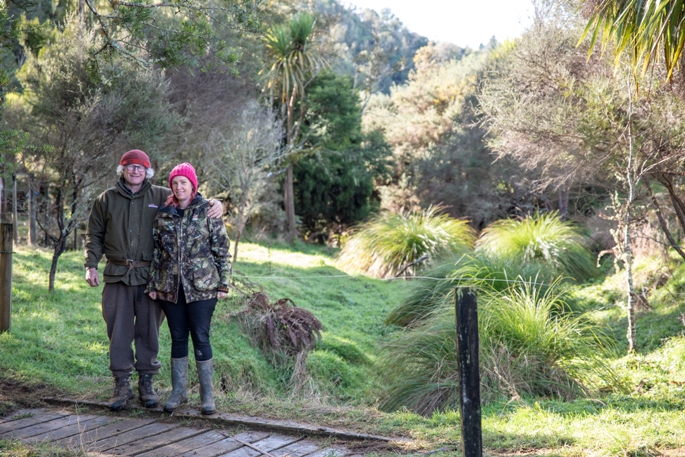 Ben and Bex Stubbs beside one of their fenced and planted waterways.
Ben and Bex believe strongly that they have a responsibility to the rest of the Waitomo Stream Catchment Group to keep their waterways clean.
"It's of massive benefit to the farm. We have cleaner waterways, and less than two per cent stock loss per annum to holes and waterways, compared to eight per cent previously."
Water is reticulated to all the farm paddocks, and stock kept safely away from the streams.
Pest control of possums, rats, goats and pigs is maintained by shooting, or trapping using bait stations. Possum fur has been a big part of the family's income over the years, with 15 possums producing 1kg of fur that sells for $100 per kilogram, compare this to sheep wool selling for $1 per kilogram at present.
"To give you an idea of numbers, we've trapped more than 1000 possums so far this year, this is equal to twice our wool cheque. Possum numbers are dropping, and that's a good sign for the bush.
"Possum fur has supported us through some hard times," says Bex.
Planting with local seed
The family have been infilling the retired areas with native planting since the 1980s. Collecting native seeds from the farm each season, and outsourcing the growing of them in the nursery of Jan Simmons, a committed conservationist.
"This means the young plants we get back are from our land, with exactly the right genetics to thrive in the ecosystem of our forest," says Bex.
Rare orchids and fungi have been found on the farm. The Stubbs family clearly love their land and want to allow it to heal, encouraging native species to come back.
"The remains of moa, takahē, kākāpō, kōkako, kiwi, weka and giant geese have all been found in the caves, so we want to see the species that are still around come back to the land. We don't want to lose anymore," says Ben.
Spotless crakes, whiteheads, falcons and rare fern birds have all been spotted on the farm.
"We've got carnivorous slugs and rare peripatus, a caterpillar-like invertebrate that is the missing link between worms and insects, and have been around for 500 million years," says Bex.
The couple actively encourage others to look at retiring land, believing the positives greatly outweigh the negatives. Thirteen new areas, covering 30ha, are scheduled to be covenanted over the next two years.
"There's money out there from many different sources, from different groups and initiatives which have vested interests in waterways, or conservation of plant and animal species," says Ben.
Both enthusiastic cavers and conservationists themselves, Ben and Bex generously share their beloved land and all its wonders with climbers, cavers, trail runners, researchers, entomologists, school groups and nature walkers. Permission is required prior to entry.