In a corner of Waikato, Pārāwera maize grower Paul Hunter has made a commitment to strip tillage to establish his maize crop. A form of conservation, Paul stopped full cultivation three years ago.
Strip-till is a conservation system that uses minimum tillage. It combines the soil drying and warming benefits of conventional tillage with the soil-protecting advantages of no-till by disturbing only a portion of the soil that the new season's maize will be planted into.
"Some of the blocks on the main farm have been cropped consecutively since the early seventies," says Paul.
For six years Paul worked with local contractor John Austin on a 12ha block to test the strip till concept. During those six years, Paul observed and evaluated the system and the results along with his seed rep and agronomist. Every season has had different challenges, but the result has always been encouraging, and has always been in the top yielding blocks.
Paul has several reasons for this move away from long-term cultivation.
"Over the years I've seen soil erosion from cultivating, with soil moving downhill on our easy rolling property. Untimely rain events after cultivation can move a lot of soil too.
"There are also some cost savings associated with establishment of the crop."
Paul grows maize through the summer and annual rye grass through the winter. This is grazed by the dairy cows he winters and the steers he fattens.
There are two types of soil, Mairoa ash and Puniu silt loam. The latter is a heavy soil which doesn't cope well with cultivation and wintering cattle. Paul decided to stop grazing on the heavy soil to try and restore it to a better state as long-term cropping has degraded the soil structure and infiltration.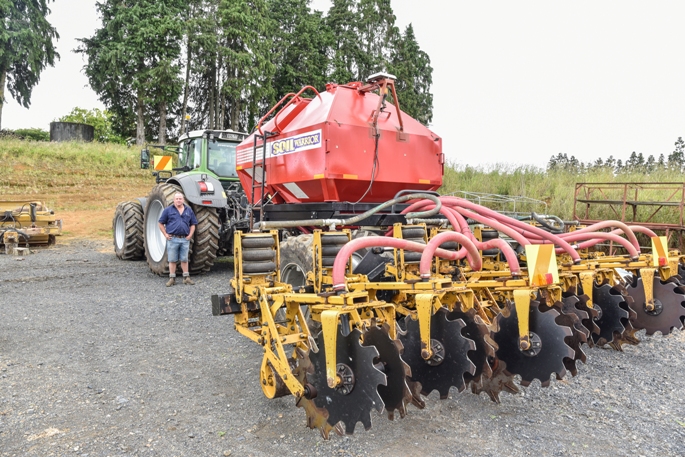 Soil Warrior strip-tillage rig for eight rows.
The strip tiller he purchased is a 'Soil Warrior', made in Minnesota, by Environmental Tillage Systems.
He thinks it fits the bill perfectly.
"It makes a strip with one big disc and two containing discs and there are no powered parts to it, which is conducive to looking after the soil structure."
The Soil Warrior also carries and bands the base fertiliser, so it is precision placing fertiliser where it is needed unlike the lack of variation when using a spreader.
To help the Soil Warrior deal with the root mass from the annual rye grass, Paul has made a strip sprayer which he uses in late July, early August (depending on weather conditions) to spray out the strips for the new seasons maize crop.
He has had special fully enclosed spray hoods made to contain the spray on the new strip. This means there is no over spray and the paddock can be used for grazing right up to a few days before strip-tilling starts.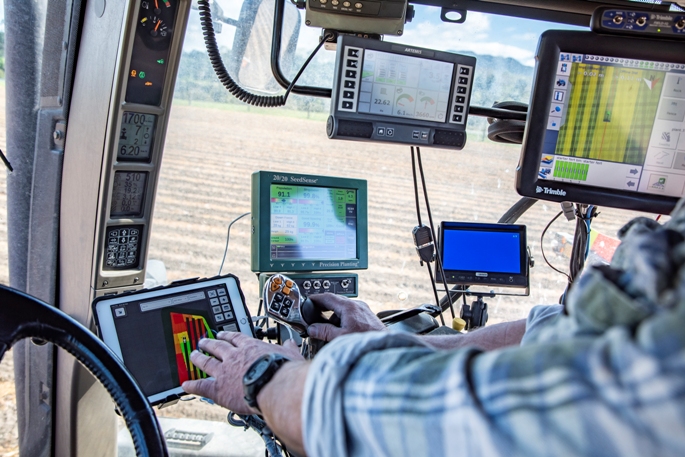 An example of the array of computer driven systems in the cab of a tractor (not Mulroy Farm).
All of this is done with the help of RTK GPS technology. Each block is mapped for guidance and this is stored in the memory and used again each year and for each activity. Maps are transferred to each tractor on USB stick.
"We can get 16 hectares ready in one day now using one tractor and one person which previously we would have needed three tractors, a spreader truck and four people."
Each year, Paul moves the strip 10 inches, ensuring the strip doesn't become too acidic, and the fertiliser is banded evenly through the whole soil profile.
Data collection from the technology includes EC (electro conductivity) maps, yield maps, smart firmers on the planter, and grid sampling. All the data is used in decision making.
EC mapping is another way to gain more information about the variability in the soil. The resulting EC maps are used to define management zones for precision agriculture applications, such as variable rate application of seed and fertiliser.
Yield maps are produced at harvest time from the harvester which also shows the variability in the yield across the paddock.
Smart firmers are electronic attachments to the planter. They are collecting data from the soil on CEC (cation exchange capacity), moisture and temperature on the day of planting, and organic matter amongst other features.
Grid sampling is where each field has been divided into one-hectare zones which are soil sampled individually. The results are then put through a computer program which produces a map of where the different rates of fertiliser will be spread and seed will be planted.
"The first 12-hectare block is in its ninth season and we are really seeing the benefits now. Soil structure is returning slowly, worm life is back and weeds are not being spread around the paddock.
"It is conserving moisture and is the highest yielding block in both dry years and good years. Two seasons ago we harvested 27.5 tonnes DM/ha of maize from it.
"That is after 48 years of consecutive maize crops!"