Raised on a Hawke's Bay sheep and beef farm, Mike Ferrier, 35, says that there was never anything else other than farming for him. "It's all I know and it's my passion."
Currently the farm manager of Three Rivers Ag, the farm was awarded the Gallagher Innovation and Technology Award at the Deer Industry NZ Environmental Awards 2021.
Three Rivers is a drystock farm east of Ōtorohanga, owned by William and Karen Oliver. It spans 980ha of steep and rolling King Country terrain.
"We run roughly a third of the farm with deer, a third beef and a third sheep, as that shares the risk for fluctuations in market prices in one area," says Mike. A contractor grows maize on 65ha.
Four hundred hectares of the 730ha effective is deer fenced because "you can run sheep and beef in deer fenced paddocks, but you can't run deer in paddocks without deer fencing". The farm is committed to installing five kilometres of deer fencing a year, and this is all based around their farm environment plan and extending the deer unit.
A love of deer
Mike has been with the Oliver's for 10 years of his 15-year career, and admits to having a soft spot for deer.
"I just love deer and I have a deep understanding of what they need and how they behave."
Mike and one other worker run the farm, which has 2000 Romney ewes. Half are crossed with black face terminals, and 450 one and two-year old dairy beef heifers for finishing.
The deer are split into 500 Eastern red hinds and some sire stags for venison, and 450 mixed age English red stags for velvet harvesting. The velvet stags are bought in as two-year olds from three local breeders, and their last velvet harvest is at 10-years-old.
Velvet is the soft growing antler that stags grow every year after their hard calcified antlers fall off. It is a highly sought after superfood and immune system booster in Asia, and has a local market as a supplement for joint health.
"It is the fastest growing living tissue on a mammal, with a growth rate of up to two centimetres a day."
Velvet is harvested from October through to February, when the antlers are surgically removed under local anaesthetic before they start to calcify. Mike is certified through the New Zealand Velvet Standards Body to harvest velvet on a vet's behalf.
He's a "little biased" when it comes to the care of the deer, putting them in the prime pasture for their 80 per cent grass based diet, and feeding them wholegrain maize and PK supplement in the winter. The farm grows 15ha of fodder crop, such as kale, for the velvet stags over winter.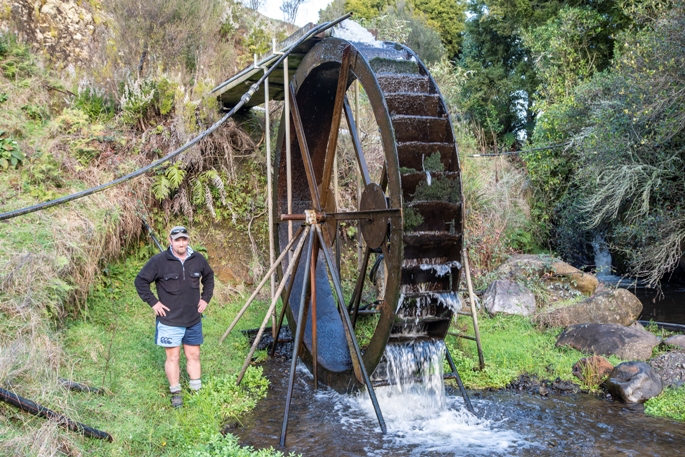 Farm manager Mike Ferrier by the four metre waterwheel that pumps water to the farm from the Waka stream. Photo: Catherine Fry.
Environment plan
Three Rivers has completed their FEP and is starting to implement it. Their practices earned them the Gallagher Innovation and Technology Award at the 2021 Deer Industry NZ awards.
All the farm water is from the Waka Stream and, back in 2013, this water was harnessed to drive a four metre waterwheel, which in turn powers a pump, pumping water from the stream to two header tanks at the woolshed.
"Power is then used to pump to six further tanks around the farm, which then gravity feed the troughs.
"We've got around 90 per cent of the farm on reticulated water which is pretty good considering its size and contour."
The judges were also impressed with the farm's environmentally conscious management of ticks.
"Several deer paddocks had a really bad tick problem and our animal health bill for tick control reflected that. Our vet mentioned using Guinea fowl."
Guinea fowl are reported to eat up to 4000 insects a day, and in Three Rivers' case, that would include other pests such as black and grass grub beetles. Since releasing guinea fowl on the farm, Mike says the number of visible ticks on the velvet stags was reduced in the hotspot paddocks.
Mike was commended for using technology for his FEP.
"As a pioneer for a DINZ pilot programme, I went completely digital, marking all our fences and waterways using Google Earth."
Their FEP covers shelter planting, riparian planting, fencing sensitive areas, and double fencing waterways.
"Deer can be very hard on steep country, and they also gravitate towards water and love wallowing in the shallows, all of which pose environmental risk."
Mike is part of the Waipā Advance Party, a P2P government funded programme, where 12 deer farmers meet up monthly for farm visits and brainstorm sessions.
"This has really given me the confidence and tools to do the environment plan.
"DINZ are also really supportive and are the best industry group I have ever been part of, which is great for the next generation of deer farmers."