Have you ever seen a police tractor cruising through your town?
The tractors are New Holland T5.120, with a four-cylinder diesel engine putting out 117hp. With hydraulic steering, air conditioned closed cabs, and 16 gears, the model was designed for general agricultural use.
"There was no shopping around, that was the brand on display at Fieldays.
"The body shape and mid blue paint colour looks striking with the police livery, but that wasn't planned," says the New Zealand Police community policing co-ordinator, Alasdair MacMillan.
The idea for a police tractor grew from a conversation between a stall holder and an off duty police officer at the 2014 Mystery Creek Fieldays.
"The officer had seen police tractors in the UK and felt it would be a great fit for the rural New Zealand police," says Alasdair.
"They aren't used to do physical rural police work, but are kept on the road, attending events all over the country as an 'atTRACTOR'."
A conversation starter
The tractors have proved to be a very successful medium for increasing dialogue between rural communities and the police.
"Children are drawn to the tractors, and are accompanied by adults, allowing the opportunity for conversation in a familiar setting with the rural community," says Alasdair.
Rural crime is often under reported, and the tractor initiative is aimed at helping to change that.
The first tractor was North Island based and was delivered in 2015. A second one was delivered to the South Island in 2018, to provide better coverage, and a decrease in time and travel costs.
Norwood Farm Machinery Specialists supply the tractors, loaning them to the New Zealand Police, and changing them every 18 months. The only costs to the police are the livery, sirens and lights.
Independent contractors transport them, and they are securely stored at Norwood dealerships when on the road. Local police keep them immaculate when they are in their care.
The local rural police are very supportive of the initiative and the tractors are in high demand.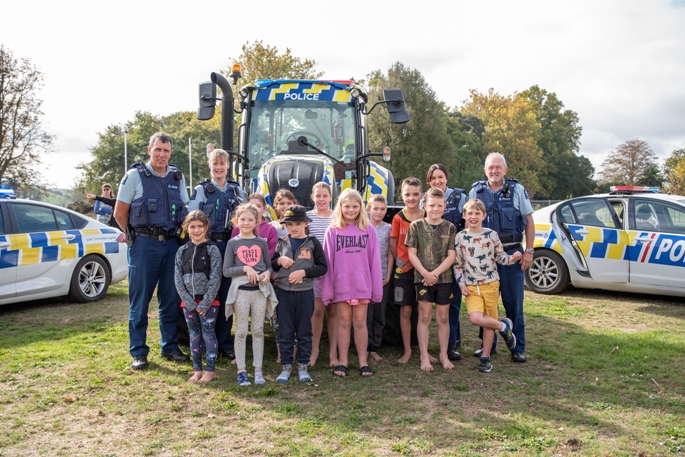 Police tractor on tour at Roto-o-rangi School. From left, Waipa school community officer - Senior Constable Brenton Irwin, Cambridge community liaison officer - Senior Constable Deb Thurgood, Waipa rural support officer - Constable Collette Corley, and Cambridge youth aid officer - Senior Constable Wayne Dunn, with Roto-o-rangi School students. Photo: Catherine Fry.