Dayna Rowe looks every inch a farmer as she drives up on her motorbike in her black singlet, shorts and gumboots.
She could almost be auditioning for a female Fred Dagg, except for the exchange of the floppy hat for a safety helmet with 'Big D's' written on the front.
As soon as she opens her mouth, however, Dayna sounds anything but bucolic. In fact, the 22-year-old comes across as wise beyond her years and extremely passionate about farming, the environment, animal care and rural communities.
It is easy to see why the Pongakawa herd manager is all set to take on the role of farm manager this month.
During her school years' Dayna found she was a natural on the stage, appearing in both dance and theatre productions as well as playing a role in the recording of an audiobook called 'They of Star'.
So upon leaving Te Puke High School it seemed like the right fit when Dayna began studying towards a Bachelor of Arts in Wellington majoring in Theatre Studies. However, after spending the 2018 summer break working as a farm assistant Dayna decided she would rather be stomping through paddocks than treading the boards, and that 1000 dairy cows made a pretty good captive audience.
"The milking shed makes a great place to sing your heart out," says Dayna. "I stopped performing while riding on the motorbike for a while though after I got a wasp sting in my mouth."
In the farming spotlight
While farming, Dayna has still managed to make appearances in the limelight. She was named the New Zealand Diary Industry Awards BOP Dairy Trainee of the Year runner-up in 2020, and this year, after taking out the regional title, she became the national NZDIA Dairy Trainee runner-up.
Dayna credits her employer, contract milker Thomas Chatfield, the 2013 New Zealand Dairy Trainee and 2016 New Zealand Dairy Manager of the Year, for entering the Dairy Industry Awards.
Dayna describes the competitions as "awesome but nerve wracking" and says she "learnt so much" about herself and farming during the process.
One of the topics Dayna says she continues to learn about is caring for the environment.
"I grew up being involved in conversations where I had to think deeper regarding our sustainability," says Dayna.
"I'm excited for future generations of dairy farmers in New Zealand as I think we are extremely capable of facilitating conversations between the right parties to create a more cohesive plan for sustainable dairying. I plan to continue to be open-minded about what we can achieve and to help to encourage people to be part of the solution."
Dayna is proud of how Rowe Farm has grown and developed over the years in a sustainable way.
The farm was the first in the region to install covered stand-off pads that can shelter up to 1500 cows. The shelters use sand as the base, not the usual sawdust, to absorb all of the effluent the cows produce, thus preventing run-off.
"The sand comes from the dredging of the nearby Kaikokopu Canal and is replaced once a year when the old fertiliser-rich sand is spread on the paddocks."
The farm is set on around 300ha of land with a high water table which has the advantage of having more moisture in summer than other land but being wetter in winter. Although the land is lined with ditches, and excess water is pumped into the nearby Wharere Canal, it is still prone to pugging so the cows are kept in the sandy-floored shelters between grazing.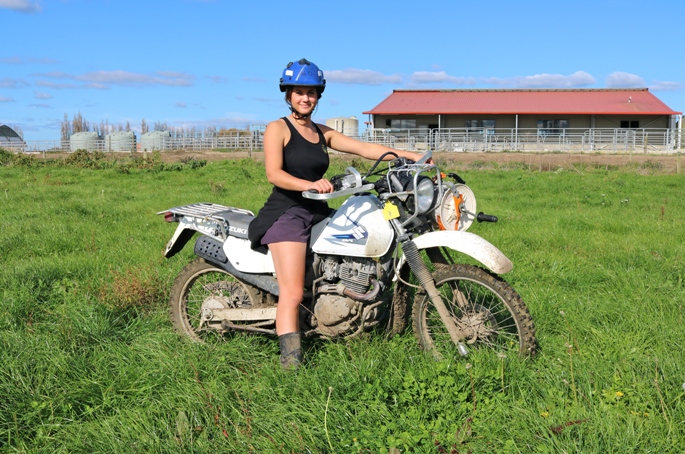 A love for animals
Calving, which takes place during the winter months, is also carried out inside the shelters. Dayna explains that as well as being more pleasant for all involved calving in the sheds reduces calf death. "It is quite common for cows to hold off calving until they are moved from outside into the shed," laughs Dayna.
"The farm also has a two metre high tank which holds 2.7 million litres of effluent from the dairy shed," says Dayna. "So we can store the waste until the water table is low enough for us to spray it out to fertilise the paddocks."
As well as where the environment is concerned Dayna feels modern farmers have an unjustified bad reputation when it comes to animal welfare.
"All the farmers I know live and work in the country precisely because they love animals and try to do the best by them."
Even before she has taken on the role of manager, Dayna has already been integral in the decision to use LIC 'sexed semen' this calving season.
"Although it is more expensive, this type of AI [artificial insemination] avoids the bobby calf issue with only heifer kiwicross calves being born."
Pru, a retired cattle-farm dog that Dayna has adopted, is further testimony to her animal welfare philosophy.
"The life of a beef and sheep farm dog is a lot harder than that of a dog on a dairy farm and these dogs are usually retired around 8 years-old – the equivalent of 60 years-old in human years," explains Dayna.
She admits to spoiling the old dog including helping her up on to the motorbike and "letting her on the bed."
Empowering women
Another thing Dayna is a strong advocate for is empowering more young women to work on the land. "Farming used to be a male-dominated field, maybe because they thought more strength was needed? But today it's okay for women to be strong and the industry is hungry for intelligent individuals and people who are good at managing animals and staff."
To encourage other young women into employment in the primary industries Dayna is set to speak at an event organised by Rural Women NZ on 'Empowering Rural Women' to be held on October 15 at the WBOP District Council premises on Cameron Rd.
The morning event, which will also include an address by the Minister for Women Jan Tinetti, will coincide with International Rural Women's Day. For more information visit www.facebook.com/rwnz.rimanui.5 or email rwnztauranga@gmail.com.