Despite having no previous farming experience, Alex and Judy Bromham bought a dairy support farm in the Kopaki area of the King Country in 2015. Five years on they are fully embracing the concept of regenerative farming for their land.
After Alex retired from serving in the New Zealand Defence Force in 2015, the couple set out to find the perfect drystock property, searching country wide and considering 200 properties.
"We didn't want a big debt and we needed to be able to manage the farm as a couple," says Judy.
Judy's father, a retired registered valuer specialising in rural properties, advised them throughout.
The 180 acre Kopaki property, with its rolling to steep contour, had seven hectares of river flats, twelve hectares of bush, a nice house, and plenty of scope for improving the farm.
"We knew we had found heaven on earth the minute we saw it," says Alex.
They named the property Heartwood Farm, after the Mapara stream which runs through the land – mapara means 'heartwood' in Maori.
The couple worked their way into farming slowly, taking advice and being very open to learning.
"We committed to a dairy grazing contract until 2018, and used the income and cash flow for improving the fencing and stock yards," says Alex.
The Bromhams decided to transition the farming system to a sheep and beef breeding operation with a focus on quality Angus cattle and sheep.
They now have 60 Angus in their herd.
After receiving advice, they bought Romney ewes, over which they use Perendale rams.
"We run the sheep as one mob mainly on the steeper ground, and following the cattle," says Judy.
Working with nature
"The first time we heard of regenerative farming was in May 2017, when we attended a talk by Dr Christine Jones in Piopio, and lightbulbs just went on for us.
"Being new to farming, we had no traditional farming education. We had so many questions as to why things were done in the way they were, and her answers just made sense."
At Heartwood Farm, their farm policies reflect their eagerness to apply regenerative principles and to look after the soil on the farm.
"The natural world is holistic and the importance of soil biology in the system is commonly overlooked," says Alex.
The couple enlisted the help of a regenerative agriculture advisor, who encouraged them to subdivide their paddocks with temporary electric fencing.
"This doubled the number of paddocks to 60 and, having combined our cattle into one mob, we can now significantly increase the time between grazing for each paddock.
"We aim to get the animals to eat a third of the pasture, leave a third – to enable it regrow quickly, and trample a third – which feeds the soil. This management practice helps pasture to recover quicker and grow deeper roots."
Tests and improvements
Deferred grazing is used to maintain pasture quality from mid-spring onwards. It involves dropping some paddocks out of the rotation to optimise grazing pressure on the remaining paddocks, so pasture quality is maintained.
"When paddocks are rested for a few months there is a succession of plants going to seed and this means better growth the following spring" says Alex.
This year direct drilling was used to sow a set-up crop with 24 species to increase diversity. The animals enjoy plants such as lupins, sunflowers, brassicas, peas, beans, and mustard alongside more traditional species.
"This also helps with weed suppression as soil is not bare, and the plants puts down deeper roots."
Taller grass shades the soil from drying out, and deeper roots hold the soil together. A natural soil ecosystem forms, rich in organic matter.
Alex and Judy are looking forward to their next soil tests and hope to see an increase in organic matter over time from the changes they are making. Their next challenge is not using supplementary feed over winter.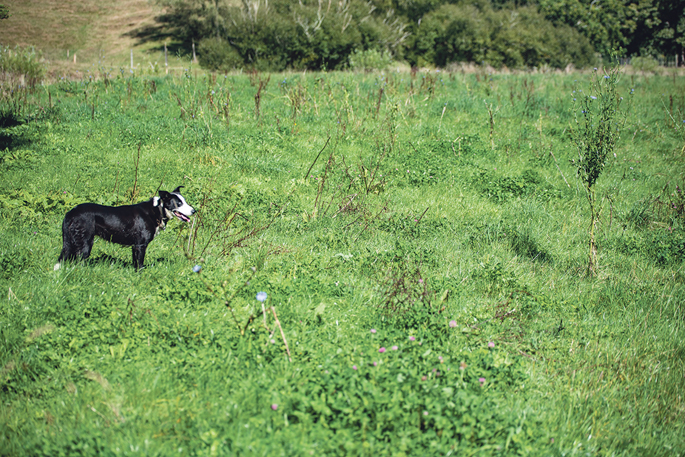 A rested paddock ready to go back into the rotation. Photo: Catherine Fry