Raglan couple, Sean and Emily Mills, were like many other New Zealanders during the March 2020 Covid-19 lockdown, forced to slow down, followed by the inevitable contemplation of what they were doing with their lives.
Sean already knew that he no longer wanted to work in real estate and the bar Emily managed closed, leaving her unemployed.
"I was scrolling through Facebook and I ended up watching a video about growing mushrooms and I thought: I can do this," says Sean.
"After that I just fell down the rabbit hole, and started reading and watching everything I could find about mycology [the study of fungi]."
"We've always loved growing our own veggies and fruit, but the procedure for growing mushrooms is like nothing we've ever experienced," says Emily.
Starting up
There was a significant financial outlay to provide the required conditions and meet the strict protocols and regulations required by MPI to grow mushrooms in New Zealand.
"In May 2020 we started the process, ordering equipment and filling in paperwork," says Sean.
"New Zealand's biosecurity rules dictate which species can be grown."
The couple grow the exotic looking oyster mushrooms in pink (Pleurotus djamor) and grey (Pleurotus pulmonarius), mainly because they can be grown where space is limited and there is huge demand for this nutritious delicacy.
Their first mushrooms were harvested in September 2020, and now Sean and Emily are full-time mushroom growers, which earns them a living wage.
The couple's property is a 101m2 four-bedroom home on 579m2, provides enough space to run the business – one bedroom is the inoculation room, another is the incubation room, and the laundry is the sterilisation room.
Precise conditions
Outside they have fitted out a small portacabin as the growing room. Each room is an important part of the growing cycle.
"In the wild, fungi have a great deal of space to grow in whatever direction needed to avoid a competing species," says Emily.
"To grow in a small controlled environment, any competing species must be eradicated."
The mushroom growing process takes eight weeks.
Bags of soy hull and sawdust pellets, and the bags of starter oat grain, are sterilised in two large pressure cookers.
In the meantime, starter cultures of the spawn are grown on agar in petri dishes, and refrigerated.
Any further work is carried out behind the closed door of the inoculation room, where a HEPA filter is running.
Growing mushrooms
Stage one is adding some of the spawn culture to a one kilogram bag of oat grain, known as inoculating. This is left to grow mycelium, the vegetative part of a fungus, nourished by the oat grain.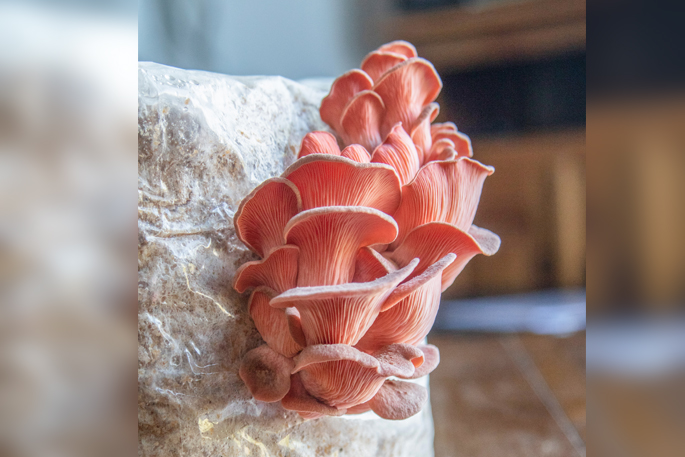 Stage two, where some of the grain and mycelium is added to the sawdust substrate bag, is also carried out under sterile conditions. Once the substrate bag is sealed, a small filter allows some oxygen in, but no microbes. The bags sit in bedroom two until the mycelium spread throughout the bags, and Sean knows exactly when to transfer them to the growing room.
"We have special hydroponic tent in the growing room, maintaining 85 per cent humidity with humidifiers, and controlling 14 hours of light using a special 6500k spectrum light bulb," says Sean.
Slits are cut in the plastic of the substrate bag and they are placed on shelves until they begin to fruit.
"The first flush is a site to behold, and further flushes are usually less extensive."
Once a bag stops fruiting, it is emptied into a composting area in the garden. Small flushes of mushrooms emerge from the sawdust for some time, before all the sawdust has been broken down by the fungi, and a rich compost remains.