It's a real family affair at a Waikato goat milking enterprise extending from a traditional dairy cow operation.
Dean and Ang Finnerty are project managers on a Waitoa property, owned by Ang's parents Ray and Arna Curtin. Dean's sister, Sharon Finnerty, is the farm manager.
Ray and Arna are long-time dairy farmers in the area, between Morrinsville and Te Aroha, with the next generation of the family looking to broaden the business.
"We always wanted to diversify," says Ang.
She laughs that they have "stolen" 40ha of her parents' 182ha dairy farm on Toa Rd to run 850 milking goats through a new 50-bail milking shed.
Ang says the move also means the dairy herd's farthest distance from their 40-a-side herringbone milking shed has been "taken away", making for a more compact cow farm.
Projects on the go
The design and construction of the goat milking shed and barn is based on that used by Dean and Ang in a similar project of their own.
They own a combined 138ha on both sides of nearby Paeroa-Tahuna Rd, with 700 milking goats on 38ha.
On the other side they milk 285 cows in a 32-a-side herringbone shed.
Dean and Ang bought the properties eight years ago.
They had been thinking about moving into dairy goats "for years", with Ang's brother part owner of a goat farm.
The Paeroa-Tahuna Rd goat milking operation became a reality in 2020.
Ang says the Toa Rd shed is a mirror image, with an emphasis on efficiency.
"Two rows of cups means we cut milking time by putting through 100 goats at a time," she says.
A smooth entry and exit is also key to the Toa Rd design, again modelled on the Paeroa-Tahuna Rd set-up.
"We used ideas from the other farm, plus a couple of small tweaks," says Ang.
The milking shed on the Toa Rd property is built on the site of an old cowshed, which Ang says "wasn't worth saving" for the new venture.
She says the opportunity was identified three years ago, with capacity for 1200 goats. "A thousand is the ideal."
Efficient system
Physical work started on the property last June, with the first pick-up in September for NIG Nutritionals at Paerata.
The company tanker visits three times a week, with the milk destined to become infant formula.
Temple Water Technologies provided an "Iron-Man" system at the Toa Rd property.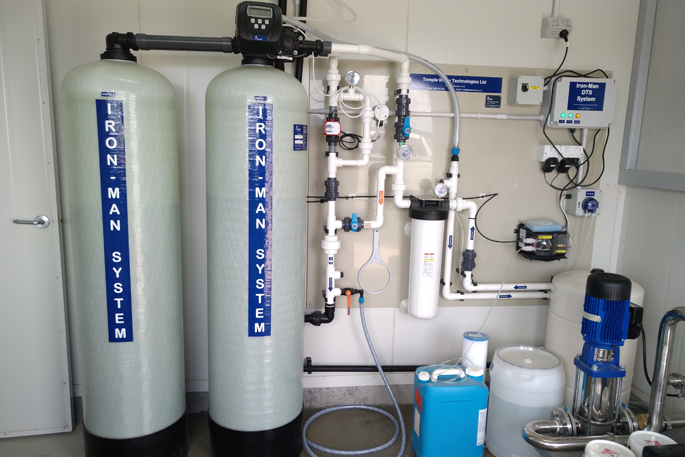 Business development manager Jenny Caicedo says this is configured with a dual alternating tank Ion exchange system and a colour removal unit. The process removes soluble iron, manganese, and hardness minerals.
Jenny says the system uses salt to automatically regenerate the ion exchange media in conjunction with the company's proprietary media cleaning system. This system continuously produces treated water, even when regenerating, ideal for directly treating the bore to the farm or house supply.
"Because the bore water had a high level of tannins, we added an Iron-Man colour removal system," says Jenny.
"With this unit, we achieved crystal, clean water."
Indoor herd
Associated with the Toa Rd milking parlour is a 70m x 65m covered goat barn, with pens and feeding units.
The goats literally walk out of the barn and into the milking shed, says Dean Finnerty.
He says the roof, supported by treated wooden poles, has skylights in every bay to give the goats well-lit surroundings in natural light.
"It's warm in winter and cool in summer," says Dean.
Dean and Ang say they were advised that milking goats run outdoors are more subject to worms and sore feet than those housed in a barn.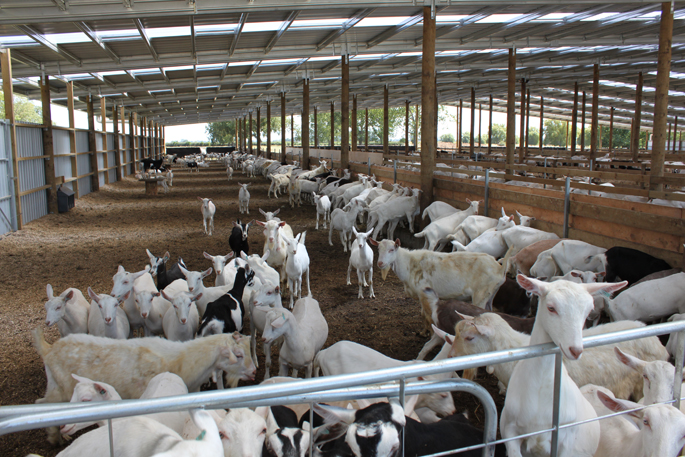 Milk production is also reportedly higher from an indoor herd.
"Most milking goat herds are now kept housed indoors," says Dean.
The goat barn has three concrete laneways for feed-out purposes, with maize and barley dished out into troughs in front of the pens.
Crushed sunflower seeds and pellets are also fed individually in the bails of the milking shed.
Ang says the herd is predominantly Saanen, a white Swiss breed, and British Alpine.