Shipments of phosphate rock into New Zealand are being criticised for being sourced from the disputed territory of Western Sahara in North Africa.
Mount Maunganui-based Ballance Agri-Nutrients have sourced the material from the region since 1989. Their first shipment for this year carried approximately 56,000 mega tonnes of phosphate rock mined in the area, with an expected annual amount between 150,000 and 200,000 metric tonnes.
­­­­Western Sahara is a disputed territory in Northern Africa. Morocco has governed the territory since 1975 when Spain gave up colonial rule.
The Polisario Front, a national liberation movement representing the indigenous Saharawi people, are seeking independence and consider Moroccan rule an invasion of their territory.
The United Nations established a mission toward a referendum regarding independence in 1991, but that is yet to materialise. A ceasefire between Morocco and the Polisario Front that had existed since 1991 ended in November.
This conflict and the disputed sovereignty of the area in which the phosphate rock has been mined has led to the popularisation of the term 'blood phosphate'.
Crucial to Kiwi agriculture
Ballance strongly oppose this phraseology, labelling it highly emotive and disrespectful. They insist the terminology oversimplifies a complex topic.
However, Mike Barton, of Western Sahara Campaign New Zealand, stands by the term.
"We said plunder and war booty – that is the reality," says Mike.
"I think the companies involved have always had a bit of a corporate guilt about things. I think they know they are on shaky ground."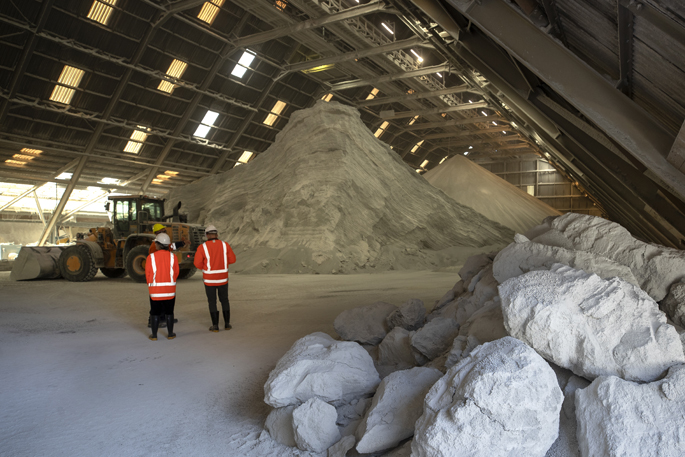 Phosphate rock is used in superphosphate fertiliser and is considered crucial to New Zealand's agricultural needs.
Ballance suggest agricultural production would be halved without it. Due to its physical and chemical properties, no other alternative is said to offer the same performance as Western Sahara rock.
"It's got a high phosphorous content, which is what is desired," says Mount Maunganui site operations manager Charlie Bourne.
"The superphosphate, what we produce, is best for New Zealand. It's also really low in cadmium. There are other sources of phosphate but they have a high cadmium count.
"We could source from other sources but what would end up happening is we would poison the soil.
We would not see an immediate impact now, but 300 years from now you have pretty much killed all your kids and grandkids."
Keeping out cadmium
Kamal Fadel is the Polisario Front representative to Australia and New Zealand. He suggests the claim New Zealand cannot source from elsewhere is baseless, citing an example of three Australian companies who stepped away from phosphate rock originating from the Western Sahara region.
"They have been really intransigent and strong-headed," says Kamal.
"These companies are just looking at it from a profit point of view and have not taken into consideration the legal aspects or the moral, ethical aspects of this trade."
It is a claim disputed by Charlie.
"We pay a premium for the Boucra rock because of the low cadmium. So we could bring in something with a high phosphate content, but it would have that hike in cadmium."
Ballance communications advisor Megan Clarkin reaffirms that the cadmium issues remain a key reason behind their continued use of rock sourced in Western Sahara.
"That's the difference – cadmium builds up over time. It doesn't go away. That's what is unique about New Zealand," says Megan.
"It is a tricky thing to get across because other places don't have the cadmium issue New Zealand has, so for them they can change their source. We're always looking at other sources and other ways from around the world but that cadmium content is an issue."
Seeking a solution
Ballance ensure they are working in conjunction with a United Nations framework for operating economic natural resources activities in a non-self-governing territory, such as Western Sahara.
The framework insists that operations should provide direct and indirect benefits to inhabitants of said territory, including economic advancement.
Ballance are keen to point out that there are thousands of Saharawi who live and work in Moroccan-administered Western Sahara.
"While all parties seek a solution, the protestors don't appear to consider the risk of ceasing trade to the livelihoods of the Saharawi who are employed by OCP," says Ballance head of communications Aimee Driscoll.
"It is not clear how the loss of jobs in a volatile part of the world would progress the issue of Western Sahara's political status."
Ballance currently source their phosphate rock from mining company Phosboucraa, a subsidiary of Moroccan fertiliser company OCP.
OCP claim all profits from the operation supplying New Zealand's phosphate are reinvested in the region.
But Kamal disputes that claim, suggesting money will go toward the Moroccan treasury and does not benefit locals.
"If you talk to people inside Western Sahara itself, they will tell you they have no benefit – they live in poverty," says Kamal.
"Our people have suffered a great deal from oppression, occupation and they live in refugee camps in dire conditions while you benefit from our resources."