On a Thursday evening in Mount Maunganui, a group of 20 or more surfers head into Shark Alley hoping to catch a wave.
After a decent paddle and a few wipeouts, it's back on dry land for a mean feed and a yarn by
the barbecue.
A typical sight in this beachy suburb. But what unites this group of surfers is their work in an occupational field that forms part of Aotearoa's economic backbone. Farming and agriculture.
Surfing for Farmers is the brainchild of Gisborne native Stephen Thomson. Inspired by the documentary 'Resurface', detailing an Iraq war veteran's recovery from depression through surfing. Thomson wondered if a similar method could have a positive impact on New Zealand's farming community.
After dealing with farmers regularly through his work on the East Coast, Thomson was well aware of alarming statistics regarding mental health in this often overlooked community.
Thomson decided that "the ambulance is at the bottom of the cliff" and it was time to take action.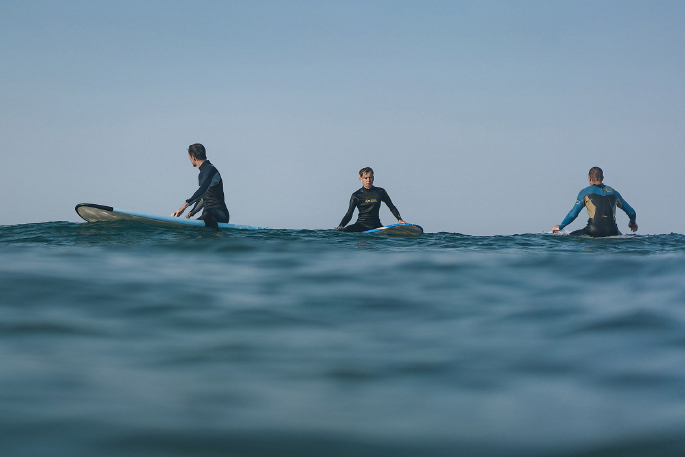 He started with sessions in Gisborne back in the summer of 2018.
Three summers later and Surfing for Farmers has spread to 16 locations across the country.
In the Bay of Plenty, farmers and growers are well covered. Surfing for Farmers run sessions along the coast, at Waihi Beach, Ohope, and, of course, Mount Maunganui.
The sessions at the Mount are run by head coaches Geoff Waite and Sarah Hickey, both of whom work at Surfing for Farmers sponsors Ballance Agri-Nutrients and Zespri International respectively.
Surfboards and wetsuits are provided by Andy Collins from Mount Surfing Academy. His payment is stunning views of the ocean surging between Motuotau and Moturiki, the two islands which flank Shark Alley.
For the coaches, it is equally rewarding.
"I love being in the water and I love surfing," said Waite, a commercial analyst at Ballance.
"It's rewarding when you see people getting up for the first time and really enjoying themselves."
Debbie Puchner, a Kiwifruit grower from Pukehina, is grateful for the coaching on offer.
"I never thought I would actually be able to get on a surfboard.
"It is really helpful to have people out there to help you on the board or to tell you which wave to catch. That also gives you encouragement to give it a go."
Debbie loves the 'personal challenge', but also appreciates the bringing together of an often
isolated community.
"Absolutely. There are a few families from Pongakawa and kids who went to school together so it is quite good to reconnect."
Waite also believes this connection is one of the reasons why Surfing for Farmers is so successful.
"In a lot of the smaller towns, the rugby club is shutting down, the small towns are getting smaller. So that ability to connect with people is getting harder."
For Dayna Rowe, a dairy farmer from Pongakawa, farming and surfing is a family affair. She is due to take over the family farm next season but at present, her father, Grant, is the boss.
Getting out on the board with her dad helps to break up that working relationship.
"Me and my dad love being out on the water and it's a really cool opportunity to get off the farm."
"We cheer for each other when we get up and have a good laugh when we fall down. It's cool because he's my boss as well. It's nice to just have a relaxed relationship and environment."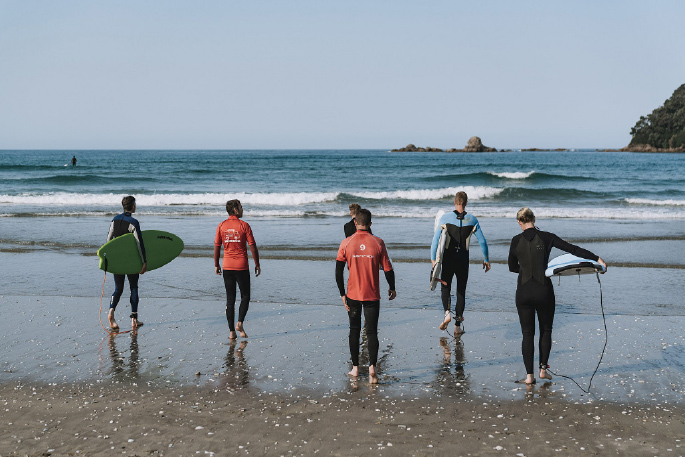 The surf presents escapism from a rewarding but often consuming line of work, regardless of who your boss is. The worries of a hard-working day are put aside when trying to tame the sea.
It's something head coach Geoff believes is of paramount importance.
"Dealing with farmers and hearing a lot about what's going on through the work that I do there's a lot of pressure on farmers at the moment.
"There's a lot of information and things that help as far as mental health goes but this actually gives them something to do."
Dayna clearly agrees.
"Surfing is something that you have to focus on and think about so you fully figure it out," Dayna explains.
"Anything that's happening on the farm, which can be quite hard because we are living there, working there, it's always there. So it's a nice couple of hours to just think about something else."
Getting out on the water is keeping this community talking and providing a buffer for a difficult work/life balancing act. In the process, Surfing for Farmers is helping the mind, body, and souls of an essential workforce in the Bay of Plenty region.
The sessions took a break for Christmas but nothing will stop these farmers from getting back
out in the line-up in 2021, Dayna and her old
man included.
"We will definitely be back in the new year."
The camaraderie of a shared goal, socialising with like-minded people, and a brief vocational vacation. It's a serotonin rush in the sets.
The smiling salty faces on show in the Mount made that clear.
To learn more about Surfing for Farmers you can find them on Facebook at: www.facebook.com/surfingforfarmers/