New Zealand dairy farming is leading the world in emissions efficiency by producing the lowest amount of greenhouse gas emissions per kg of product, according to a recently released study.
The results show that New Zealand's carbon footprint is the lowest compared to 18 other countries, and is 46 per cent lower than the average score.
The research analysed 55 per cent of global milk production by including major milk producing countries.
Commissioned by DairyNZ, the study was independently produced by AgResearch and peer-reviewed by an international specialist in Ireland
DairyNZ chief executive Dr Tim Mackle says the research plays a key part in understanding how New Zealand dairy farms stack up and informs how farmers can be even more efficient.
He says there is a huge amount of work underway to support farmers to reduce emissions.
"New Zealand dairy farmers' hard work and investment over decades has contributed to this world-leading status. Our grass-based, outdoor grazing system is unique globally and is critical to our success.
"Because we are already so efficient, there is no silver bullet to even greater efficiency. Significant investment in research and development is needed to find solutions.
"Our sector is committed and has research underway. We need Government support as we adopt new knowledge, practices and technology."
The results
The carbon footprint of each country's farming industry is calculated by dividing the total on-farm emissions by the amount of milk produced.
New Zealand is the most efficient producer at 0.74 kg CO2 emissions per kg of fat and protein corrected milk.
Uruguay is the next lowest at 0.85, followed by Portugal at 0.86, Denmark at 0.9 and Sweden at 1.
Peru produces the most emissions among the countries studied at 3.29 kg CO2e per kg FPCM.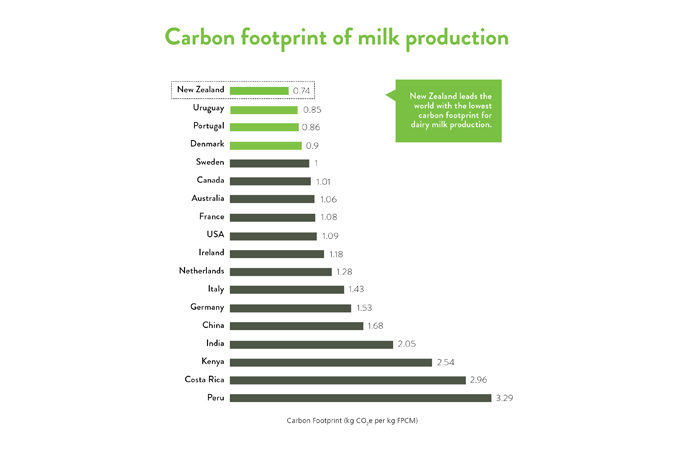 From the researchers
AgResearch scientists Andre Mazzetto and Stewart Ledgard led the literature review study, which took six months.
Dr Mazzetto says the researchers have converted multiple studies about on-farm greenhouse gases emissions from the focus countries, so they're all in-line with International Organisation for Standardisation. This means the results can be directly compared.
"Every time there is a new paper published, a comparison table is always produced – but direct comparisons are complicated because the authors use different approaches.
"The difference with this study is that we have extracted the information and have performed recalculations to make them all as directly comparable as possible, because some countries still use different factors that couldn't be accessed by the review.
"I'm not aware of a study on this topic that has done this before."
Comparing countries
While researchers expected New Zealand to place well, they weren't certain it would be the most efficient when compared to other countries, says Dr Mazzetto.
"One surprise was Portugal – we didn't expect it to have such a low carbon footprint.
"When you think of the big players in the dairy industry, Portugal isn't normally a country that comes to mind. But it seems the country has a very good system in place, proven by their small carbon footprint."
Potential variances
According to the study notes, Uruguay's result has the potential to increase.
"The study we analysed from Uruguay says it considered all emissions from CO2 sources, including the production of fertilisers and feed.
"But, the results were very low in comparison to countries in similar farming situations.
"If such factors were not considered, Uruguay's result is likely to only rise from its score of 0.85 to 0.9."
Farmer feedback
Waikato dairy farmer and climate change ambassador George Moss says pasture-based farming and genetic improvement are important components in New Zealand's positive result.
"Grass-based farms and sophisticated animal breeding are key components to our low carbon footprint but there is more we need to do as we play our part in addressing climate change," says George.
"We are world-leading at emissions efficient milk production, but we must continue to adapt and adopt new technology and knowledge.
"Our global competitors are never far behind, plus we know it is the right thing to do for our environment, our consumers and humanity as a whole."