The life of the world's first woman's forestry graduate, Mary Sutherland, has been documented by a Bay of Plenty author in a recently released book.
It was a journey that started back in 2009, when author Vivien Edwards was taking a stroll through the Redwood Forest at Whakarewarewa. She came across a plaque commemorating Mary's life and work and was immediately taken aback.
As a former contributor to the now defunct New Zealand Forest Industries magazine, the idea of a woman working in the New Zealand forestry industry nearly 100 years ago seemed novel.
"Not that many women work in forestry today," says Vivien. "I thought: 'how on earth did a woman get a job with the state forest service in 1923 and stay there until 1933?' It started from there."
Gathering information
Vivien then embarked on a decade-long process endeavouring to discover as much as she could about this trailblazing woman.
Finding the information needed to put the book together was a long but rewarding process for Vivien.
Vivien chased down leads across New Zealand and the United Kingdom to tell the story of a remarkable woman. She found source material from various locations including the Scion Crown research institute in Rotorua, Archives New Zealand in both Auckland and Wellington and the New Zealand Institute of Forestry.
Many of these records were uncatalogued, posing another problem for Vivien, but undeterred, she persevered and was rewarded with memos, letters, articles and reports which told the story of Mary's life in forestry.
"Each time I found something it was quite exciting. I've sort of lived with her for quite a while."
Mary graduated from the University of North Wales, now Bangor University, in the United Kingdom in 1916, the first known woman's forestry graduate in the world. She immigrated to New Zealand in 1923 and went on to work extensively within the State Forestry Service across Aotearoa.
BOP background
Mary worked with several species of tree in the Bay of Plenty area including kauri, redwood, Douglas fir, and larch, radiata, and ponderosa pines, among others, in locations such as the Kaingaroa Plains, Waiotapu and Whakarewera.
Her responsibilities in silviculture included, but were not limited to, managing and utilising native forest, nursery plantation research, studying seed collection and thinning methods, conservation of native bush, taking a lead in afforestation, studying growth habits and aiding improvement of the national 'forest consciousness' by educating children in schools about forestry and its importance.
Managing to do all of this amongst a near universal male workforce, in a country where she was not native to the culture, only further endorses the work Mary achieved. Whilst this often proved a barricade to her work she also won over plenty of sceptics. The rangers at Whakarewarewa even endearingly dubbed her 'our lady ranger'.
Unfortunately, Mary twice lost her job due to retrenchment, once in the United Kingdom in 1921 and again in New Zealand in 1932. On neither occasion could it be claimed her expertise or knowledge of forestry could be to blame.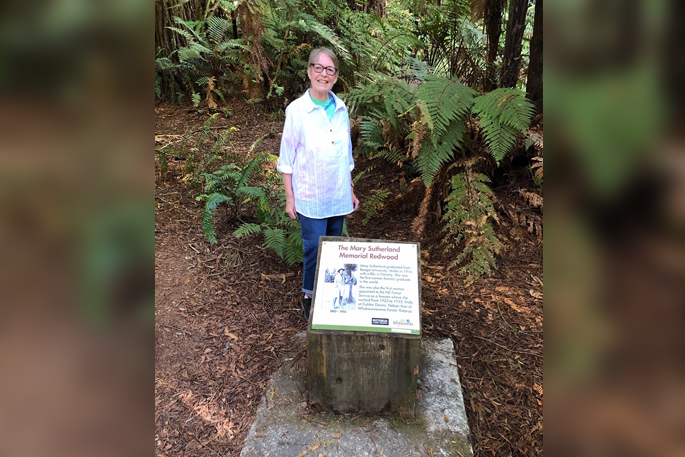 Mary's Legacy
Mary went on to become a botanist and farm forestry officer whilst travelling extensively, including trips to Canada and Norway.
All the while she championed higher education opportunities for women. The New Zealand Institute of Forestry has awarded the Mary Sutherland Scholarship since 2011, and a precursor to that award has been handed out since 1957. Bangor University introduced the Mary Sutherland award in 2016, one hundred years after her graduation from the same institution. According to Vivien, a student from Bangor has even visited the plaque to pay homage to this forestry trailblazer.
Mary became ill during a field trip to Otago in 1954 and passed away the following year. However, Vivien is in no doubt about the legacy of a woman she has grown to know during her years of work on this book
"Mary was conscientious, she was a hard worker and she was a conservationist," Vivien says of a woman she has gotten to know well over her years of research and writing. "She was really interested in not just her work but interested in what was going on in the world. She was resilient.
"Twice she lost her position. First time in Britain and then in New Zealand. She picked herself up and got on with it."
After the impactful challenges of 2020, Mary Sutherland exemplifies the spirit and ethos needed in hefty supply for 2021.
A Path through the Trees was published in December 2020 by Wrights Hill Press, with thanks to the Stout Trust and the New Zealand Institute of Forestry, and is available on the Wrights Hill Press website at: www.bookpublishing.co.nz