Retired school teacher, Ken Haine, developed a love of old machinery from a young age. While growing up on a dairy farm until he was 12, he had plenty to do with tractors.
Today, his interest has expanded and he owns 15 tractors, plus two fire engines and several cars, most being pre-1948.
"It fascinates me how these machines were part of people's lives at a time where their very survival depended on them," says Ken.
Bought in the 1980s, one of Ken's more unusual machines is a 1950 diesel, agricultural model of the Series 3 Field Marshall. It was imported from Gainsborough in the UK to Canterbury and has some unusual features setting it apart from other tractors of that era.
"It was used for cropping and was expensive to buy.
"Cropping was more lucrative than farming in the South Island and the farmers could afford to maintain it."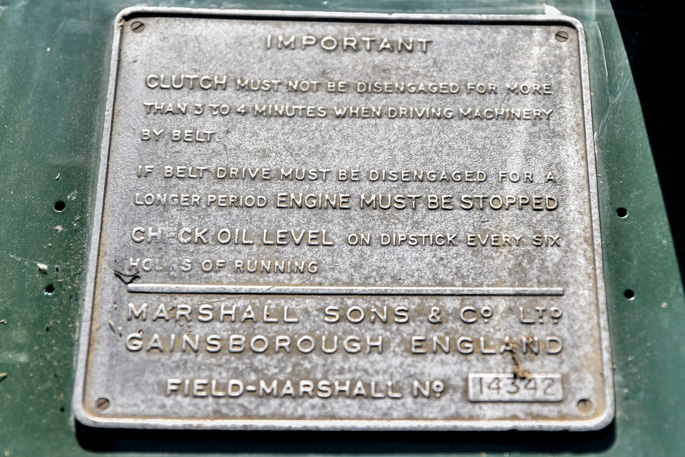 Weighing more than four tonnes and with 40 plus horse power, the Series 3 was a favourite with the early contractors who moved from farm to farm towing all their machines, trailers and even baches.
The single cylinder, two stroke engine runs horizontally down the length of the bore, with the exhaust positioned vertically, helping the two stroke engine run better.
The large dome on the top houses the air filter and a radiator runs down each the side of the bonnet, rather than one at the front.
The six-speed manual gear box has two sticks and is shifted sideways and not front to back.
"With left foot braking and right foot clutch control, driving it can take a bit of getting used to!!"
Ken grins when he describes the starting method, one that is far removed from today.
"It uses a wick and cartridge start, and is one of the last tractors to need its engine heated to start."
A lit wick inserted into the cylinder head, heats the metal to the point at which the fuel can ignite. A blank shotgun cartridge had to be fitted into a breech on the intake manifold, and covered with a steel cap. Once the engine was hot enough to run, with a strong blow from a hammer, the cartridge would be fired into the engine, hopefully creating enough detonation to move the piston through its first full stroke.
"Once you've heard one running, it's a very distinctive sound, that only a six litre, two stroke engine can make."
Ken's Series 3 Field Marshall is still driven today as he is an active member of the Waikato Vintage Tractor and Machinery Club Inc.