The hard-working Kung family are known in rural Waikato for their dairy farming and more latterly, their strawberry ventures.
Raj, 40, is the youngest son of Harkrishen, 84, and Satwinder, 64, and is taking the lead on the family's second strawberry endeavour, Strawberries on Seddon.
Raj and his two brothers Kriss and Khush, and sister Narinder, were born and raised on a dairy farm in Gordonton, but Raj moved to Auckland for three years to work in the banking sector.
The purchase of a second family dairy farm brought him back to the Waikato, where he managed the farm for 17 years.
As Harkrishen neared retirement, the family farms were sold and they invested in a Hamilton liquor store.
In 2018, they purchased 1.6ha outside Gordonton, with the intention of building a beautiful family home for Raj, his parents and his three daughters, Jasveen, 12, Raveen, 11, and Savreen, 6.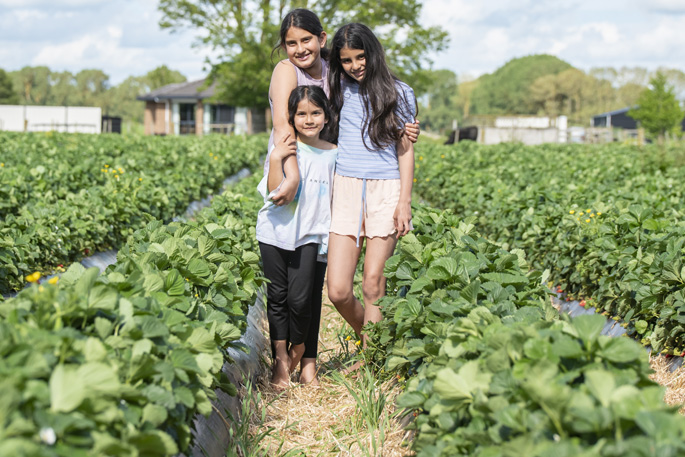 "The plans were going slowly so my mother suggested we used the land for strawberries in the meantime," says Raj.
The family grew strawberries for a couple of seasons on another property, so they set up again for the 2019 season on around 1.5 acres of the land.
Raj, his parents and daughters live in a living space attached to a large shed on the property.
COVID challenges
Raj was gradually moving into real estate, but was curtailed by the COVID-19 lockdown.
"Our liquor store manager went on holiday to India at the end of February 2020, and we weren't prepared for the speed of the events that followed."
With his manager unable to return on his work visa, Raj stepped in to run the liquor shop.
This coincided with the need to prepare the strawberry field for the season, making 2020 a stressful year in yet another way.
Strawberries are replanted each year, with the land lying fallow from the end of the season in January to April.
"Someone once told me you can grow strawberries anywhere, so on our previous property and this one, we threw ourselves in at the deep end and learned as we went.
"The soil here is fairly good for strawberries, with around a foot of peat over a free draining sandy loam."
Around April the soils are tested, and using the soil test results a customised strawberry mix is ordered from Ballance. Calcium keeps the texture, and firm skin and potash helps with flavour.
"For a relatively small area such as ours, it is cost effective to use an outside company to prepare the land for planting."
Leicesters Soil Solutions are contracted to form the strawberry beds. Beds are pre-formed and shaped, injected with fumigant, irrigation drip tape laid, and the beds sealed with plastic film.
"We just hook up the irrigation system and we're ready to plant."
Susceptible strawbs
The Kungs plant Camarosa, a high yielding, medium sized strawberry, which is suited to the Waikato, and demanded by the Waikato public.
The strawberry field takes 30,000 plants.
"We plant throughout May and it's absolutely back breaking work, there's no other way to describe it."
Strawberries are susceptible to almost everything.
"It's unrealistic to expect to achieve a full crop without using insecticides and fungicides.
"Thrips, mites and aphids can destroy a crop, as can fungal diseases such as botrytis, leaf spot and crown rot. Slugs and snails love ripening fruit."
Although essential to growth, water itself can be a problem.
Water-logged roots and soil are ideal conditions for fungal diseases to get a grip. The heavily ferrous water from the farm bore can clog the irrigations systems.
Straw between the rows helps keep the warmth in the soil, and reduces splashes of dirt when it rains, which reduces the risk of soil borne disease reaching the plant. The raised beds allow more air flow and water can't collect there.
Rain is a big cause for concern as rain at the wrong time can ruin a crop.
"In the lead up until Christmas, when the demand is very high, every strawberry grower is anxious that prolonged rain could result in pale, damaged, weak tasting strawberries.
"Everyone wants bright red, juicy, sweet strawberries."
The crop is not safe from birds, and Raj is looking at getting a bird shooter.
Rabbits are another strawberry-loving pest, so Raj's gun and good aim come in handy.
The strawberry cycle
Morning picking is carried out in a three-day rotation of blocks.
Once the berries start ripening it's full on, with all the family, extended family and some workers helping pack the berries and transport them to local shops and cafes. Pick-your-own sessions are in the afternoon.
Jasveen, Raveen and little Savreen enjoy serving, and help with making homemade strawberry milkshakes and ice creams.
The plants usually stop producing in January, and after spraying and leaving them to dry out, the family can relax for a couple of months, before the strawberry cycle starts again.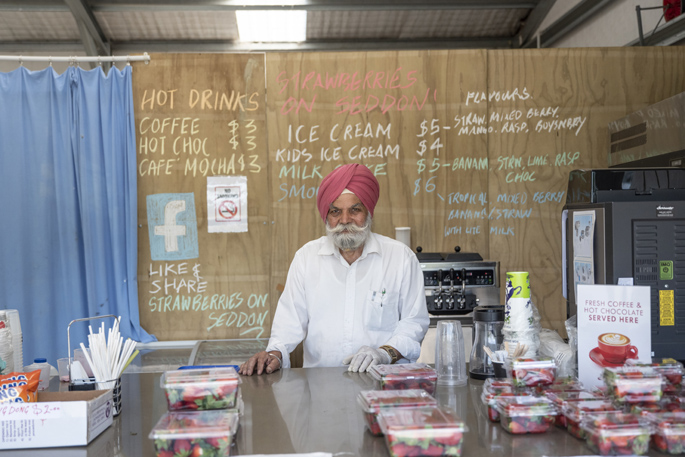 Harkrishnen Kung, 84, works in the family-run business.