The tractors, engines and wartime cars in Eric Green's machinery collection have plenty of stories to tell.
Eric began collecting 1972 when he bought a 1930 Ford Model A, his favourite piece.
"It took me 28 years to get it going," says Eric.
"But it was ready in time to be a part of three of my four kids' weddings."
Fan of Farmalls
Eric has six Farmall tractors, the oldest being a 1941 Farmall WD6.
"It starts by cranking a handle that runs on petrol, but the tractor itself runs on diesel.
"It's a pretty easy crank handle, it's usually running by the second turnover of the motor."
While there are more opportunities to take the cars out for a spin, the tractors, all of which run, are certainly not left in the shed.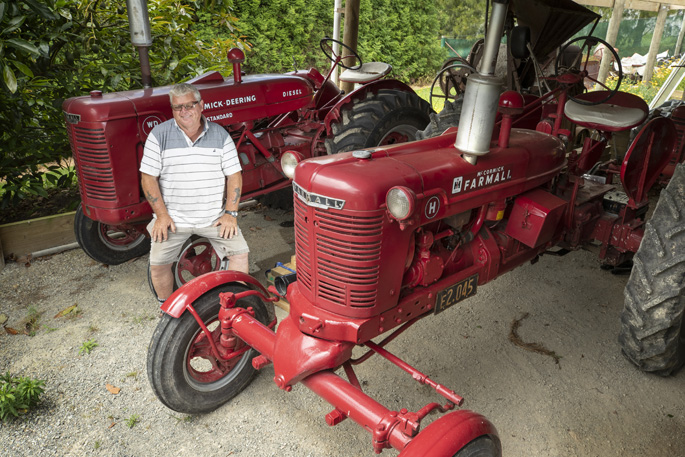 On the road
Eric has been a Tauranga and Waikato Vintage Machinery Club member for 40 years, so he's no stranger to a tractor trek.
"The longest one I've done was from here to Whanganui and back via Stratford, which was 1100km.
"There was 14 of us travelling together, with a car, which happened to be a Ford Model A, following us the whole way.
"On another trek we went from Katikati to the Mamakus, Opotiki and around the Motu River. I was on the WD6 and my partner drove my 1943 Farmall H.
"Both tractors can get up to 30km/h, and we probably drove 100km a day."
Sought after motor
The oldest piece Eric has is a 1908 Gardner stationary engine, which he came across by chance.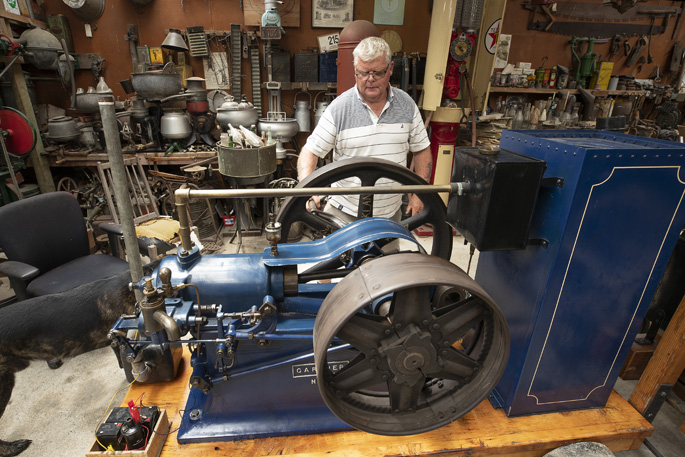 "A guy used to call into our place to buy fruit. He saw the Model A and I mentioned that it had taken me years to get going. He had one himself.
"Each year he'd come back and ask if I'd got it going yet and said to give him a yell when I did. When I finally called him, I learned he had passed away.
"I spoke to his wife who said he had an old engine there, the Gardner, which I remember him telling me about – so I ended up buying it from her.
"I recently got it going, too."
Farm gear
Farming equipment from the 20s and 30s also features in Eric's collection – from tractor gear to stationary engines.
"The engines are used to power implements like milking machines and water pumps.
"These items were used before we could acess power from the national grid, and when farmers were changing from horses to tractors."
Eric has hand-operated petrol pumps and four-gallon tins that were used to transport petrol to New Zealand before it began being transported in bulk in the mid-20s.
"I have a late 20s fuel bowser that I've done up, too, which is certainly a collectable piece of equipment."
Wartime cars
At the moment, Eric is working on his second Model A and a 1941 American Ford V8.
"It's an ex-service car – so it was used either in the US Army or Navy. Originally, it would've been painted army green and had shades over the lights, so spotter planes couldn't see it.
"There weren't many cars built in 1941 because Henry Ford had to help make planes, tanks and other war machinery."
The best part
Eric says hearing a restored motor turning over again is a great feeling.
"Getting to hear the machines run just how they did in, say, 1908 is probably my favourite part.
"For the technology to stand the test of time is quite impressive."
Eric says it's also good to see kids interact with the machinery at events, such as the Tauranga club's Crank up Day, which this year will take place on April 11.
"Most kids like to see anything with wheels that go around.
"Letting them jump in the cars and toot the horn, or doing activities like tug-of-war against a tractor is a great way to keep the next generation engaged in machinery."