A railway that winds through 24 hectares of regenerated native forest, studded with sculptures and works of art from more than 400 potters who've lived in residence over 45 years – is what enthralls most who discover it.
Driving Creek Railway is a QEII covenanted property – and one of the Coromandel's largest tourist attractions, which today draws in at least 56,000 visitors annually with its native beauty and artistic charm.
And it was the vision and the driving force of the late potter Barry Brickell, who died in 2016, who brought it to life.
Barry, a passionate conservationist, rail enthusiast and renowned potter, was awarded an OBE in 1988 for his services to pottery and ceramics; and laid the vast majority of the 2.6km railway track himself over 15 years.
Driving Creek Railway general manager John Gurney says Barry worked long hours constructing the track during summer months.
"He started at dawn, would head home to do some pottery around nine – before returning again to do work later in the day and into the evening.
"Then he'd often enjoy some red wine and cheese that he'd stashed in the bush and soak up the spectacular sunset views before going home again."
Cousin Derek Brickell was a structural engineer and helped with design of the tunnels and 10 bridges on the track, says John.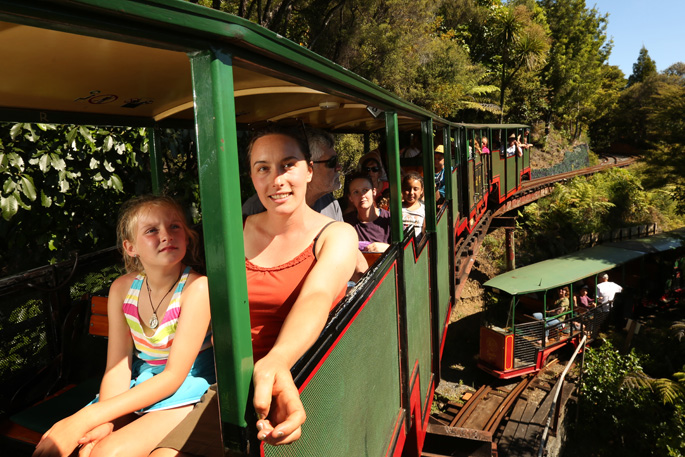 Three switchbacks – a 180 degree bend that wends back on itself – a zig-zag track, and two spirals also feature on the hour-long ride up to EyeFull Tower, which is 167m above sea level, where passengers enjoy panoramic views of the Hauraki Gulf.
The railway track required complex engineering and was constructed in narrow 15 inch gauge, which Barry chose because it allowed for tight track curves and limited the amount of earthworks required on-site, says John.
During the busy summer season two 34-seater carriages – Snake, built in 1992 and Linx built in 2004 – are used.
'Possum', a 14-seat diesel railcar, is used when passenger numbers are lower, and 'Elephant' is the aptly-named workhorse train.
All of the trains have been built, and are maintained, by Driving Creek's in-house engineers.
The railway was initially built to transport raw clay from alongside the railway track to the clay works for processing – and its life as a tourist attraction didn't begin until 1990, when Barry was granted a licence to carry fare-paying passengers.
The railway is only one part of the property: there is also a 1.6ha predator-free fenced wildlife sanctuary and a space for artists and potters to live in residence.
And there are plans for a museum, says John. "This was all part of Barry's vision for the Driving Creek.
"He dedicated his life to art, engineering and conservation, and we're now implementing that vision," says John.