A photo of a gentleman with a long, curly mullet, large glasses and a patterned collared shirt – that's how Bruce Pittams illustrates how long he has worked at Jacks Machinery.
His style and hair colour may be a bit different 16 years later, but what hasn't changed is how much Bruce enjoys his job. "I worked in many different jobs before coming here – from driving a courier to working with indoor plants and on a cattle station in Australia's Northern Territory.
"I like working here as I get to be involved in a lot of different things, and meet a lot of great people.
"Some of our customers have been coming to Jacks Machinery as long as I've worked here – we've gone grey together."
Lots of long-standers
Bruce isn't the only longstanding staff member – there's six people who have worked at Jacks for well over a decade across all departments, including sales manager Brucie Donald, parts manager Wade Bolger, and workshop manager Peter Rust.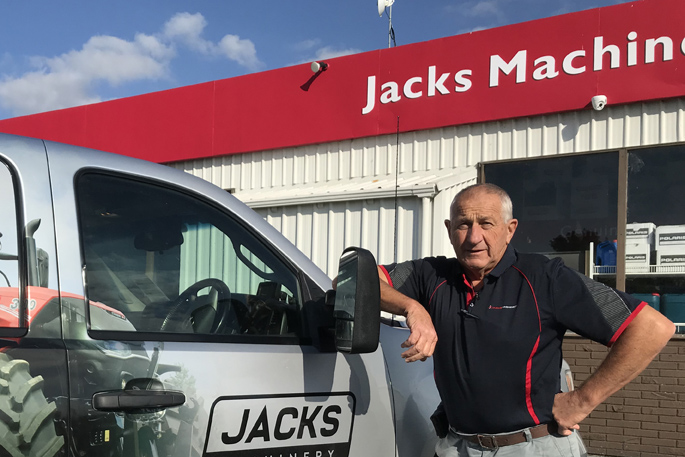 Longstanding Jacks Machinery staff member and sales manager Bruce Donald.
That includes owner Steve Jacks, who began working for his father and Jacks Machinery founder, Graeme Jacks, in 1973. Steve started as a part-timer while still at school, and has stayed since.
When Vicky Jacks married Steve 39 years ago, she swapped her hectic schedule as a chef to be the Jacks Machinery's payroll person.
"She worked in quite a high class restaurant before, so she really enjoyed the change of pace coming here," says Steve.
New faces
There are still plenty of new faces too – Vanessa Hauwai has been a Jacks Machinery team member for three months. "I felt really lucky to get a job after the Covid-19 lockdown," says Vanessa.
"I'm still new, but I'm enjoying it a lot so far."
Steve says bringing in new blood is something the business has always done. "We're fortunate to have many highly skilled workers who have been with us for a long time. Part of being able to achieve this is bringing in new people who are keen to learn, so we always have a new specialist coming up the ranks."
Steve says ongoing training may be part of the reason staff members stick around. "We're always learning here through external workshops and training days. It makes us better at what we do, and keeps it interesting."
Mind in mechanics
When talking to the Jacks Machinery team, it doesn't take long to realise that their interest in diesel and engines goes beyond the job.
The team have been known to enjoy having Jacks' extensive range of machinery at their fingertips – even those who live in town. "One of our staff was moving into the second floor of an apartment building in town.
"The furniture wouldn't fit up the stairway, so we used a MultiOne to lift the bigger stuff up to the second floor and pass it through the window – it made for a funny site."
Loyal returnees
When it comes to keeping the Jacks Machinery engine ticking over, Steve says the customers are just as vital as the staff.
Geoff Pierce has been buying machinery from Jacks since starting his contracting business, Geoff's Contracting Ltd, 25 years ago.
"I've developed really good relationships with the guys at Jacks over the years, especially with Peter Rust in the workshop," says Geoff.
"Servicing and purchasing equipment is efficient at Jacks which is ideal for running a contracting business, because it's all on all of the time.
"I've purchased pretty much all of my products from Jacks because they have everything I need – from my Polaris side-by-side to the Italian-made mulcher I bought last week."
The mechanical support offered at Jacks Machinery is what made Watson S & R Contracting Ltd owner Stu Watson "change from blue tractors to red".
"I bought a Case IH Puma 240hp tractor from them, which was a great choice for my ag contracting business.
"I've bought about six products from Jacks Machinery over the last five years, and will keep going back."
Different times
Jacks Machinery has 20 employees –and despite expanding to two more sites, that's less people than they had in the 1980s.
"The roles we had in the early days looked a bit different to what we have today – we even had a tea lady working for us back then," says Steve.
"Modern technology means two office staff now do the work it used to take five to do manually.
"As an owner I'm grateful to have such a friendly and capable team behind me, and supportive customers.
"They've helped Jacks Machinery stand the test of time."