Chris Nicholl's career choices have all had one thing in common: tractors. The retired Plummers Point resident has a line-up of five tractors which he tinkers with and rides on his 4.5 acre property.
But his interest in the four-wheeled machine began at a much younger age, when he and his family lived in Putaruru. "I started as an apprentice mechanic in 1965 at Waikato Motors in Putaruru, when I was 16 years old. I worked for two different garages there," says Chris.
Sadly, his father Les Nicholl, who ran a drystock farm in Putaruru, suffered failing health at a young age. "My father asked me: 'How about you come home and we convert the farm to dairy?' So we built our own 12-aside herringbone and converted the farm in 1974. We did all the work ourselves except for the electrical work."
Then Chris' younger brother Rod wanted to get back into farming. "So he went on that farm and my wife and I bought the neighbouring dairy farm in 1980."
Cows then avocados
Chris and wife Jean stayed put until 1999. "I was getting a bit sick of milking cows. I was milking 230 by myself and I was 50. We didn't need any staff. So we sold that farm and came here to Plummers Point in June 1999. The land was bare, only horse paddocks."
The couple planted 100 avocado trees on the 4.5 acres. "Then I thought life was too cruisy – so we bought a kiwifruit orchard at Lockington Rd in 2002. We used to travel 240,000km just coming and going to and from the orchard."
The Nicholls went through the downs and ups of the kiwifruit industry – buying in the up cycle, then suffering from kiwifruit vine disease Psa-V, then grafting the G3 variety on part of the orchard. "After that it was worth a few bob again, so we sold it in 2017. Since then we've stayed at home and played," says Chris.
And lot of his 'play time' is spent with his five tractors. The bright red 1978 Massey Ferguson 188 Chris bought brand new. "That's why it's still here – but it doesn't do anything these days."
There's a blue 1963 Fordson Dexter. "I bought that as a bit of bomb in 1987. It was doer-upper – it's still here and has done thousands and thousands of hours on the farm and around here." Today, it's Chris' orchard hack. "It's very handy."
The caretaker
There's another red Massey Ferguson 135 but it's a 1974 model – Chris is only its caretaker but for how long he's not sure. "This one I tidied it up for my oldest brother Tim a few years ago. Before he died at age 68 he told his family that the tractor is never to be sold. That's why it resides here and it goes to shows and all sorts," says Chris. "Tim had about three of those tractors at a large farm at Tirau."
The grey 1957 Ferguson 35 was gifted to Chris by a Waikato family, who had three generations use it. "The dad, daughter, and her boys used it. But it was deteriorating so the daughter, who is my age, asked me to collect it. She said I could have as long as I didn't sell it. So it's still here – and it comes in handy."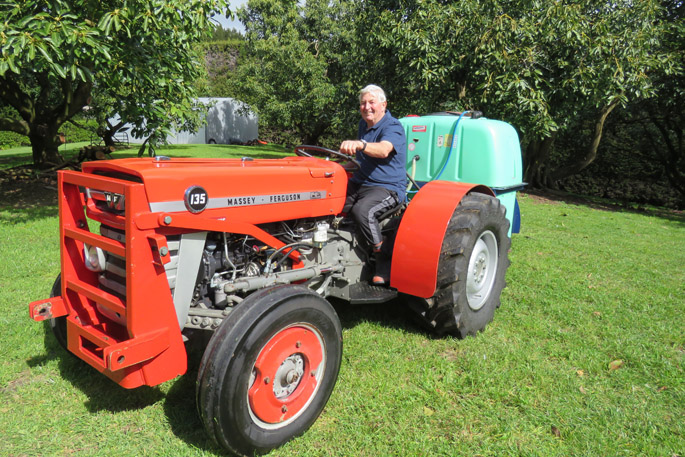 Last-but-not least is Chris' favourite tractor – a 1965 Massey Ferguson 135 he's given a total makeover. "It was petrol then I repowered it in 1998 to a diesel. It became a really good orchard tractor, which is why I've lowered it. And for a bit of fun two years ago – as I've always wanted to see if I could put a bigger motor in the same length, same-bonnet set-up – I put a Perkins 80hp under the bonnet. You can say it's a hoot to drive – it's so fun!"
Mini Coopers
And while Chris' fellow orchardists have new wheels under their avocado trees, Chris is proud he puts this old girl to use. The day we visited it had a sprayer attached.
So what is the attraction? "Being a mechanic when I was young, I'd liked the nuts and bolts. Being a dairy farmer I liked it because I could have a tractor. And the reason I became an orchardist – again, is so I could have a tractor. So my whole life the drawcard has been the tractors," says Chris.
"And all those years I lived at Putaruru I never collected anything, until I came here and met all these funny old jokers who have so much fun with their old tractors.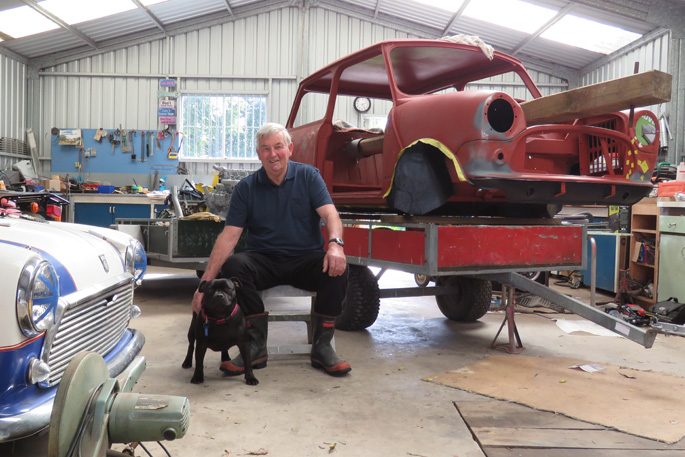 "At our farm we had ploughs, tillers, all sorts – I left it all on the farm when we sold it, and some stuff went to the scrap – now people put those in fun tractors," says Chris, who is somewhat kicking himself. Although wife Jean might think differently. There is word that Chris' project list – which includes two Mini Coopers in the shed – has had a cap put on it. Although, we don't believe it will slow Chris down!
Does your farm or boss have a pet tractor? Or a pet digger or bulldozer? If so, we'd love to hear about it! Email: merle@sunmedia.co.nz with a photo of it and a contact name and phone number. We might even throw a prize your way for a good yarn.