There's nothing like a ramble in a country garden to refresh the spirit – and there's no better time to do so than during the NZ Garden & Art Festival in November.

La Grange garden is a little piece of Europe in Gluepot Rd.

The festival's 94-stop Garden Trail has country gardens aplenty. By their very nature, country gardens on the trail may be prove a bit further to drive than some of the city and coastal ones –but the rewards will be worth it. La Grange is a prime example of the treasures and pleasures to be discovered in the country during the festival, writes Sue Singleton.

Gluepot Road near Tauranga would seem an unlikely place to discover a little piece of Europe but that's exactly what's to be found at La Grange – one of the country gardens open for the coming NZ Garden & Art Festival – and it's where Cherie Jeffery will share her French-inspired environment.

The barn
Italian Elders line the drive to the French-style steep-roofed barn above, which Cherie has made her home. One could be driving into a rural homestead in the Loire or Ubaye valley. La Grange has been 10 years in the making.

This is the third house Cherie has designed and with the help of her mum and dad, has been a project of passionate DIY.

La Grange (the barn) itself exudes character with its high, gabled roof and grey rustic plywood walls.

It oozes French influence inside and out, from the lavenders and potager garden to the internal balustrading on the mezzanine floor. Downstairs was originally the stables for the horses and room for Benson, Cherie's ever-present faithful canine friend.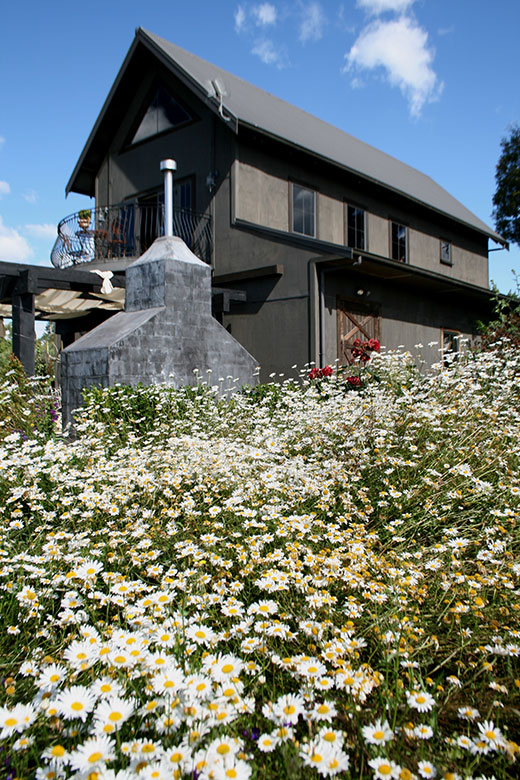 The steep-roofed La Grange barn on this Gluepot Rd property has a distinct French style, which is reflected in its gardens.

Wedding venue
Cherie and her father have created a multi-functional space, which can be used as a wedding and celebration venue. They've installed a kitchen and crated an ambient open area for holding the reception, plus installing a beautiful powder room.

This provides the flexibility to hold celebrations both in the courtyards and garden and undercover, to make it as formal or informal as desired. La Grange Café, open during The NZ Garden & Art Festival, will demonstrate its appeal.

La Jardin
The garden abounds with antique objects, around which flourish foxgloves and roses. One area features a late 19th Century hay rake, another dray replica made from recycled timber and surrounded by wild flowers. Within the potager is a water pump, circa 1912.

All are displayed in a balanced fashion with quite formal structures of buxus hedging and brickwork. Liquid ambers and conifers are also used to give structure. White flowers feature strongly. Courtyards have been created for relaxing and entertaining, one with a suitably rustic outdoor oven.

What Cherie doesn't find in antique shops she manages to treat, to achieve the distressed and 'aged' appearance.

Festival visitors will be fascinated, intrigued and enchanted by the sheer creative difference of this home and garden. Cherie, herself, emanates an ethereal and floaty quality giving the impression she might have stepped out of a Renoir painting.

She explains she looks for difference and that her designing is a way of being totally herself.

Her home is truly an extension of who she is; and there are no limits to what she'll create in order to display the differences and passions which drive her.

The kitchen is her favourite part of the house with its hooks and hanging things, again the obvious French flavour. She also loves cooking.

Cherie speaks of the never-ending process with a wisteria pergola; just one recent addition to the garden. La Grange will be open during The NZ Garden & Art Festival to garden trail ticket-holders on Wednesday, November 19, then Friday to Sunday, November 21-23.

For more information, see www.nzgardenandartfest.co.nz or www.lagrange.co.nz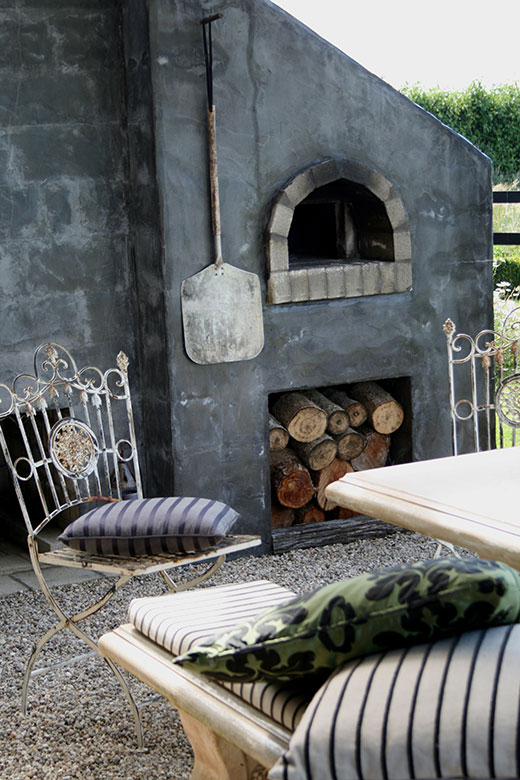 Courtyards have been created for relaxing and entertaining – one with a suitably rustic outdoor oven.