Wood Marketing Services has won the Waikato Regional Council Forestry Site of the Year award for work in two forest blocks near Te Uku, between Hamilton and Raglan.

Wood Marketing's award-winning projects are forestry blocks in steep clay country, with sensitive waterways that run into the Raglan Harbour.

This year the council extended the awards, which highlight and promote environmental best practice and innovation on earthworks projects to four categories covering small, medium and large sites.

These include forestry-related developments, which show a greater effort to carry out earthworks projects in an environmentally-sensitive way.

"It is great for our forest harvesting and earthworks to be recognised in this way by WRC and gives good satisfaction to our contractors for the daily work that goes into maintaining high environmental standards on difficult sites," says Duncan Mills, from Wood Marketing Services.

"Too often we see the results of poor planning and management on private forest blocks, resulting in negative feedback on for environmental standards for the forest industry in general, so good on WRC for recognising when high standards are set.

"We encourage those with forest blocks to use recognised experienced companies and contractors to undertake forestry work, to ensure the best economic and environmental outcomes are achieved," says Duncan.

The location Wood Marketing's award-winning projects are forestry blocks in steep clay country, known for high intensity rainfalls and with numerous sensitive waterways that run into the Raglan Harbour.

Significant environmental work has been undertaken in recent years to improve the water quality of catchments running into the Raglan Harbour, so the award is recognition that with sound forest harvest practices, forestry too can contribute to water quality improvements, through reduced sedimentation run-off.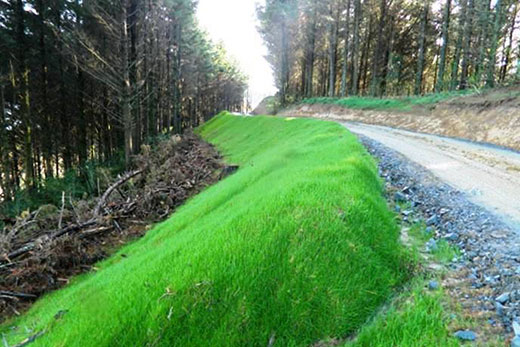 The rehabilitation of the earthworks was an important aspect of this award-winning Wood Marketing Services forestry project.

Operating under strict resource consent conditions, Wood Marketing Services used experienced and suitably qualified contractors, for the sensitive earthworks undertaken to establish forest roads and skid sites.

Careful planning and management of earthworks in steep clay country is essential, with a limited summer season to complete construction work, but also have all roading infra-structure rehabilitated and stable prior to the end of April each year.

The rehabilitation of the earthworks is important in order to minimise sedimentation and erosion events that occur with earthworks left exposed to weather. Correct techniques such as hay mulching and hydro-seeding were used at these sites to protect new earthworks.