When Pokuru couple Chris and Rachel Numan bought a second-hand 1390 David Brown tractor to mow the roadsides of their dairy farm they had no idea it would transpire into a children's book that would support a farmer-led charity helping Kiwis in need.
Fast-forward 12 months and the first story of 'Tractor Dave' – which follows a cheerful tractor, and his life on a typical New Zealand dairy farm – will be released in September.
The 32-page book is the brainchild of Rachel, a first-time author, who lives on a dairy farm in with her two young sons, Jack, aged 3, and Oscar, 10 months, and husband Chris.
"Chris and I bought a 1390 David Brown tractor just over a year ago from a trade dealer at Morrinsville. It's a sweet little tractor that starts with a purr on the first try, and it quickly won our whole family's heart – especially my three-year-old, Jack," says Rachel.
"While we initially purchased it for mowing the roadsides of our dairy farm, 'Tractor Dave' – as he became known – soon found himself being roped into helping out with the big tractor jobs like teddering silage and weed control on the farm."
From here Rachel was inspired to write a children's book covering Tractor Dave's adventures. "I was inspired to write the book after my three-year-old fell in love with the little tractor and it became a big thing whenever he was seen out on the farm."
In this first book 'Tractor Dave' steps in to save the day after drama hits during the important maize harvesting day on the farm.
Aimed at three to seven-year-olds, the book was illustrated by Filip Lazurowicz. "Filip has done an amazing job capturing the essence of the farm, and surroundings, and the character of 'Tractor Dave'," says Rachel.
Described as a "fun rhyming adventure" Rachel hopes the book will appeal to machinery-lovers both big and small. She also hopes the book will help Kiwi children living in urban centres understand more about farming life.
"I think the core of the reason I wrote it is I've always felt like those rural stories are lacking for kids. I've always wanted to write a book, and I thought it would be neat for my son to see our day-to-day life on the farm playing out on the pages.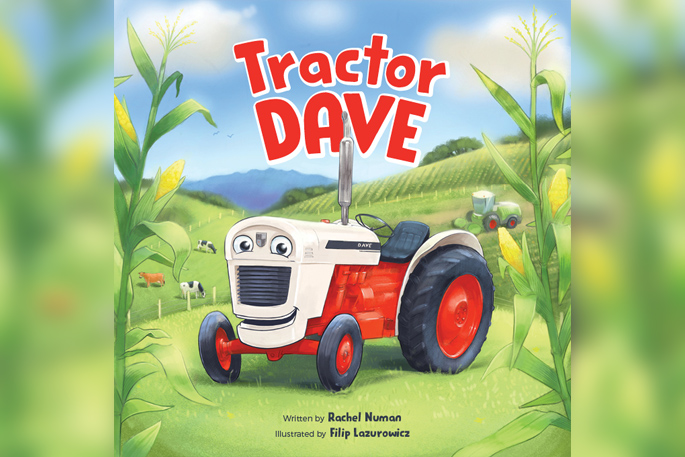 "And I'm passionate about encouraging kids to read, and about NZ's primary industries. From that, I really hope kids who aren't involved in farming life can get a taste of it – or be inspired.
"It would be awesome to engage little future farmers with Tractor Dave's story, as well as showcase the rural sector in a fun way."
Pre-sale copies of 'Tractor Dave' are available at: www.tractordavebooks.co.nz
And 50 cents from every copy of 'Tractor Dave' sold will go to new farmer-led charity Meat the Need, which supplies meat to foodbanks for Kiwis in need. "I'm really excited sales of the book are supporting Meat the Need – they are an incredible charity filling a gap that sorely needed filling," says Rachel, who has nearly finished a first draft of the second instalment of 'Tractor Dave'. So watch this space.
Thanks to Rachel Numan, Coast & Country News has a copy of 'Tractor Dave' to give away, when published in September. To be in to win, email your name and address to: merle@sunmedia.co.nz with an answer to the following question: What make of tractor is the original 'Tractor Dave' on Rachel's farm?
Or post these details on an envelope to: Country Funnies, PO Box 240, Tauranga 3140 to arrive by July 31. The winner will be contacted thereafter.