Enter Josh Gordon's Tuapiro workshop, north of Katikati, and you'll find sparks flying as he welds metal, shaping and solving an engineering riddle while enjoying the solitude of his work.
Propping up his welding mask, you're greeted with an infectious smile and an easy-going nature as he toils away on another customised request.
We're here due to one of those 'weird' customer requests – you could call it a tale – that began with a Thames truck driver's encounter with a rustic-looking elephant sculpture in Texas, US.
And today, through a series of elephant pick-up hiccups, we're now staring upwards at a 4m tall rooster at the start of Tuapiro Rd. Let Josh explain.
The qualified mechanical engineer had worked on all sorts of sculptures before, when about two years ago he was asked to make his biggest yet.
"A truck driver from Thames came to me with some pictures. He'd seen a big rustic-looking elephant [sculpture] in a paddock in Texas. He asked me: 'Can you replicate something like this?' I said: 'Oh yep, alright'."
Once the work of art was complete the truck driver simply didn't get round to picking it up. "He drives trucks all over the place – sometimes I hear him go past in a logging truck and he'll beep. I'm in contact with him regularly and he always says he'll pick it up."
After hanging about for awhile, Josh forklifted the elephant to the roadside berm of his family's property on Tuapiro Rd. And Katikati folk – especially those Tuapiro locals – fell in love with it.
Families stopped in droves to have a photo of their brood with the largest existing land animal. It became an icon. "It's something different so I thought I'd put it out there and it created a community following," says Josh incredulously.
Fast-forward to March 2020 and the country goes into lockdown. The truck driver has signaled he's coming soon to get the elephant – for real this time – so Josh removes it from public view.
"The elephant created so much attention that when I removed it everyone went: 'Tuapiro Rd is bare! We've just been down the road and where's the elephant?'"
"That made me think during lockdown, as I had spare materials and a bit of spare time, I could work on a project in the evenings.
"I thought I'd make another animal, big and bright, to replace the elephant. I'm not sure why I chose a chicken – maybe I should have done a Kiwi or native bird. Maybe next time."
The rooster took 50 hours of workmanship to create from bits and bobs around the workshop, plus a few extra parts.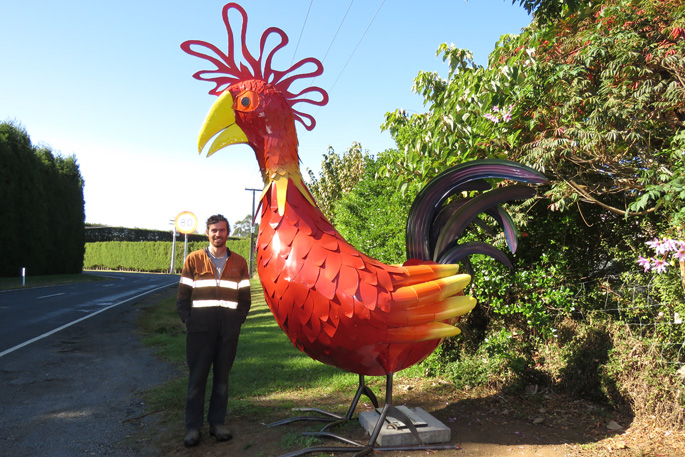 "First you create the main inside steel structure, which gives its strength. Once you've got the steel structure and the shape made, you start adding things like feathers, the beak and eyes.
"The inside is steel and the outside is sheet metal, all hand-formed to create the roundness in the curves for the body, the beak etc."
Josh's biggest challenge was getting the initial shape and proportions correct, which are also symmetrical. "Once that's done, you're away."
The bird was finished with a paint-job by Josh and his partner Jordy Bardin, and placed in the elephant's former position. The reaction? "It's been full on aye. Probably 10 cars a day stop and take photos. Kids are running around – I can see and hear them over the fence. It's really cool."
Always keen on metalwork in school, Josh studied mechanical engineering in Tauranga and began his own business on his parents' Tuapiro property – doing fabrication work, shop fit-outs to building dog kennels, creating furniture and much more.
"Steelwork was always what I was aiming to do. And ultimately work for myself," says the 28-year-old.
"Now it's just all custom steelwork. I started off making stuff for myself to sell, then the customised side of things came into it," says Josh. "The sculpture work is a sideline and it's interesting and fun to do."
Working alone he chooses when he works weekends and when he goes fishing or hunting mid-week. "I'm right into both," Josh, who at Tuapiro is sandwiched between the shores of Northern Tauranga Harbour and the hills up to the Kaimai Range. A deer sculpture on the front lawn – made from galvanised steel rods with hand-formed aluminium antlers – is a tribute to his prime passion.
Only last year he was in the rugged and remote western Scottish Highlands, working a season as a 'ghillie' on a 60,000 acre estate near a place called Fort William, deer stalking and managing deer numbers for six months. "It was an awesome experience being paid to hunt. As a deer stalker, you have cull rates to manage pest numbers of deer on a massive estate as well as taking guests out in the hills hunting.
"Deer are browsers and they take all the tops off the young trees causing them to die, so you need to keep numbers down so trees have a chance to grow," says Josh, who in minus 10 degrees Celsius, only pined for his boat back home sitting in the sun of a typical Kiwi summer.
Back to the steelwork – what's the appeal? "There's a big variety of jobs and working with different materials, and I really enjoy the challenge making people's weird and wonderful ideas become real.
"I suppose it's also the satisfaction of making something from scratch. Getting that end result." The end result of making the elephant, and now chicken, is a huge community following. "I think it's because these types of sculptures are so unique. You only really see them in some townships as a town icon, like Taihape's Gumboot.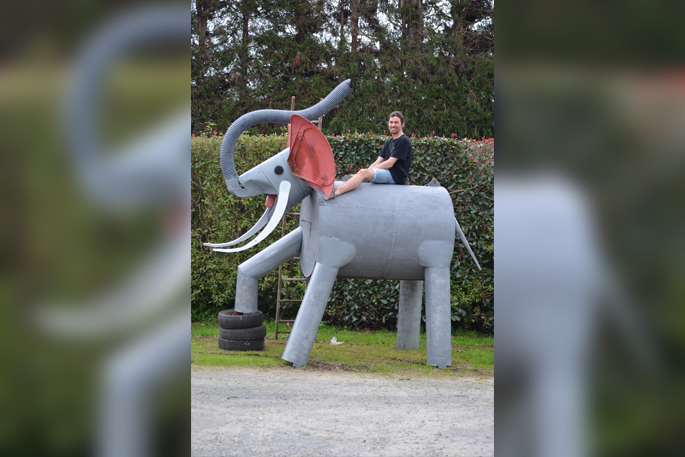 "Here, Tuapiro felt like they owned the elephant – so I had to put something else out there. I've put a little sign at the base of the rooster and I'm very grateful for all the compliments and messages I've received from the community."
And with the rooster for sale, we all wait patiently to see what Josh will create next.