When Simeon Ward started out with his first farm 10 years ago at Taupiri, the milking herd was Friesian. "We experienced bad mating performance, high empty rates, a lot of lame cows, and trouble at calving."
So he began crossing the herd to Jersey. Fast-forward a decade and Simeon co-owns five farms in a triangle between Taupiri, Tahuna and Te Kauwhata, milking roughly 2000 across the properties. And all of his five spring-calving herds are continually bred to be Jersey. And every cow bought is Jersey.
Why? "They are just a much easier animal to farm," says Simeon, who milks his herds Twice-A-Day until early-summer then switches to Once-A-Day milking.
According to Jersey Advantage – a not-for-profit group of dairy farmers committed to promoting the economic, environmental and animal welfare advantages of the breed – he is not alone.
Jersey Advantage committee chair Ben Watson says if you look at stock and semen sales, the Jersey breed is on the rise. "The economic benefits are undeniable and we're seeing the market respond to that."
Link Livestock general manager Ross Riddell says demand for Jersey herds and stock lines have been significantly ahead this season. "Prices for in-milk stock are at least as high as the other breeds but in many cases higher due to shortage in supply."
Jersey sales of LIC's flagship AB product – Premier Sires – ended the season two per cent ahead of last year while their frozen product was also up two per cent to 21 per cent of total frozen straws.
And with increased demand for Jersey semen, LIC is extending their fresh sexed semen offering next season to include Jersey.
Far less issues
Simeon says since by breeding his herd to Jersey, many past issues have nearly disappeared. He gets less lame cows – literally a handful each season across five farms – the number of CIDRs he uses has dropped dramatically, there's lower empty rates, and more compact calvings.
He also believes it's much easier to convert feed into milksolids with Jerseys. "We were putting quite a bit of feed into our Friesian herd – now we're dialing the system back and actually getting more production."
Simeon can only yardstick against his first farm. "We're consistently doing about 10,000 kgMS more than we were with the Friesian herd and overall we're now using about 80-90 tonne less feed."
Simeon believes he's harvesting more grass from Jerseys too. "They do better on this heavier country and are a lighter animal."
And Jerseys require less feed to keep them going in tough conditions, such as this year's drought. "Jerseys are smaller animals so require less feed to put a condition score on – as such we use less feed to get them into good condition and less feed for maintenance compared to a Friesian, for example."
Calving cows is easier and the rate of assisted calvings is much lower. "Out of a 300-cow herd we might calve five per year," says Simeon.
"And if you do have the odd Jersey that goes down they're not hard to get back up – some Friesians that are 600kg, it can be a challenge to get them back on their feet and enthusiastic about life again."
All these factors allow Simeon's farms to produce a surplus herd each year, which they sell – and this combats the loss of residual value in cull cows some argue Friesians hold over Jerseys.
"There is a massive win in that. We also rear 50-60 Jersey bulls yearly. One farm we have is an equity partnership – so this is an avenue to try to create value out of calves that everyone thinks are worth nothing."
Challenging to rear
But Simeon does admit Jerseys are more challenging to rear. "They take more care in the first three-four months of life because they're smaller. But once they're through that they become hardier.
"We run all of our own young stock, and from 12 months Jerseys are very easy to manage."
Ben says farmers should consider Jersey genetics when making breeding decisions next season. "There's long been acknowledgment of the ability for Jerseys to convert feed into milksolids more efficiently than any other breed, and we're seeing renewed interest in Jerseys due to strong milkfat prices. All indications are that a Value Component Ratio of parity to 1.2 is the new normal."
Ben says last spring the majority of Jersey herds reported non-pregnancy rates in the 7-12 per cent range, whereas a typical Holstein Friesian herd was around 11-17 per cent. "This variation makes a significant difference to year-on-year replacement rates, farm carbon emissions and the cost of rearing young stock."
The Jersey breed also has advantage for those wanting A2 animals. "About 60 per cent of the Jersey population carry the A2A2 gene, compared to 44 per cent for Holstein Friesian and 53 per cent for crossbreeds," says Ben.
Simeon is about to put an A2 herd together. "I think our average across our herds is 65 per cent A2 gene, so we just have to move a few cows around to establish an exclusive A2 herd. We may turn a few more herds into A2 from there."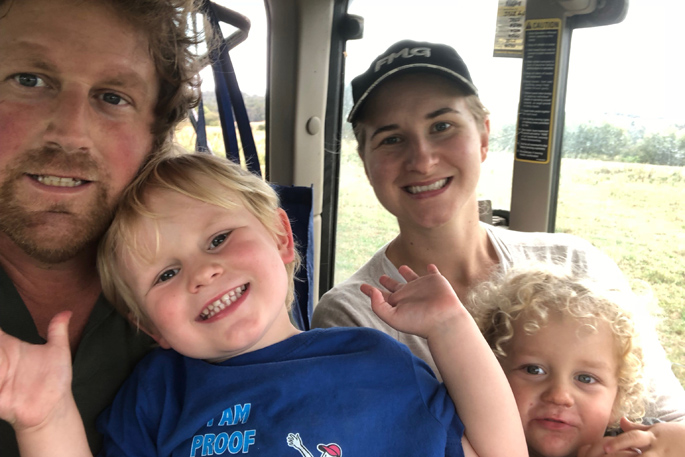 Waikato farmer Simeon Ward, with wife Linda and sons Callum and Hunter. Photo: Supplied.