Semi-retired dairy farmer and hedging contractor Richard le Fleming has a passion for vintage machinery and a decent-sized personal collection at his Otorohanga property. He's also on the committee of the Otorohanga Vintage Machinery Club Inc and is actively involved in club activities.
One of his favourite machines is a 1944 Minneapolis-Moline RTU. This American brand of tractor had amalgamated with Twin City in 1929.
He'd wanted one of these striking yellow-coloured tractors since he saw one on a friend's farm in the 1950s. They were a popular tractor in 1950s New Zealand.
"The RTU was designed as a universal tractor," says Richard.
This petrol model has a manual four-speed gear box, and 165 cubic inch, 20hp engine. It came out from the United States to NZ in 1944, and Richard knows it spent its early life in Paihia, but he bought it from Ngongotaha in 2001.
"It has row-crop front wheels, and a bar axel at the back to adjust the back wheel width."
The body sits high off the ground to accommodate growing crops, and is extra narrow for good visibility. Unusually, it features plugs and valves set horizontally on the engine head, with the manifold and exhaust set on the top.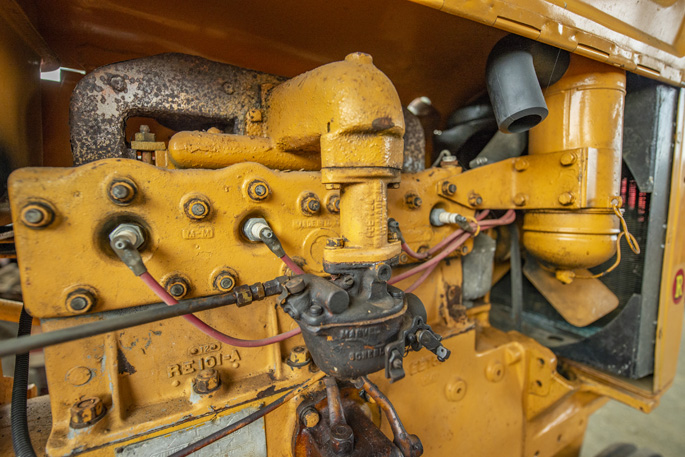 "While it can travel quite fast on the road, it's 'tricycle' wheel set-up means it can turn very sharply, and it can tip over fairly easily on sloping ground. "So its main use was as a cultivating tractor," says Richard.
He's completed substantial work to restore the RTU. Steel wheels were replaced with rubber tyres, panel work was replaced, and it's had new rings and valves.
Richard's son Nathan is an engine reconditioner and tended to that side, with other work being contracted out.
Many parts are still available from the US, but Richard salvaged a lot of what he needed from four wrecked Minneapolis-Molines he has in his possession. Other parts were specially made in NZ.
"I physically put everything back together and we did a bit of a home spray-paint job."
The paint is Minneapolis-Moline Prairie Gold, and combined with the bright red and yellow logo, it makes quite a visual impact.
They are still some of these tractors left in NZ but they're quite rare and are collector's items. Richard has been on a trek with the tractor, and enjoyed its fast road speed. Otherwise, it is mainly seen by other interested collectors.