Jim Stewart has been commercially growing chestnuts for the last 20 years on his 6ha property in West Te Aroha. He has 300 trees growing on 1.5ha.
"I got into growing chestnuts because I wanted to retire from teaching and I needed to increase the income from our land.
"I thought growing chestnuts could be a good idea because when I was a child in Oamaru there was a chestnut tree down the street and my mother would often ask me to go and get the chestnuts from it.
"We also happened to have a very healthy and productive chestnut tree in the garden hat was planted by the previous owners, so we deduced that our soil was ideal for them."
The chestnut season is short from mid-March through to April. Jim has three varieties of chestnut trees, each type fruiting for only two weeks, giving him the full six-week season.
"We planted a grafted variety of trees that takes two to three years to produce; a non-grafted variety can take up to seven years."
New Zealand is one of the few countries that does not have Chestnut blight, a destructive disease of sweet chestnut trees caused by the ascomycete fungus Cryphonectria parasitica. The blight has spread throughout Europe, Asia, the Americas and is now in Australia.
"I have to trust that Biosecurity NZ will stop it from crossing the Tasman," says Jim, who since he began his chestnut journey has found that growing the nuts is the easy part.
Home-made machinery
Commercial chestnut growing in NZ is relatively new and the operational machinery is expensive and often not commercially viable for such a short season.
So Jim has made all the machinery he utilises for his chestnut-growing business himself. He's crafted a chestnut sorting machine by hand-drilling hundreds of holes in three 200L drums, which he then mechanised with machinery he got from the wreckers.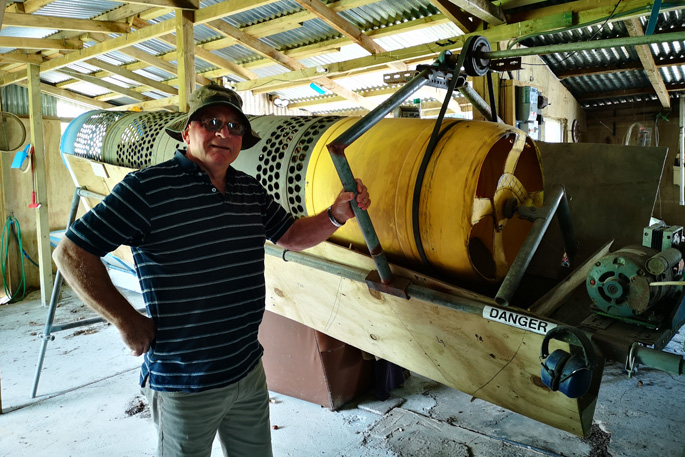 Jim has also made a chestnut 'picker-upper' which he uses at the end of the day after the pickers have been in "to get the ones that have been missed".
The tool is "not ideal" to pick up the majority of nuts because it picks up all the debris on the ground as well, but it works well for those that have been left behind, says Jim.
And it is this 'can do' attitude and ability he has to problem solve by way of 'Jimmying around' with stuff that has contributed to making his chestnut growing business a success.
There are a number of markets for chestnuts. Jim sells his at the Hamilton farmers' market, to a middle man by the 20kg sack full, at the home gate and people can come and pick their own.
"I advertise in the 'Chinese Herald' and from this people often travel down from Auckland to pick their own chestnuts. This year, for the first time, we had a tour bus call in with people who wanted to pick their own.
"We've also sent some overseas; I joined with some other growers and sent a container load to Japan, but the organising and sorting was very labour-intensive. So I've found the local market more lucrative."
Self-taught grafting
Despite the short season, Jim has no problem getting people to pick his chestnuts. "I advertise locally and there seem to be enough people who want a bit of extra money in autumn. We have some retirees who pick early in the morning and I think they find it quite a pleasant activity."
In the off-season Jim has taught himself how to graft chestnut trees. He grows the rootstock from chestnuts then grafts new growth onto these from existing trees. And he's been so successful with this that he was able to help another chestnut orchardist to set up his orchard. He also sells trees to the public.
"I'm currently experimenting with grafting three different varieties of chestnut onto one tree; if this is successful it means one tree will bear fruit for the whole six-week season."