For Waikato men Lance Limmer and Garry Cleave, the rodeo circuit has been their lives – both as competing cowboys and as volunteers running the Kihikihi-based rodeo.
This month the Waikato Rodeo Association stalwarts and their committee are hosting Waikato's 60th rodeo on Saturday, February 15.
Founded in April 1960, the Kihikihi Rodeo – as it was originally called – was staged in a paddock on Gordon Bryant's farm at Tiki Rd, Parawera. It had simple chutes and yards, a viewing area for the public, and a grass arena.
"If you landed on that ground, you got a good concussion," says Garry, who competed in his first rodeo at 16. "The fences were a bit low and the odd bronc or bull was known to jump over."
The day was hugely supported by Kihikihi School parents and staff, as they ran food and activities stalls and organised the event. Rodeo proceeds went to the school.
Eric Olsen, Brian Limmer and Kihikihi School teacher Edith Dockery were significant driving forces behind the rodeo's early decades.
Original crowds watched Open and 2nd division competitions for saddle riding, bareback riding, bull riding, calf roping and steer wrestling. Barrel racing and team roping are newer competitions. Each class regularly had up to 40 entries in their heyday.
Old favourites such as kid's ram riding, wild cow milking, wild horse racing, and greased pig catching have been removed from modern rodeos. And while it's still very much a man's world, some women are competing professionally on the modern circuit.
­­Life on the circuit
Lance has been involved with the rodeo since he was 10, competing in his first division two competition at age 12. He remembers life as a cowboy through the height of rodeo popularity.
"Most of us worked on stations and also competed on the rodeo circuit. Station hands pooled their cash and set out together in a ute or truck.
"We slept outside during the rodeo, waking up to a quick wash under a cold tap, and into the day. It was a rough and ready life and very different from the professional cowboy life today."
Garry and Lance are old friends after many years working and competing together. Garry doesn't hesitate to remind Lance of the time he was sleeping under the stars and was bitten by mosquitoes to the extent that his face "was puffed up to almost twice its size".
In 1976 the rodeo was moved to Kihikihi Domain, joining other sporting clubs there, and set up their current base.
"Using council and sponsorship funding, and donations, together with totally voluntary labour, the permanent set-up has suitably strong yards, gates and chutes.
"The sand arena is worked to loosen the top 4-5 inches, giving the horses more traction," says Garry.
Supplying the stock
Lance's father Brian broke horses for farm work, and those unsuitable for farms became the original rodeo string. "In those days, the horses and bulls weren't well-handled and were a lot wilder and rougher, with fresh stock coming through all the time," says Lance.
Nowadays, the broncs and bulls are supplied by stock contractors, and strings do the circuit. Rodney Limmer, Lance's son, runs a string of bronc horses, and other contractors provide bulls and calves. "This stock is deliberately bred maintaining the traits of bucking and wildness," says Garry.
He and Lance are a little skeptical about the current set-up, where cowboys get to know the stock and their characteristics and habits as they regularly ride the same animals. Back in the day the stock was an unknown to each cowboy.
The NZ Rodeo Cowboys Association Inc. provides gear for all rodeos during show season. The barrel racing equipment, and bull and horse flanks are transported from location to location. Cowboys provide their own saddle, chaps, spurs and bull ropes.
Celebrating 60 years
Waikato Rodeo president Wayne Raymond and vice president Richard Mathieson says committee members and volunteers are working hard to prepare the arena and yards ready for this month's 60th rodeo. "While competitor numbers have dropped, crowd numbers remain high, and we expect between 4000-6000, many of whom have been coming for 30 years and longer," says Wayne.
"Some proceeds from the rodeo still go back into the local Kihikihi community," says Richard.
As for Lance and Garry, they'll pull on their boots and Wrangler jeans, don their cowboy hats, shine up their brass belt buckles, and be actively involved – just as they have been for the last 60 years.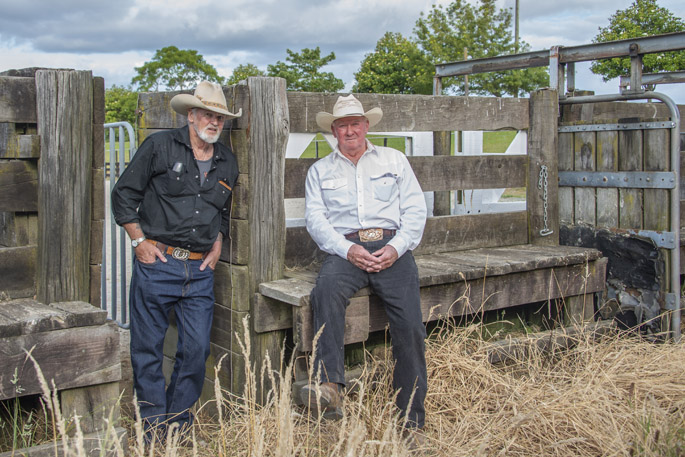 Garry Cleave and Lance Limmer, ex-cowboys and Waikato Rodeo committee stalwarts.