Converting a dairy grazing farm into a cut and carry goat milking farm has been an ongoing process for David and Caren McDonald of Morgan Rd Matamata.
They bought 34 hectares 12 years ago and have been adding to it by purchasing neighbouring parcels of land and also leasing land from a neighbour. As a result today the farm is 57ha, with a 23ha lease.
Contract milkers Manie and Jolandie Senekal carry about 900 goats on the property. While Artificial Insemination is used to bring in some new genetics to his herd, David finds it preferable to use billies. "It is easier to manage and is successful. So we do a bit of both,' said David. "A goat does not have to breed every year to milk. We don't breed from all our does, we choose those we want to breed from and we are looking at breeding from them alternate years."
Not mowable
The farm had plenty of flat and mowable land but also plenty of land that wasn't mowable. Beef stock is carried on the steeper land but the goal has always been to make more of it available to mow.
To this end there has been an annual, month-long earthmoving programme. This year's project was particularly big with an additional hectare that was unmowable made mowable and improved mowability of three more hectares, plus a new effluent dam dug. To date 6.5ha of unmowable land has now been made mowable and 12ha has been made easier to mow.
"We've had some areas of the farm that were only mowable in perfect conditions, meaning that we often made silage out of them when it was dry enough to mow them, rather than mowing them regularly for fresh cut grass.
"Lessening the contour has meant that this land is now mowable year-round. We have also dug a new dam this year to store runoff from the shed cleanings and compost.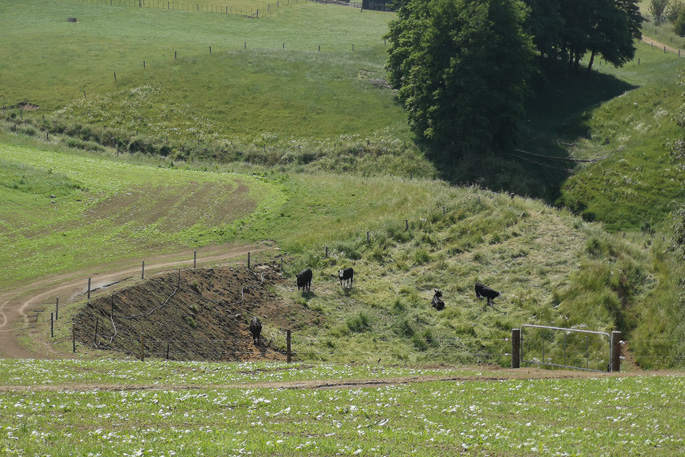 "It was a natural valley that we have dug the bottom out of and created a wall. We've had to have two diggers in here at a time, as the distance we needed to move clay from the bottom of the dam to the dam wall was about 40m. We are just waiting for it to dry out and harden and then we will put a liner in" says David.
Roof water from the goat sheds can be diverted into this dam if necessary to get the effluent to a consistency that can then be irrigated and to create as much volume as possible to irrigate.
. There are some advantages to hill country land as a cut-and-carry goat milking farm; one is that effluent is able to be gravity-fed to irrigators down on the flat. Another advantage to converting a cattle farm into a goat milking farm is that there is no goat worm burden in the soil.
Circular operation
"We try to run a circular operation, the effluent scraped out of the sheds is made into compost. We find it is best to compost it first as this is more easily absorbed into the soil. "Contractors come in and spread the compost twice-yearly."
David and his wife have had a varied life to date. David came to NZ from Tanzania when he was 10 years old, he has been a school-teacher, worked in the building industry, worked in finance and started his own ultrasound scanning business but knew at some time he would like to be a farmer.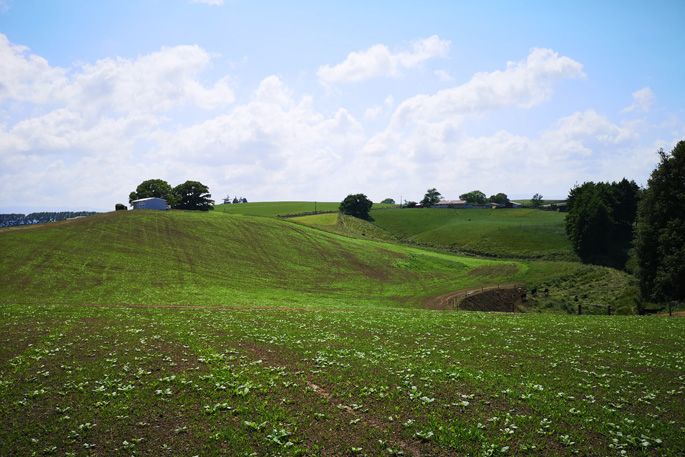 They started the ultrasound scanning business twenty-five years ago when scanning dairy cows was relatively new. It has gained popularity among dairy farmers and the McDonalds have taken the ultrasound business from start-up to franchise management.
"We still wanted to go farming. We liked where we lived and so we had to find land that was within a 10km radius of our home. At the time we bought this farm, I had a friend who was a milking goat farmer and another friend who was just getting started on converting a farm into a goat milking unit, so we had a support network. The Dairy Goat Co-operative were helpful and supportive also," says David.
The land suitability for cutting and carrying will continue to be improved on the McDonald's goat farm.
Re-grassing
"We choose not to do too much at once, for a number of reasons – partly because a month of time is all that our earthmoving contractors, Luxford Earthworks Ltd, can allow for us each year.
"They have plenty of other clients that they need to keep happy and also because while it is improving our land for milking goat purposes, it is also taking it out of action for some time," says David.
"First with the earthworks and then with the following re-grassing programme. There will always be land that is going to be too steep to mow and is better-suited to cattle but ideally this would be whole paddocks rather than steep sidlings in what would otherwise be mowable land."