High in the hills of the Karangahake Gorge, a family of three generations who run a farm park on
100 acres now offer an even richer glimpse of Kiwi rural life from inside three sheds they've returned to their former glory.
Bullswool Heritage Farm, off Rahu Rd, has been opening the gates to visitors since 2004. But more recently, it's opened the doors to a shearing shed, a mechanised early New Zealand milking shed and a tool shed on the farm, which have been lovingly restored to their original working conditions.
Farm park owner Sue Austen says when her parents Jan and Keith purchased the property in the 1980s, they discovered a dairy shed that was completely mothballed. "It's my understanding the Bradford family, who owned the property prior, converted from dairy to sheep in the late 1960s.
"The farm back was originally a small dairy farm, which had a four-bail shed," says Sue.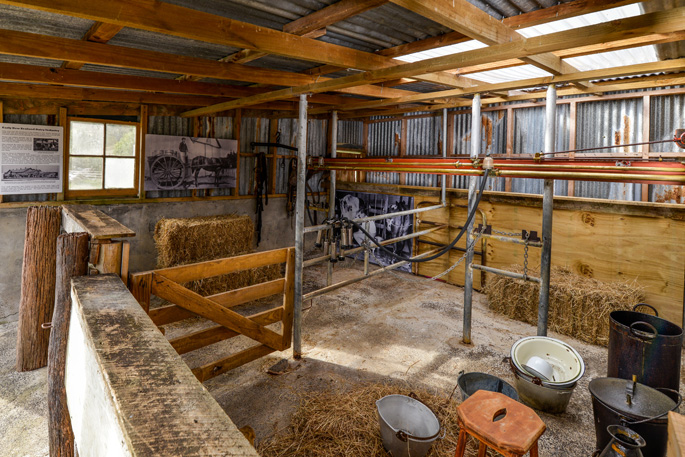 "What we found when we came here was a decommissioned milking shed. The owners had taken away the milking plant – but everything else remained. From the cream cans to buckets to feed stock, to the cups – every little doo daddy was still sitting there intact – just covered in dust and debris. Nearly 50 years later, even old sleeves from the cups were still there.
"We had rather taken it for granted and used the shed for storage. But a couple of times over the years dairy farmers had seen inside it, and would get quite excited to see an original shed that was just like the ones they'd known as children.
Static display
"Once we opened the farm park we always thought it would be a nice to restore it and share it with visitors. But it was quite a job – and it needed quite a bit of love to get it ready for the public to view."
At the start of 2018 Sue's husband Tony Howse took on the challenge – to refurbish not only the milking shed but also the nearby shearing shed and tool shed.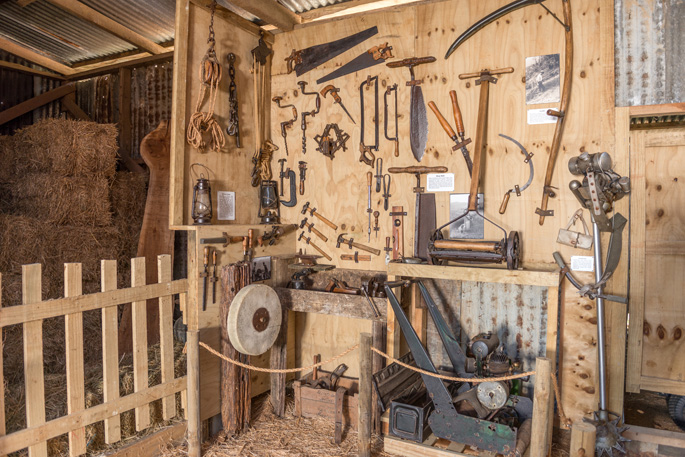 During two years he used his know-how to work on each project, and all three sheds were opened to the farm park visitors earlier this year.
The early mechanised milking shed is now a static display showing people how it used to operate in what is today's most important primary industry in NZ.
Sue says today's set-up is not operational – it doesn't have a working engine anymore. "A sign explains how an engine powered by a belt at the back of the room would drive a mechanism to create the vacuum needed to operate the cups.
"The milk would have come from the suction cups, up pipes to the little glass receiving jar then funnel back to the copper collection unit," says Sue.
The plan is to eventually reinstate the milking plant so it is functional, with an engine firing at the push of a button.
The tool shed houses an extensive display of the tools used to cultivate, build, grow and develop rural NZ to what it is today. From handsaws to hammers to shovels to lanterns, Sue says this shed is very popular with visitors.
Charlie Bradford
"About three-quarters of the equipment has come from off this farm, and the rest has been bought."
And nearby the shearing shed has been refurbished but is still a working sheep shed that now doubles as a museum. Inside is a two-stand shearing set-up with an old Donalds wool press, sheep pens and a table for throwing and checking fleeces.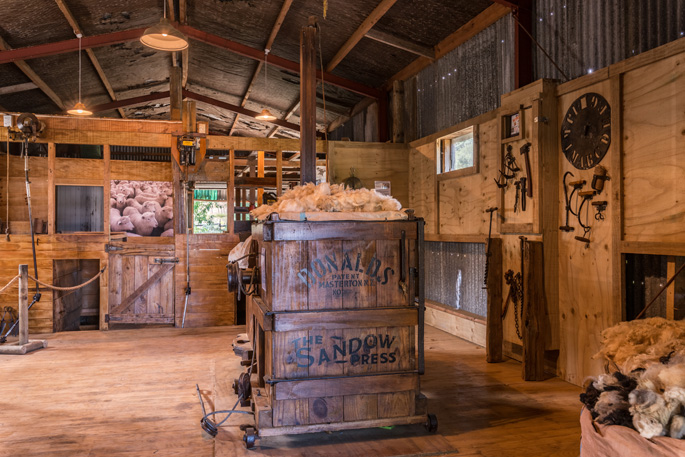 While not knowing much of the farm's early history, Sue understands a man named Charlie Bradford owned the property in the 1960s when it was a dairy farm and was later converted to sheep.
"The story goes that when he was a young man he went to the Te Aroha races and put all his week's pay on a horse. The horse came in and he bought the farm with his winnings."
Today the farm park attracts 10,000 visitors annually. "We get a huge variety of people who visit, from all nations and backgrounds. But quite a big proportion of our visitors are retired Kiwi farmers, who enjoy the opportunity to share their love of rural life with their city-dwelling grandchildren."
All three sheds are part of the farm park entry price. Find out more at: www.bullswoolfarm.co.nz