Ngahinapouri dairy farmer Peter Butler has been restoring tractors for the last 15 years. It's mainly a winter-time project as he milks cows the rest of the year.
Peter has to do a count up to ascertain that he has 13 tractors. Ten Massey Fergussons and three Valtras. Eleven of these are now in good working order and two are currently being rebuilt.
Of the thirteen tractors, there are two 240 Massey Fergussons; one was bought in Taranaki and one was brought from the South Island. And according to their numbers, they were built in England six months apart. "That was a surprise," says Peter, who admits he's loved tractors since he was a boy.
"And I've been driving them since I was six or seven. In those days you could do that and it was okay, it was normal."
He's currently working on a tractor that belonged to his wife Helen's father. Helen's father bought the tractor new in 1962 and had to have it modified especially for him as he had only one hand. The throttle was put onto the left-hand side of the steering wheel so he could drive it.
"It may not look like it but I don't have much to do to complete it; the motor has been fully rebuilt, it's just a matter of putting it back together," says Peter.
"I rebuilt it on the living room floor, whilst recovering from a knee operation."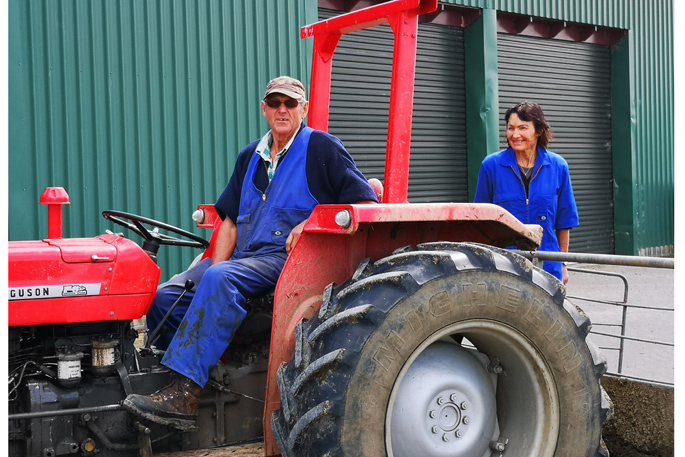 According to evidence and Helen, Peter has sophisticated mechanical skills, gained from years of pulling things to bits and putting them back together, and does most of the mechanical restoration work himself. "It depends on how busy I am. I can fix most tractors but not do the electronic work on the modern ones," he admits.
Peter uses the 11 operational tractors regularly. "The Massey 35X has the spray tank that we use to spray fish fertiliser on the vege garden, the Massey 240 has the hopper for Urea spreading, the 148 has the carry tray for calves and calf milk, the 245 has the attachment for shifting the effluent spreaders, and the rest I use for odd jobs and just getting around.
"I like to drive the old tractors better than modern ones, I don't need air conditioning or a radio."
And he reckons it's pretty difficult to choose a favourite. "I guess I like them all or else I wouldn't have so many."
Peter says he really doesn't have any regrets in life "except that I sold two of my tractors". "I sold them because I thought that I had too many, but now they're gone and some people would still say I have too many."
Does your farm or boss have a pet tractor? Or a pet digger or bulldozer? If so, we'd love to hear about it! Email: merle@sunmedia.co.nz with a photo of it and a contact name and phone number. We might even throw a prize your way for a good yarn.