For Morrinsville vintage machinery restorer and collector Gavin Mellow, his interest is so much more than just the acquisition of the machine.
He likes collecting pieces that have a known history – he loves delving further into the background, unearthing aspects of how the people using it would have lived and worked.
Gavin is a fitter/turner by trade and has a farming background, and has always had an interest in mechanical things.
"In my mid-twenties I bought my first machine, a 1918 Anderson dairy shed engine, but of course one machine wasn't enough," says Gavin.
For more than 30 years, Gavin has sought anything from the late-1800s onwards, but the majority of his collection is from the early-1900s.
"I mainly buy from other collectors, at swaps or online or via word of mouth.
"I particularly seek rarer items that are petrol, kerosene or steam engines dating from 1900 to the 1920s."
Gavin was recently part of a group of eight like-minded enthusiasts who went to Pennsylvania in the United States, and visited Coolspring Power Museum, which is America's finest antique engine collection.
"For me it was like dying and going to heaven," says Gavin.
A favourite piece in his own shed is a 1911 Shanks kerosene engine, originally from Scotland with a history in Paihia, Northland. It was most likely used in the boat building or flax industry.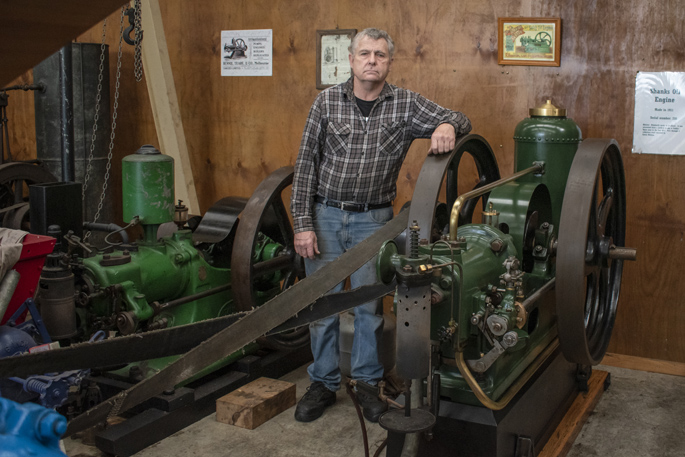 Another treasured piece is a post-1900, two-cylinder Frisco Standard, 6hp petrol engine, which has an extensive known history.
"From the early-1900s it was used to drive the winch gear on the 1835 sailing ship, A.S. Isabel, an Irish coal hauler that ended up working in Canada, then the Pacific, before its fiery end in the 1950s."
Gavin's 12m by 7m workshop is full of lathes, milling machines, patterns and castings. He can now restore his machines from scratch himself. "I get a real kick out of working out how parts were made using old techniques.
"Quality and aesthetics were important back then and I like to replicate that."
When his son Paul was 12, he and Gavin built a hybrid tractor together. It has a 1920s Associate 3hp petrol engine, and they fashioned a seat, wheels, frame and gearbox from pre-1920s parts, some from horsedrawn equipment.
"It's called the 'OneOff', and we are quite proud of it."
Gavin enjoys attending A&P and vintage machinery shows. He's happy to demonstrate how his machines work, and loves nothing more than a big event where he can swap stories, see other people's machines, and possibly pick up another for his own collection.
Does your farm or boss have a pet tractor? Or a pet digger or bulldozer? If so, we'd love to hear about it! Email: merle@sunmedia.co.nz with a photo of it and a contact name and phone number. We might even throw a prize your way for a good yarn.