For many years, New Zealand farmers have had to manage a broken manure recycle system, according to internationally recognised entomologist Dr Shaun Forgie.
The pastures have been void of dung beetles since the introduction of livestock, which he believes has resulted in an imbalance of the natural soil ecosystem, and associated environmental issues.
Pasture fouling, flourishing livestock pests including gut nematodes, low soil fertility, biology and structure, reduced water infiltration and increased surface runoff, low water quality, no sequestering carbon, and lower pasture productivity are all familiar issues.
Pastoral earthworms were imported but are difficult to establish being susceptible to variations soil pH and soil type, and slow to spread.
However, dung beetles have been around for 100 million years, and evolved alongside dung-producing animals to recycle animal waste and restore the natural balance of the soil ecosystem.
In, 2014 Dung Beetles Innovations was founded with a mission to rebalance New Zealand's pastoral farming systems through leadership, the sale and research of dung beetles.
Shaun, who has a PhD and MSc (Hons) degree specialising in dung beetle reproduction, ecology and evolution, is part of the Dung Beetle Innovations project.
Broken nutrient cycle
"Dung beetles complete a broken nutrient cycle, thereby increasing the sustainability of livestock farming. As with many environmental issues, nature offers a solution.
"They provide a proven, self-sustainable range of ecosystem services, including reducing through the incorporation of nutrients in the manure into the soil," says Shaun.
Dung beetles nest in soil with little regard of soil type or soil conditions and rapidly bury fresh manure within days of it being deposited on the pasture, managing manure self-sustainably.
The significant improvements to structure of any soil, and its health from the tunnelling and burial of surface dung (organic carbon) is a common-sense benefit to the farmer for long-term sustainable farming, says Shaun.
The Environmental Protection Authority granted approval to import 11 species of dung beetle suitable for NZ, based on a stringent risk cost benefit analysis and iwi consultation. This process was reviewed twice over by external impartial auditors, taking into consideration all pros and cons in the published literature, reports, reviews, etc.
"If they were deemed to be a waste of time, no benefit to farmers and the country, or a health/environmental risk, then they would not have been given approval for release in NZ," says Shaun.
The foundation of Dung Beetle Innovations provides a unique initiative enabling the large-scale deployment of dung beetles into NZ's pastoral ecosystem that's been without nature's clean-up crew for so long. By doing so, the ecosystem services they provide will contribute significantly towards the sustained restoration of NZ's natural environment, says Shaun.
Otorohanga lifestyle farmer and beekeeper Rob Atkinson was one of the first in NZ to embrace the commercial aspect of dung beetles.
Lifestyle block
His 30 acre effective 'glorified' lifestyle block, consists of medium hill country with Maeroa Ash soils and a sprinkling of limestone tomo. He runs around 10 cows, 40 sheep and a few pigs, and describes his land as not very fertile. "The dung beetle concept fascinated me," says Rob.
"It's a long-term solution and once numbers are up, they reach a natural equilibrium as they only eat dung."
Rob hopes to see worm numbers up, more aeration and water absorption, resulting in reduced run off into the waterways.
In 2016 Rob bought and released a selection of dung beetle types onto his land: Paua beetle (Geotrupes spiniger), Mexican dung beetle (Copris incertus), Taurus beetle (Onthophagus taurus), and Binodis beetle (Onthophagus binodis).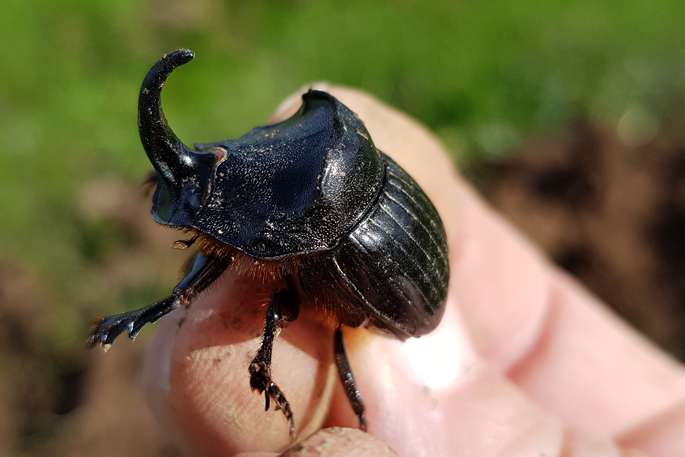 "The variety was deliberate, using their different breeding cycles and different activity periods to try and get as near to all-year-round activity for the pasture."
Rob sees activity from the Paua and Mexican beetles by the little mounds of subsoil on the grass where there was once a dung pile. He's yet to see proof that the smaller beetles are at work but it is early days. "They take about two days to demolish a dung pile, which is pretty good going."
Neighbours who have not released dung beetles have reported activity on their property, so they are spreading naturally. Rob has also bought and released dung beetles on friends' properties in Awakino and Kawhia. "Call it my ecoservices to the community," says Rob with a laugh.
Research project
As Rob's property was one of the first release sites, a PhD student from Waikato University started a research project last month.
During two years, this will monitor the activity of the beetles, including how they are spreading, and the effect on the soil and run-off. Rob is very happy that he "jumped in boots and all".
"There might be an initial outlay but after that you have a free workforce that just gets the job done for you many years into the future, in an environmentally-conscious way."