Two vintage machinery enthusiasts who've been working to bring the Kerepehi Flax Mill back to life will next month show the public the old mill's first time back in action since closing in the 1970s and the project to preserve it.
Diesel mechanic Brendon Adams and retired dairy farmer Robin Hill have restoring the mill since about 2015. Back then they'd found it standing abandoned and rotting since its closure in 1973.
So the two Hauraki Vintage Machinery Club Inc members independently came to the same conclusion that the old flax mill at Kerepehi should be preserved.
New Zealand's native flax, known as Harakeke or Phormium tenax, was one of the country's earliest export commodities, says Brendon.
"Its strong fibres had been used by Maori for weaving and cordage, and the European settlers soon started using it for rope, cordage, chaff sacks, wool packs, baling twine and carpet textiles."
Flax grew well on the swampy land of the Hauraki Plains and in the early-1900s, there were several mills in the region, speeding up and mechanising what was a skilled, but laborious process for the Maori.
Waterways
"The mills were close to waterways as a considerable amount of water was used during the cleaning process of the flax, and harvested flax was brought in by water on punts," says Brendon.
While many of the mills closed by the 1920s, the Kerepehi Flax Mill, on Kaihere Rd, remained running until 1973 under the ownership of Harold Watson, in partnership with father and son, Lewi and Bruce Niederer.
According to Brendon, Harold Watson was born and bred immersed in the flax industry. He supported and acknowledged the talent of Maori in the growing and processing of flax.
"Harold was enthusiastic and inventive about the material, and moved with the market fluctuations and evolving demands, which explains why Kerepehi was the last mill standing," says Brendon.
Located 6.5km up the Piako River from Ngatea, Kerepehi milled more than 500 acres of flax, much of it planted several decades before. The mill was initially run using a steam, diesel or gas engine, and converted to electricity as it became more available.
"Kerepehi may have had two strippers at some point," says Brendon. "Up to 25 people per stripper were employed at a mill like Kerepehi during its peak."
Short ends
Short ends of fibre were lifted out of the drain of the stripper, but the main fibre was collected to hang out to dry over fences in the paddocks. The short ends were dried and teased through another machine before being baled for use by Sleepyhead, Smith and Brown, and for plasterboard manufacture.
When the mill closed, it sat as it was left on part of local farm. "When we approached farm owner Eddie Rees, he was very keen on seeing the mill preserved, and leased the land to us for very little money," says Brendon.
Hauraki Vintage Machinery Club members banded together and performed a major clean-up and maintenance. "Local businesses came on board to assist with materials," says Robin.
Local builder Mark Millington, with supplies from Placemakers Kopu, assisted with recladding, and adding doors to secure the building.
Brendon rolled up his sleeves and partially reconditioned the stripper "to prove it works". His grandfather was involved in the maintenance of the Hauraki flax mills, so he finds it fitting that he is also working on the machinery.
Don Robinson Engineering helped with welding and Hauraki Plains Motors provided spares. Electricity had been removed from the building many years ago, so the club needed something to power the stripper.
Nuffield tractor
"We were gifted a 1956 Nuffield 3 tractor and with a new drive-belt from Ngatea Milking Machines, we can use that to drive the stripper," says Brendon.
Although a little worn on one side – a job that's waiting for Brendon to tend to – the century-old stripper still does a good job stripping down one side of a length of flax.
In April, following the passing of his good friend Murray Stent, Brendon bought Murray's beautifully restored circa 1910, Tangye 5HP Colonial 5" x 7" Steam Engine, from the family.
'No. 1576' just needs Brendon to restore a small vertical boiler he's acquired, and the steam engine is earmarked as the power source for Kerepehi Flax Mill.
"Our goal is to enclose, secure and renovate the whole plant, and get all the machinery working," says Robin.
Last mill standing
As the last flax mill standing in the North Island, complete with machinery, there is plenty of support for turning the property into a working museum, and compiling photos and history of the industry.
Maori from Paeroa came and visited, bearing several different types of flax, and demonstrating how Maori use the fibres. Brendon and Robin describe this as a "very good day".
"We'd like to incorporate that aspect into the museum, and allow the public to see the whole process through to the products made," says Brendon.
On Sunday, November 24, the Hauraki Vintage Machinery Club is holding their annual Crank Up Day at Kerepehi Flax Mill, 668 Kaihere Rd and welcome the public is to attend.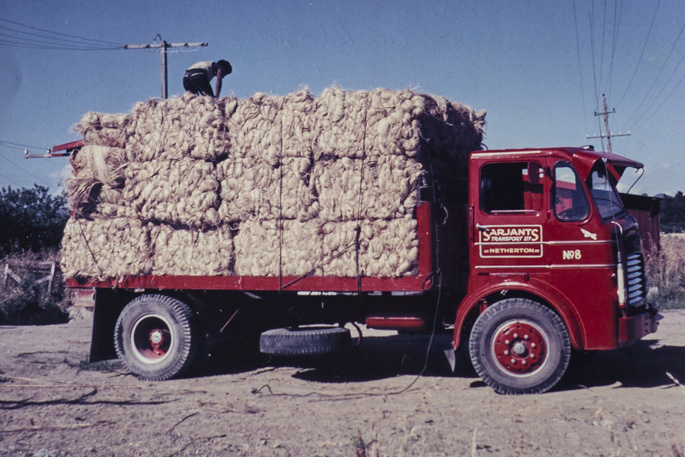 Flax fibre harked, scutched, baled and loaded on a truck for Auckland circa 1960s. Photo: Supplied.