In a town once renowned for gold mining, there's an enterprise built around a different kind of gold.

Te Aroha is home to Braeside Aquaria, New Zealand's largest gold fish breeding operation owned and operated by Sally and Murray Barker.

Murray Barker selects fish for breeding based on their colour, side and configuration.

It is also probably the oldest surviving goldfish company in the country. Braeside was founded by Stan Gover, who invited Murray to help him run the farm and in 1978, sold the business to the Barkers and two silent partners.

"Up until I joined Stan I had been a bit of drifter, doing all kinds of jobs, but I could see the potential the fish farm had," says Murray.

The farm has grown from around 30 ponds holding 150,000 gallons of water to more than 60 holding four million gallons and breeding around 400,000 goldfish of 25 different varieties each year.

Murray and Sally have learned a lot about goldfish in the past 35 years and it's the techniques they've developed for breeding, feeding and handling fish, which has enabled their business to survive and grow where others have failed.

"It was Stan who figured out we could build round tanks using the corrugated iron manufactured for half-round hay barns for a fraction of the cost of buying specially made ponds."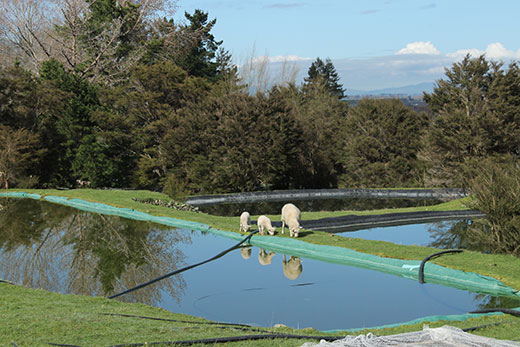 Braeside Aquaria ponds cover three hectares of land on its Te Aroha site.

Not easy
Breeding goldfish isn't easy. Predators, disease, an appetite for their own eggs, weather and changing social trends are among the factors which can adversely impact on business.

"There was a time when almost every child played outside, built huts and owned pets, including goldfish. Now they seem to spend most of their time playing on their phones and interest in owning goldfish has dropped," says Murray.

However, an increase in New Zealand's Asian population has helped buoy up the market, as goldfish are very much part of their culture.

Braeside Aquaria fish are sent, in plastic bags full of water, by special courier, to clients all over the country. The major customers are pet shops, vets, landscapers and companies who hire aquariums for display in offices, medical centres and hospitals.

Murray used to source new varieties of fish from overseas but today importation of goldfish is prohibited so the genetic pool among breeding stock currently in the country is all that's available.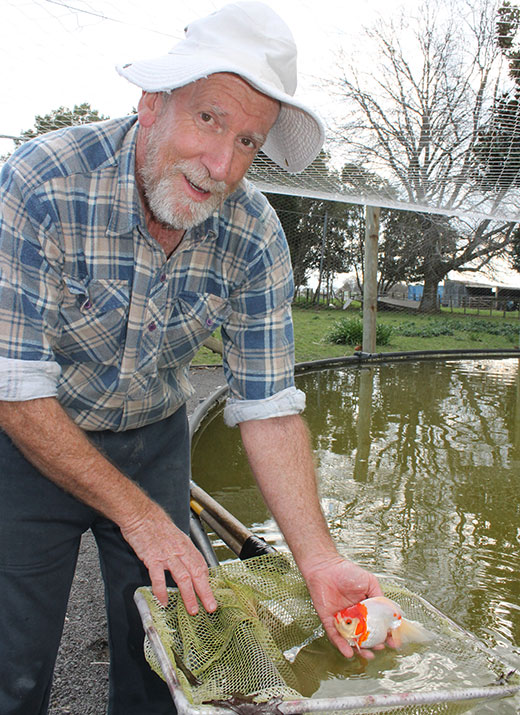 Murray Barker has been breeding goldfish at Te Aroha for 35 years.

Manuka nests
At Braeside fish with the attributes deemed desirable are selected for breeding and spawning can be manipulated by raising the temperature of the water they swim in. Murray does this by putting breeders into long narrow ex-dairy factory stainless steel tanks, heated by electric elements.

"We make a nest of manuka branches and place them in the tank for the females to lay their eggs on, and once the males have fertilised them, we remove the nests because the males in particular, will eat the eggs."

The adult fish are returned to their ponds and the nest replaced in the tank, where other eggs may have survived. For the first two days the young which hatch feed on their egg sacks after which they are fed a broth of tiny shrimps. Up to 40,000 fish may be produced in each spawning but only a small percentage will reach maturity.
While they are still very tiny, the fish are sucked into a large pipe and transported, with the aid of gravity, to an open pond where they will continue to be fed and grow until ready for sale at about 12 weeks.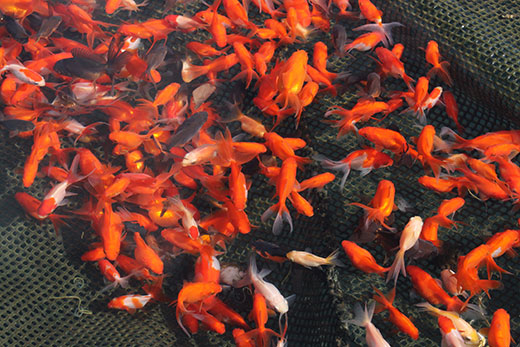 The Braeside ponds on a three hectare Te Aroha site are fed with untreated water from a mountain stream and most are covered in netting to keep out birds who like to feed on them. As well as raising fish, the Barkers breed some of their food, including a water flea.

In 2002 Sally and Murray bought the Waihou School, a short distance from Te Aroha after it was closed by the Ministry of Education and installed more fish ponds there too.

"Schools are such a vital part of communities and we didn't want to see this one disappear," says Murray.

They also built a new home on part of the playing field, living in the original school building, constructed in the late 1880s, while the house was under construction.

A classroom block which had previously been removed was replaced with a replica and turned into a function centre complete with commercial kitchen and has hosted weddings and more recently conferences and workshops.

The grounds, with old established trees and play equipment, remain as they were in the days when school children played there, and the complex is now for sale, as Murray and Sally want more time to enjoy travelling. However, they have no current plans to give up breeding goldfish.