As Opotiki organic kiwifruit grower Mark White stood in an Italian orchard near Verona, back in May, talking to the orchardist, a Brown Marmorated Stink Bug (Halyomorpha halys) crawled up his leg.
"We weren't expecting to see any because it was very early and not their breeding season. But there it was," says Mark, who with wife Catriona and children, Letisha, 16, and Lochlan, 14, were on a two-week trip of Italy to learn how their European counterparts are dealing with an incursion of the bug.
Catriona says the orchardist's reaction was: 'Oh, well there's one'. "He wasn't at all surprised. "That was pretty sobering. It made it all very real."
From their experience, they believe New Zealand needs to do everything it can to stop this bug getting into our country. "Protecting our border is crucial. Because once it gets here, there's potential for some significant damage," say Mark and Catriona, whose trip was part of their 2018 Ballance Farm Environment Awards national title prize.
The family toured Latina, two hours south of Rome, a big kiwifruit-growing region. Here, they joined a Greek Kiwifruit Growers tour of organic and conventional orchards, then went north to Bologna and Verona orchards.
Smorgasbord of food
Mark says the stink bug is seen in southern Latina but it seems to too hot for it to establish there. "It's more prevalent up north in Verona. In the bug's favour is Verona has a larger range of crops for it to eat."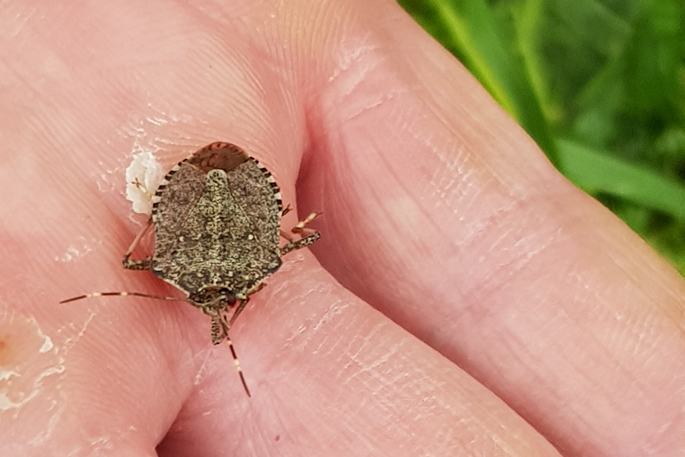 Catriona says soya beans is a favourite. "But once that food source is depleted it will move to basically whatever else is ripe. And with orchards being smaller and multiple-crop in Verona, there's a smorgasbord for the stink bug."
Mark says he met a pear grower who lost 100 per cent of his crop. "A Bologna grower said the bug's impact on orchards is like a bell-shaped curve. In the establishment phase there's 20-30 per cent losses. At peak in his kiwifruit orchard he experienced 70 per cent loss, then it tailed off to 20-30 per cent year-after-year."
Catriona says a popular method to keep the bug out of Italian kiwifruit is to enclose orchards. "Almost all G3 SunGold have hail netting. The orchardists build on sides, right to the ground to enclose the orchard, so adult stink bugs can't get in. They then spray inside, which is somewhat effective."
"One grower told us is: 'We spray today but tomorrow another lot comes'. He means the nymphs (babies) can get through, and so another population breeds up."
Mark says orchardists seem to use two strategies. "The first is a pull strategy – they try to use a soya bean crop or something similar to pull the bugs into it and out of the orchard. The push strategy is spraying. But the chemicals they use can't be sprayed close to harvest."
Native wasp
Some University of Bologna researchers told the couple the most effective strategy they've seen is in cities gardens where there are no sprays but a native wasp that kills BMSB eggs.
"They said this wasp is 30-40 per cent effective and the samurai wasp – approved for use by the Environmental Protection Agency in NZ if a BMSB incursion happens – will be more like 80 per cent effective.
"The Italians haven't got the Samurai wasp – not native they're not permitted to import it."
Catriona says Italian kiwifruit growers are also concerned about stink bug-infected fruit getting into the marketplace. The bug pierces fruit but it can take up to one week for signs of damage, such as shriveling, to show.
"Pierced fruit could go into the marketplace and consumers could buy it – but it tastes terrible, so there's fears they won't repeat purchase.
"As a result, growers manage harvesting a little differently so affected fruit doesn't get through."
As organic growers, seeing tools such as netting and biological controls in action in Italy, gave the Whites comfort organic control methods are available – if needed – one day back home. "Chemicals are not really a long-term answer because it can kill predators the bug may have, like the wasp."
But the couple say Italian horticulturalists, like NZ growers – "are ever hopeful researchers will come up with a really effective way of controlling the bug".
Very collaborative
"We also realised NZ's kiwifruit industry is very collaborative, which is good for sharing knowledge and information about growing practices – and going forward will put us in good stead for getting information out there about how we can stop this bug," says Catriona.
"That's a difference to what we saw in Italy," says Mark.
The Whites thank Ballance Farm Environment Awards for enabling them to take their children on the trip of a lifetime. "Entries to the 2020 BFEA are now open – we encourage any farmers and growers thinking about putting their name forward to do so. We learned so much from it."
More information about BFEA is at: www.nzfeatrust.org.nz/ballance-farm-environment-awards
Growing differences
The Whites also noticed other different growing techniques to back home. In the Latina region the soils are very clay-like, which need cultivating each winter. And it gets very hot in summer – up to 40-45 degrees Celsius, says Mark. "One of the things our kids noticed is they have very big irrigation laterals in the orchard, because they are watering up to three times a day to keep their plants and fruit in good condition."
Catriona says the diameter of the lateral pipes in a few of the orchards they visited was wider and had two lateral pipes going down each row, to be able to get more water on. "Which is something we don't see in NZ."
Mark says some of growers are using fertigation because they're watering and have figured out it's a good way to feed plants. "And that's an increasing trend there."
And while taking to Greek growers on convention tour on Italy, just like Italian growers, they said face harsh climatic conditions compared to what the Whites do here in NZ.
"They have really severe frosts. Whenever you ask about their major challenges, climatic conditions is always brought up," says Mark.
"What was also interesting was over there the conventional growers don't use hicane and on a number of orchards we visited they don't use glyphosate products. They are still using sprays. The EU banned hicane but you can tell Italy is definitely trying hard to phase out use of product like glyphosate."
Catriona says another big difference in NZ is we use wooden posts for orchard structures. "In Italy they use concrete – as it is availability and cost issue with wood being expensive and not so common there."
Artificial pollination
And in the Latina region, the couple were told due to few native bees making it complicated and expensive to have beehives on orchards, every grower there used artificial pollination.
"In that area Psa was still very much on their mind – and you could see they were still taking precautions with a lot of copper sprays being used," says Mark.
And labour issues were mentioned a lot – particularly in northern Italy. "In the Bologna/Verona area, which is 500km north Rome, many of their orchards are smaller.
"So the kiwifruit part of their orchard might be 1.5ha and then they have other crops such as pears or cherries, stonefruit or pipfruit. Some of the issues were around them having jobs to do on the other orchard crops, so they couldn't finish a job on kiwifruit as they needed to do something on the grapes.
"Just like here in NZ, there is a constraint on the labour pool, so they have to go with the work on different crops and try to catch up later on. It meant some of the tasks were not completed on time," says Mark.
Family trip
Between the orchard visits, Catriona and Mark also went sightseeing with their children.
"We went to Pompeii, had a few days in Rome, and it was nice for them to see places like the colosseum in person – see the scale of it and venture inside," says Catriona.
"And we went to Cinque Terre – five seaside villages on the Italian Riviera." Mark says Italy's land use is really very impressive. Up this mountain they'd made terraces and planted grapes for their wine."
The Whites also visited an organic packing facility for a number of fruit and vegetable crops. It brought in a big range of organic produce from all over Italy and packed it accordingly to each customer's requirements.
"What we were impressed with was the absolutely brilliant quality of produce, really stunning looking produce."