When Roger Hill and wife Anne began Hill Laboratories in Hamilton 35 years ago, they thought if it grew to four staff they'd have made it. "Anne was looking after the office part-time, along with two young boys and the family home. I was the chemist and main customer relations person. Employing two full-time technicians was our goal," says Roger.
"There was no in-depth business plan in those days – it was work hard and keep running. Within nine months we had our two employees. We grew very quickly."
Today, Hill Laboratories' is New Zealand's largest privately-owned testing laboratory – covering three main areas: agriculture, environmental and food – with 430 staff across its Hamilton, Christchurch, Wellington, Blenheim and Auckland sites.
"We never, ever imagined Hill laboratories would be at the scale it is today," says Roger, who recently won the J Benton Jones Jr Award at the 16th International Symposium on Soil and Plant Analysis in Wageningen, The Netherlands.
Prestigious award
The award is bestowed at each biennial symposia to recognise an individual who has made an outstanding contribution to the scientific profession of soil and plant analysis. "It was an honour, I was delighted," says Roger, who accepted the award in person amongst 150 delegates.
The 69-year-old grew up on a Te Aroha dairy farm, went to university "and tended to just follow the subjects I was interested in".
He married Anne while studying for his master's degree. "I managed to get a scholarship to do a PhD. Initially, I never had any intention of going further than a Bachelors."
Finishing his PhD, Roger found it hard to get work as the Muldoon Government had placed staff ceilings on government departments. But he got a job in Cambridge, at Analytical Services. "I set up the lab, a challenging task for a recent graduate, then managed it for eight years. There weren't many private labs at the time. "Most testing was done by the Ministry of Agriculture, which was free, but sometimes you had to wait up to six weeks to get your results."
"It was a great job. I had a very entrepreneurial boss, and we grew the business to 14 employees. Unfortunately, I couldn't get any share ownership in it, which was important to me." Anne encouraged Roger to set up their own lab in Hamilton.
Diversified
With a need for quick, comprehensive tests, Hill Laboratories offered soil testing initially but quickly diversified as other requests came in. "We were very agile and willing to take opportunities as they arose.
"When we started, we focused on agriculture and horticulture, as kiwifruit was booming. Then came water testing in 1987, when gold mining kicked off in the Coromandel.
"Then Environment Waikato, just down the road, closed their lab and sent us their samples. In those early days it was very exciting, heady stuff."
Hill Laboratories went into food testing in 1995 – in specialised areas such as pesticide residue testing of kiwifruit and other crops, and heavy metals in food. "Since then we've responded to other niche areas. We were the biggest lab doing methamphetamine analysis, and we also do asbestos testing. We are also NZ's largest water testing lab."
Technology advancement
With technology advancing, testing methods have changed rapidly – Roger says this is part of the excitement and part of the headache. "Really, we were chemists running a business, so we loved the technology and the new 'toys' that came out.
"Every five years there seems to be a generational change. When I started we measured Parts Per Million, then Parts Per Billion – now it's Parts Per Trillion."
But the challenge is keeping up-to-date. "We spend around $2 million annually on instrumentation – to keep up with capacity to keep growing markets, but also on the latest technology to do things better."
Roger says his award also recognises some of the innovative, world-leading work Hill Laboratories has undertaken, including development of reliable near infra-red testing of soils.
"This is a very clever technology and we could see the power of it," says Roger, and the lab staff worked hard to learn and become experts in the technology so they could adopt it into their routine testing procedures.
Soil extraction robot
Another innovation is the design and construction of an automated soil extraction robot in the early-2000s, a world first. "Working with some local engineers, we designed a system called RoSEE – the Robotic Soil Extraction Equipment. It did soil extraction but was also quite complicated. We simplified it. Version 2 is called ASTRO – the Automated Soil Testing Robot. "
Asked what's made Hill Laboratories prosper, Roger says: "We were at the right place at the right time when developments happened.
"And we had the desire to do the job properly. We were ISO-accredited within the first few years. It was about not cutting corners and finding the best technologies for the job, driven by our passion for science."
Roger says having good staff was also huge. "The first people we employed were really enthusiastic and excited with what we were doing and worked very hard for us.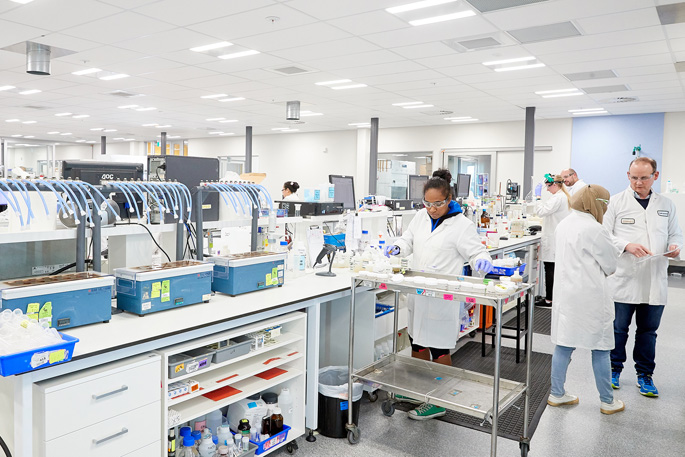 "I remembered how I couldn't buy shares at my previous job. So with a sense of fairness, we offered shares to around 12 key staff members, and they've enjoyed capital growth in the company too."
Asked what service he most enjoys, the boy who grew up on a dairy farm says soil testing. "The whole story about how soil and plant analysis complement one another and how you can diagnose problems as far plant and animal nutrition is concerned – I still love that area of agricultural analysis and how it can be used.
"I'm also really proud of the routine testing we now do for regional councils – the majority would use us as their contract laboratory."
The future
What does the future hold? "Well, we define agricultural and environmental testing as two separate areas of our business. But in actual fact, the two are coming closer together.
"Also, what we call 'food testing' – the areas we're involved in such as nutritional value and residues, is really just an extension of farming.
"So even though we thought we were diversifying from being just an agricultural farm testing laboratory – they're all interrelated back into NZ's agricultural systems.
"It may get to the point where we're doing specific environmental tests for individual farms. Currently, it's mainly regional councils monitoring the environment but I think it's going to come, certainly at an individual catchment level.
"The environmental story and how that will impact on agriculture is a big area that's going to grow in future."
Two years ago, Hill Laboratories moved into a new 7000m2 laboratory in Hamilton, setting things up for the future. Anne and Roger's elder son, Jonno Hill, who has a PhD and has worked in the business for 13 years, has stepped up to be CEO, keeping it in the family.
Anne
Lastly, Roger says Anne, who retired this year, contributed hugely to the business. "Particularly with staff, Anne helped to set the business' culture. She's really played a big part in the way Hill Labs has evolved and what it has become."