More than 250 people from every facet of New Zealand's kiwifruit industry – and Agricultural Minister Damien O'Connor – celebrated 25 years of its grower body and the 'Seeds of Success' book launch on July 3 at Mills Reef, Bethlehem, near Tauranga.
The evening recognised NZKGI's central role as an advocate for growers – and both founding chairman Hendrik Pieters and current chairman Doug Brown spoke of the industry's challenges and successes in the last 25 years including the Psa-V outbreak, grower solidarity around the single desk structure, and the Kiwifruit Industry Strategy Project.
Hendrik gave a detailed account of how NZKGI came about in 1994, saying the industry boom of the late-1970s and early-1980s led to it growing out of control – and change was imminent.
More fruit was being produced than the market could accommodate – and reducing incomes, high debt and increasing interest rates made for a difficult situation. Plus growers were not united and vested interests were rife.
In 1988 the Kiwifruit Marketing Board was formed as single seller for kiwifruit. But many growers were initially opposed to it and there were constant challenges to the support of the new structure.
"The fact KMB was in debt to the tune of $80m in the early-1990s did not help the situation at all. This was further complicated by grower fractionality," says Hendrik.
A working party was set up to find a way to unite views of growers, funded by the Fruitgrowers Federation. "The working party had all factions represented and we conducted grower meetings throughout the country and thrashed out issues that confronted the industry. The first 18 months was very intense."
Eventually and slowly trust was built – but the pressure didn't stop when NZKGI was formed. "I was elected chair and the issues that needed attention continued to attract high levels of debate and discussion – as they do today."
But Hendrik says a unique factor of today's industry is three areas that give it significant competitive advantage. "First, we have a coordinated marketing structure through Zespri. Second, which is very important, we have a coordinated grower representative group, NZKGI.
"Thirdly, we've got coordinated research and development. When you go overseas and you talk to other kiwifruit nations, none of them have all of these three things."
Current chair Doug Brown says NZKGI is an organisation that strives to be responsive and agile to adapt to the ever-changing industry environment while representing growers with a strong voice.
"From the KISP review, today's forum make-up has been streamlined from 38 members to 27 – and I can assure you Hendrik nothing has changed. We're still a wide diversity of views."
And with the face of the industry changing, Doug says it's crucial the NZKGI body is exactly that – "representative of the grower groups that make up our industry today".
"To be a strong advocate for growers and industry decision-making, we recognised within NZKGI a few years ago the requirement to reshape our organisation to be fit-for-purpose in this regard."
Today portfolios include communications, performance and supply, external relations, industry stability, labour and education, and organisational management.
These will help NZKGI to play important role in addressing challenges of labour, water, and the right to grow. "Consumers are increasingly aware of social and environmental issues and there's a growing pressure on us to show we're addressing their concerns," says Doug.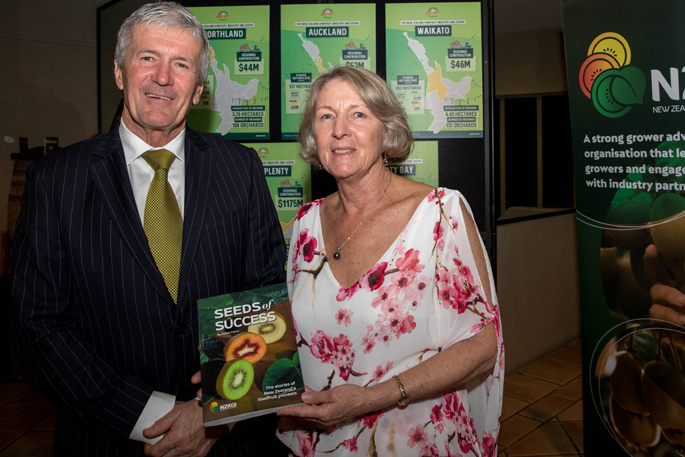 He also thanked industry pioneers – with many featured in the book 'Seeds of Success. The Stories of New Zealand's Kiwifruit Pioneers', which was commissioned by NZKGI, written by Elaine Fisher and launched at the anniversary celebration.
Zespri chairman Bruce Cameron commended NZKGI for the heavy-lifting it does on behalf of growers "and the way they pull their weight".
"The tension and debate we have between Zespri and NZKGI, I think, brings out the best in the industry.
"We are blessed with people, which through the last 25 years, have made themselves available to become members of the forums that have gone on beforehand from Hendrik to Doug's team now."
Bruce also applauded the way NZKGI has evolved. "It's participation in the industry is everything from strong conversations around political edginess, subjects that are difficult to manage through to pastoral care for growers.
"What comes to mind is the effort through the Psa years, where KGI stepped up and came to the forefront and looked after our family. To come through such a stressful period like that is a fantastic attribute."
Agricultural Minister Damien O'Connor acknowledged all those involved in setting up NZKGI. "This was the first attempt at unity in your industry."
Doug concluded the evening's formalities by saying: "This is your industry – you own it, you're the grower. So at NZKGI, we are unashamedly grower-first".