This year, the Hannon family of Hautapu, near Cambridge in the Waikato, travelled to the small South Island town of Lawrence to collect a 2019 New Zealand Century Farm Award. The awards aim to honour and preserve families' histories that are tied to the same piece of land for 100-plus years. Coast & Country News writer Catherine Fry tells the Hannon's 154-year story at Tinopai.
The Hannon family's combined New Zealand century farm of Tinopai in Hautapu and a block in Te Miro is celebrating much longer than 100 years in their hands this year.
The Hannon family can trace their heritage on the Tinopai land back to 1865, and their ownership of the Te Miro block to 1912.
The Hannons have experienced numerous births and deaths, joys and tragedies, mysteries and scandals during their 154-year history on the land. Today the farms are run by fourth and fifth generation Hannons, and youngest member of the family is seventh generation. Richard Garland Hannon, the current custodian of Tinopai, shares memories of his family.
Irish beginnings
Their story began in 1865 when Patrick Hannon enlisted in the Waikato regiment, and came over from Limerick in Ireland to settle in Cambridge with his wife Anne (née Stanley), and their four children.
Richard has early paperwork showing a 50 acre 'soldier's' block allocated to Patrick Hannon in Hautapu. An adjoining 100 acres was acquired around 1882. The 150-acre farm was named Tinopai, meaning "very good" in Maori.
A family mystery is the disappearance of Patrick Hannon, possibly to Australia. Whatever happened to him, records clearly show that his wife Anne owned and ran the farm with her children, Margaret, John, Richard and Thomas, until her death in 1911.
The racing stables
Patrick and Anne's son, Richard, known as 'Dick' Hannon, and his wife Isabelle (née Capewell), took over his parents' farm and it became a racing stables. His name became very well-known in the Cambridge area and the NZ racing industry, and was affiliated many other equine disciplines.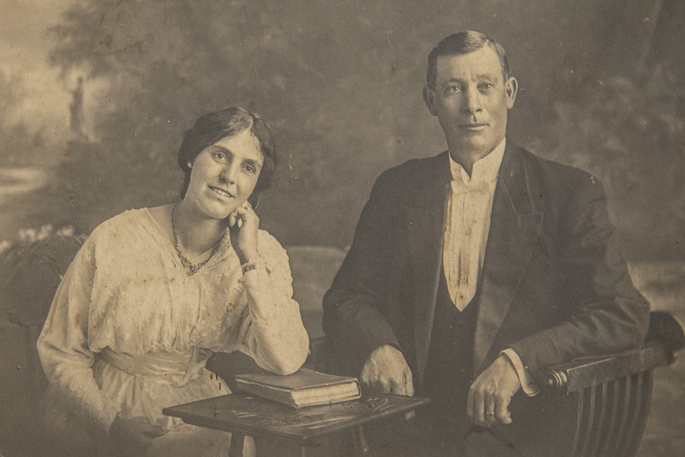 Richard says his grandfather very successfully bred and trained racehorses. The cream and crimson silks of Tinopai Racing Stables dominated for 16 seasons from 1914-1930. "Famous horses from the stables included the sires 'Quin Abbey' and 'King Lupin' and the mare 'Tinopai', with 23 jockeys serving their apprenticeships at the stud."
Te Miro block
While the property was under Dick, a 900-acre bush block in the hills of Te Miro was bought. The land was harsh and undeveloped. A small homestead was built up there in the 1950s, and anyone going up there before that camped in the bush.
"The bush was systematically cleared but it remained an isolated spot hammered by the elements, and good half day's ride on horseback from Cambridge on rough roads and tracks. Animals raised up there were hardy."
When Dick died in 1943, his only child Richard Capewell Hannon, known as 'Richie', and Richie's wife Norma (née Garland), took over the farm. "My father Richard 'Richie' Capewell Hannon also had a passion for horses and was involved with polo, but didn't continue with the racing stables," says Richard.
The two properties were used as one. Richard remembers a dairy shed at Tinopai, and feeding pigs. Angus cattle were bred up in the hills and brought down to Tinopai for fattening. Romney sheep were brought down for shearing and lambing. "The sheep were rounded up on horseback and the last drove using horses was in 1955. The last cattle drove down the hill was in 1986."
Richie had a passion for metal and engineering, and during 60 years accumulated a vast amount of vehicles, machines and structures. "There was a fair turnover as engineers worked on them, and restored machinery was sold on."
What remains of this daunting collection covers several acres and sits rusting its way through the decades, until one of the next generations finds the courage to tackle the massive task of clearing it.
Tinopai homestead
The original homestead was on Peake Rd. "Apparently a tornado blew enough of it across the paddocks in the early-1900s to Hannon Rd, that it was rebuilt there prior to Richie's birth in 1916," says Richard.
There was also a serious fire at the homestead in 1995, but it was rebuilt and modernised to some extent. Various additions had been put on over the years.
Richie died in 2004, and ran the farm right up to his death, "quite literally from his death bed in the house he was born in". His son Richard Garland Hannon, and his wife Carol, had worked for him previously but had their own businesses, and then a milk run over the years.
They returned to Tinopai and cared for him during his last months, and physically ran the farms. They are the current owners of the Tinopai farm, and one of their four children, Marcel, owns the Te Miro block with Richard.
Part Two of this story will be published in Coast & Country News' next edition.