Showing their loyalty and commitment to New Zealand's kiwifruit industry, Fresh Carriers Co Ltd has commissioned the build of three new specialised reefer vessels to meet forecasted increasing volumes of fruit to be exported in coming years.
Oceanic Navigation NZ's Bruce Nisbet, who is a representative for Tokyo-based Fresh Carriers, told the audience at NZKGI's 25th anniversary event last month in Tauranga that Fresh Carriers began shipping NZ kiwifruit in 1987 – and now carries all of the industry's reefer vessel shipments to Japan, Korea and China using mainly reefer vessels.
"This year Fresh Carriers will supply 30 ships, carrying about 140,000 pallets of kiwifruit – that's close to 40 million trays of kiwifruit and about 25 per cent of all NZ kiwifruit shipped is carried by us."
Bruce says the kiwifruit industry is one of the significant users of the reefer vessels worldwide "and in order for Fresh Carriers to continue to service of their main customers they need to ensure they have the vessels to meet their forward obligations".
"Therefore Fresh Carriers is very pleased to announce they have signed building contacts for three new reefer vessels to service the kiwifruit industry for the next 20-25 years."
Bruce says the ships will be used primarily for the NZ-Japan and Korea trade, and can also be used for China.
"The ships capacity is for 4880 pallets under-deck plus 100 40ft containers on-deck, holding about 2000 pallets. So 6880 High Cube pallets into total.
"That's about 1.8 million trays [of fruit] if the ships is fully loaded."
Deck heights
Deck heights have been increased from 2.2m to 2.5m to allow shipment of the HC pallets both underdeck and on-deck.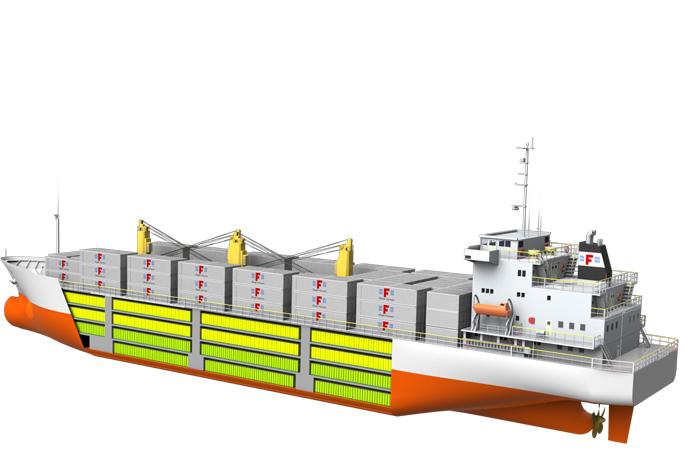 The ships will be self-sustained so they don't need to enter container terminals and can access smaller ports in order to receive and deliver cargo quickly from and to the origin/destination.
The vessels will be constructed and equipped in Japan by Kitanihon Shipbuilding Co. "I can tell you the first ship is scheduled to be delivered on October 8, 2020; the second on December 23, 2020; the third ship will arrive April 16, 2021," says Bruce.
He says the ship's engines are the latest design for fuel efficiency, minimising greenhouse gas emission, and the refrigerant is ammonium, which is a natural refrigerant that doesn't contribute ozone depletion.
"The ships are classed as EA, which means Environmental Awareness. This requires the ships to meet measures relating to MARPOL – Marine And Air Pollution, BWM – Ballis Water Management, and AFS, which is Anti-Fouling system, SOLAS, which is Safety Of Life At Sea. The ships are piped for CA – in case it's required in future.
"They'll have power and data cabling in each compartment to enable remote monitoring of fruit conditioning in each hold. Information collected can be transmitted to technicians in the Zespri office, so they can monitor fruit conditions in real time on their screens."
Partnership
Bruce says the relationship between Fresh Carriers and Zespri is now considered a partnership spanning 32 years. In a press statement, Fresh Carriers chairman Mr. T. Takeshige says the demand for refrigerated fruit and protein cargoes in bulk continues to grow strongly in various trade segments around the globe, and most specifically in the Asian markets.
"Fresh Carriers believe that specialised refrigerated vessels have a significant place in the global fruit trade in providing direct and dedicated shipping services to the fruit trades.
"The ordering of these three vessels will enable Fresh Carriers to better meet its customers' requirements, now and into the foreseeable future."
Zespri shipping manager Mike Knowles says Fresh Carriers has shown fantastic support for NZ's kiwifruit industry. "We're excited to see the increased capacity they will have in the specialised reefer segment as these vessels will play a critical role in securing our supply chain long-term to North Asia."
Zespri's chief supply chain officer Blair Hamill says the ships will allow Zespri to deliver premium kiwifruit to consumers worldwide. "The increased capacity will enable Zespri to make further progress towards our goal of growing our global sales to $4.5 billion by 2025."