John and Jeanne van Kuyk grew up enjoying raw milk cheeses, but couldn't make them in New Zealand until the Te Aroha organic goat farmers became this country's first registered producers of raw milk cheeses in 2012.

Award-winning cheese maker Jeanne van Kuyk and husband John are living their dream, milking goats on a small organic farm near Te Aroha.

Achieving that status for Aroha Organic Goat Cheese took two and a half years of working closely with Ministry for Primary Industries staff, attending training sessions, submitting cheeses for testing and lengthy paper work.

"It was frustrating at times especially having been raised in Holland where raw milk products were just part of our daily lives, however having said that it has been a very educational journey at the same time," says Jeanne.

Today the couple make cheeses with both raw and pasteurised goats' milk, but the raw milk cheeses are dearer. "It's because of the extra costs involved in meeting the extensive testing for milk and cheese and extra animal health and dairy shed inspections required by MPI."

The cheeses have to be matured longer so they are tastier and have a different texture compared to the pasteurized cheeses which are sold 'younger'.

Achieving raw milk cheese certification is the realisation of yet another dream for the couple who came to New Zealand from Holland in 1981.

"We wanted to be farmers but couldn't afford to farm in Holland. When we saw a programme on television about share milking in New Zealand we decided that was for us," says John. They left their homeland with Trudy (8) Johan (5) and Wouter (2) to contract milk on an isolated farm in Northland.

"It was great. We were farming, had a house, meat, milk, grew our own vegetables and lived so far from town we couldn't spend very much money," says Jeanne.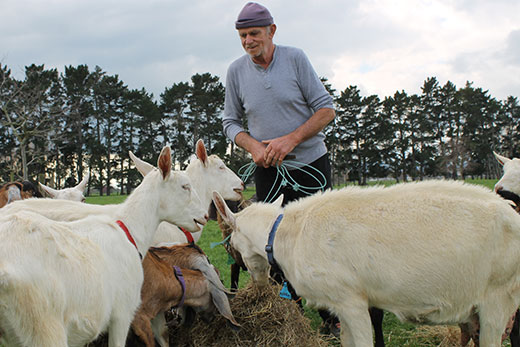 John van Kuyk feeds the milking goats hay on a regular basis.

Certified organic
Thanks to saving hard, the couple went on to buy their own cows and after share milking for six years, bought 40 hectares at Waihou near Te Aroha with friends, and continued milking cows. In 2000 they became certified organic with BioGro, after a transition period of three years.

During that time they always had a few goats but their dream was to produce organic gouda goat cheese so a small flock was established and they registered with MPI (then NZFSA) in 2004, meanwhile the cows had been sold and the property subdivided to 21 ha for farming goats and grazing dairy heifers.

It's a small scale, artisan operation. "We designed and had our goat milking plant built especially to our requirements."

The four-bail plant stands in the centre of a large dairy parlour, with red gingham curtains at the windows and shelves. A&P Show ribbons hang from one wall. There are no pens, nor races, just a ramp up to the platform big enough for four.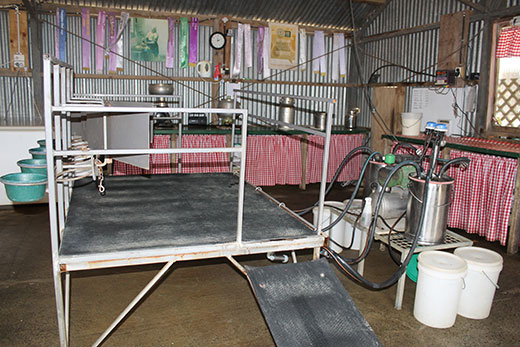 The milking parlour has a platform big enough for just four goats at a time.

Milking parlour
The 30 goats are brought in twice a day by John who milks them. Outside Jeanne tethers goats by their collars, checks the health of each and washes their udders before leading them to the milking station.

"There is no problem getting them to come in as they receive a small treat and they know it."
The milking machinery is designed specifically for goats, and the milk is delivered into large stainless steel cans, the night milk is rapidly deep cooled to minus 5C to be used for the cheese making the following day.

After milking the goats exit by a side door, back to the paddocks where they graze on an herbal ley pasture which includes chicory, chickweed, clover and pasture grasses. John also feeds hay made on the farm.

Happy goats they say, make for great milk, happy cheese makers and ultimately happy customers.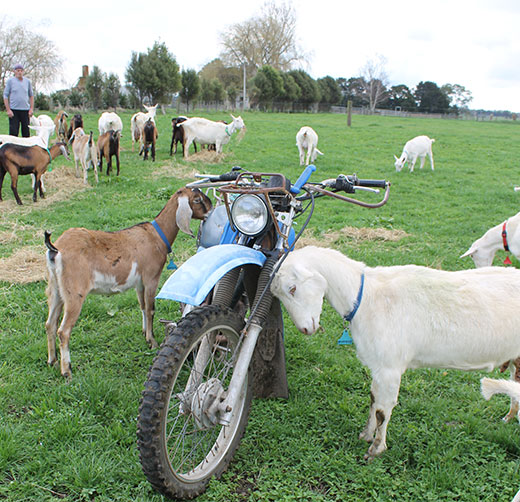 Anglo Nubian
Large white Saanen Breed and the multi-coloured, long eared Anglo Nubian goats make up the herd. "The Saanen produce more milk which is lower in butterfat but the Anglo-Nubian produce fewer litres but the milk is very high in solids - butterfat and protein."

Every goat has a name, displayed on its collar.

"Our grandchildren love naming new kids and have their own special goats they want to see when they come to visit," says John.

The couple used to take their goats to local A&P Shows, where they invariably won prizes but because of strict organic BioGro conditions which mean keeping the goats isolated from other animals and to be quarantined for 48 hours at return back to the farm, they no longer do so.

However, there are no such impediments to entering cheeses in competitions, something Aroha Organic Goat Cheese has done with significant success.

Both its Plain Gouda cheeses received gold medals in the 2014 New Zealand Champions of Cheese Awards. "They were competing against one another for the Champion Goat Cheese Award which was won by Aroha Raw Milk Rich Plain.

"Our raw milk cumin and fenugreek both won gold medals as well so did Aroha Passion. The other ones entered received either silver or bronze medals.

"But the absolute highlight was receiving the supreme NZ Champion Cheese-maker Award. We were very humbled and at the same time very honoured by this prestigious recognition."

The framed award has pride of place above the couple's dining table.

Aroha Organic Goat Cheese is only available by ordering on line, and there's often a waiting list, because of the relatively small volume of milk processed and the fact virtually everything is done by hand.

At the end of each day, John says there is no better way to relax than with a glass of port and a slice of their own Aroha goats' cheese.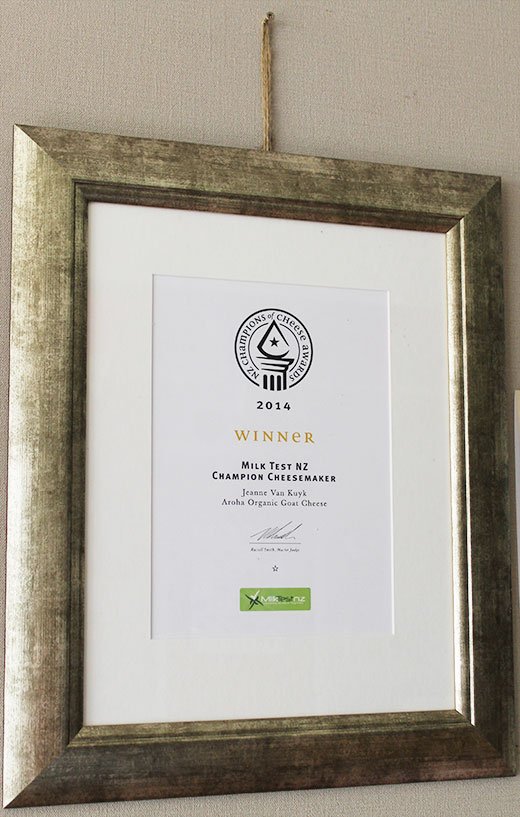 Jeanne van Kuyk's champion cheese maker certificate has pride of place in the family home.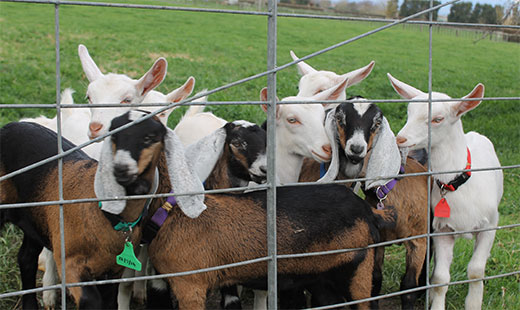 Kids will grow up to join the milking herd.