Zespri will decide near the end of this year if it will commercially release two new varieties to market after years of research into each via its plant breeding programme.
Zespri chief executive Dan Mathieson says a red kiwifruit variety the kiwifruit marketer has been trialing in its export market of Singapore for the last few seasons, and in New Zealand supermarkets this year, has seen an exceptional consumer response.
"It's gone particularly well in our trial market in Singapore – we sold out within a couple of weeks this season," says Dan, who gave a media briefing at Zespri's tent at Fieldays last month.
"And we had 30,000 trays for NZ consumers this season – that has gone very well with a very strong response to the taste and the colour.
"It is quite significantly different when you see it and this has driven a greater level of interest for some time in the kiwifruit range, which is pretty exciting."
Dan says Zespri is currently gathering all data around the possible commercialisation of a red variety and hopes to make a decision about its future this December.
"A couple of challenges still exist around storage and that when the fruit is stored at ambient tempera-ture it tends to ripen more quickly than our other varieties, but we believe these can be overcome in future."
Asked if a red's licence fees would fall into a similar field as that of the SunGold variety, Zespri's chief grower and alliances officer David Courtney says the details are still being developed.
"We haven't decided how we'll release, let alone if we release it," says David, who says the current price of SunGold licence reflects its current return and also the fact it is a proven variety.
Meanwhile, the aim of a new Zespri Green variety, which is also being considered for commercialisation, is to start the season with a green that's best meeting the needs of consumers and that is available earlier, ready-to-eat earlier and provides a better taste when picked earlier. "It's a sweeter flavour that's ready-to-eat, which Haywards struggles to deliver early in the season," says Dan.
"So getting that early window to sell a green is the opportunity we're chasing, and then transition into Hayward as the season goes along.
Dan says Zespri consumers have been telling them for a long time they went ready-to-eat green kiwifruit. "They love the health and nutrition but they want it in the most convenient format possible –ready-to-eat when they buy it off the supermarket shelf.
"And this is one reason SunGold has done so well – and why weekly sales run rates for green aren't as strong."
Asked if a red variety would cannibalise Zespri's green or gold varieties in the market, Dan says the aim of such a release would be "to grow the market".
David says when the Zespri brand began in 1997 it sold around 50 million trays of green fruit. "This year we'll do around 70-odd million trays of gold and 60-odd million trays of green, so we're doing three times as much volume.
"And yes there's some interaction between the two – some consumers switch from one variety to the other. But it doesn't happen one-for-one.
"So with red we imagine it will be the same – it may have a small impact on the other two varieties but it will bring new consumers into the fruit category that have never tried it before. That's the strategy."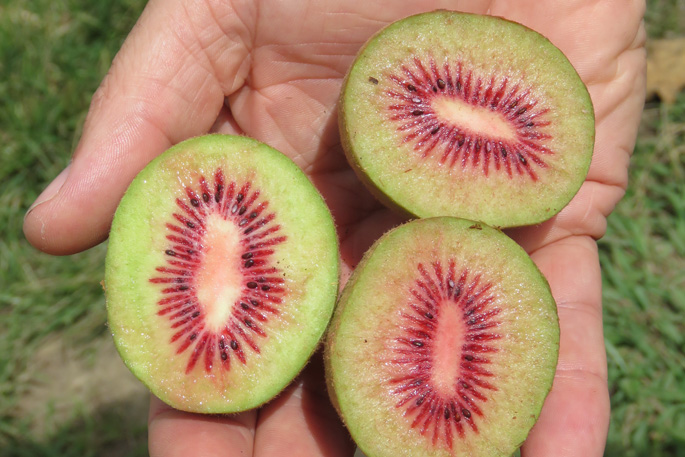 Dan says one benefit of the red variety is it comes early in the season – "so there's real opportunity to start the season with a lovely red and then transition through to SunGold and green".
"Ultimately, the answer is – if the red is released commercially, the consumer will decide," says Dan.
"What we need to do is ensure we have a range of products available for consumers that meet different needs. Then the consumer will tell us what they prefer through their purchase behaviour."