A Brown Marmorated Stink Bug incursion will happen in New Zealand – but what is critical is authorities identify it early enough to eradicate it, says a Ministry for Primary Industries expert on the bug.
"What we can all do is just have our eyes open. MPI has done a number of BMSB campaigns and have had a huge increase in reports of something suspicious to our 0800 number. And we investigate all of these," says MPI incident controller Dr Catherine Duthie.
"We ask people to report anything suspicious because we have people specially trained to identify insects. So phone the 0800 number no matter what it is. Even if you don't think it's a concern – phone anyway – that's what the number is there for."
Catherine, who is currently focused on the Mycoplasma Bovis eradication programme, is considered a subject matter expert for BMSB within MPI after working on preventing its entry to NZ for the last eight years.
She says BMSB is a bad crop pest but its method of getting into NZ is not associated with plant material. "The risk exists where this bug has the behaviour of overwintering. Come autumn, when day-length changes and temperatures drop – these are cues for this bug to find a nice place to spend the winter.
"They love to do this in the company of other bugs. They typically aggregate in a built-up environments or a rural environment with lots of buildings.
Overwintering behavior
"They crawl on the side of buildings or get inside cavities, ceiling spaces, or behind furniture – that sort of thing. They spend the winter, and come spring – when days lengthen and temperatures rise – that's their cue to come out."
Catherine says it takes about two weeks for the bug to emerge from over-wintering until they are sexually mature to lay eggs.
"But it's that overwintering period – where they get transported to other locations – that concerns us."
A few years back MPI discovered them arriving in new cars from the US. "Typically new cars are thought of as a low-risk pathway, as they are manufactured and shipped in short timeframes," says Catherine.
"What we found was these cars were being manufactured within about 24 hours then parked outdoors and loaded onto a truck to be transported to a port to be shipped to NZ.
"But they were being parked outdoors right next to corn fields at the time when the bugs were leaving those crops and searching for somewhere to overwinter.
"They'd crawl inside cars' door-frames, engine bays etc where they couldn't be seen, then be transported.
"So anything being packed up and shipped through the Northern Hemisphere winter period and has been in the right environment to be infested with BSMB could potentially arrive in NZ."
Catherine says the real threat comes when you've got a large number of the bug. "So while we've seen them brought to NZ in people's suitcases or things posted, because it's only one or two bugs that poses very little risk of the bug establishing a population in NZ.
"The risk comes from when you get 10 or more bugs on the same thing that arrive in the same location.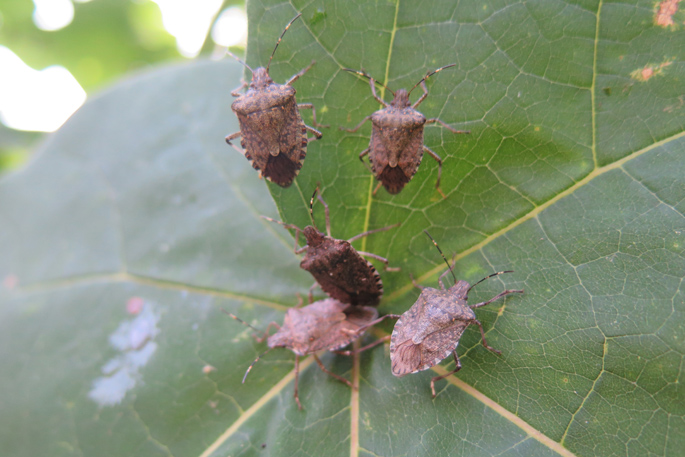 "What we know from looking at the invasion in the US and its spread rapidly throughout Europe is the bug tends to establish first in an urban environment then will make its way out to the rural environment. "They trip along slowly, eating ornamental plants as they go – it generally takes 10 years from first establishment of a population in an urban environment until you start seeing them impacting horticulture.
"It spreads out along transport routes due to plantings alongside that the bug hatches a 'lift' from."
And if a rural environment is alongside an urban space, the bug's journey could be a lot quicker and vice versa.
"Also, from what we've seen, is they are first noticed in urban environments in autumn when the bugs are starting to aggregate for the winter – that's when people notice them in their homes.
"Commonly you don't see them in gardens because they're dispersed across the landscape – or they're not yet in big numbers in an outdoor environment so you'd be hard-pressed to find them when they're at low population levels.
"But when people do notice is when they've got four or five bugs on the wall inside – and think: 'Oh, that's a bit weird'."
No zero-risk imports
"So the important message we need to get across to New Zealanders is there is no such thing as a zero-risk import – every single thing we import from overseas carries some degree of risk of importing something unwanted with it – no matter what it is."
Hence, Catherine says there is no way of getting rid of the risk – we can only reduce the level of risk.
"There are many strategies in place in NZ to protect us from a range of unwanted pests and diseases. The hard thing about BMSB is it's a hitchhiker pest – it has no biological association with the pathway of entry, so it's very difficult to predict which particular commodities imported are going to be risky.
"So we need to know much about the point of origin and surrounding environment – that's where the challenge comes in."
For example, Catherine says with fruit flies it is widely known fruit are hosts "so we can reduce the level of risk more easily. For BSMB is quite different".
"But it is worth mentioning that there's a huge amount of effort across MPI, and coordination with industry partners and many overseas experts to prevent a BMSB incursion – this has been a long-standing project for the last eight years at MPI to be well-prepared as we can for a possible incursion."
Catherine says MPI first looks at ways to minimise the risk of imports of the bug. "Secondly, we look at protection methods, so what traps will be most effective, and we've done a lot of research and trials into trapping systems; and we look at what chemicals we have available if we do need to respond, and the Environmental Protection Agency has approved use of the Samurai wasp.
"So we have a lot of tools in our toolbox – because there is no silver bullet solution. Hopefully, we find an incursion early enough that we can ensure eradication, because there will be an BMSB incursion in NZ at some point."
Chile incursion
Catherine says BSMB last year reached Chile. "This is the first Southern Hemisphere country to get this bug, which increases the risk to NZ once those populations in Chile have increased.
"It is early days in Chile; they only have it in a couple of locations in central Santiago and are working really hard to try to control its spread.
"We've [MPI] been over there to work with Chilean authorities on their control programme. But if it does spread out to their horticultural environment that's when we really start getting concerned.
"Chile being in the Southern Hemisphere makes it a year-round threat to NZ. It could potentially come here during the overwintering period – or during the summer period and straight into our summer and perfectly establish.
"This increases the risk to NZ – but that's few years off until Chile's BMSB population increases."
"What I hope is we find an incursion early enough to eradicate it and have the tools available to do so."