With a new dairy season and calving looming, how operators treat and care for their staff can be one of the most effective strategies they can utilise to ensure things run smoothly on-farm.
Here, Coast & Country News writer Catherine Fry talks to a Waikato dairying couple who have been recognised for their employment practices.
At the first ever MPI AGMARDT Primary Industry Good Employer Awards, the Jaydee Partnership of Jenny Buckley and Dave van den Beuken received a Highly Commended in the Innovative Employment Practices Award section.
They were nominated by Phil Irvine from DairyNZ. This is not the first time the couple have been recognised for their employment practices. They won the Federated Farmers' Presidents Award for Employer of the Year at the 2013 AgITO Awards.
Jenny and Dave are 50/50 sharemilkers on a 200ha dairy farm in Tauwhare, milking 530 cows year-round. Farm owners Trish and Paul Jones live in Pongakawa and are described by Jenny and Dave as "top owners and very supportive".
The initiation of their employment practices started back in 2007, when the business grew to the point where the couple couldn't do all the work themselves.
"We completed a staff management course through Fegan and Co Recruitment and HR, and then started to put a new strategy in place," says Dave.
Overstaff farm
The strategy was to overstaff the farm, enabling them to be totally self-contained and sustainable.
"If one of us is sick, or on time off, we can cover one another and never be short-staffed, even during calving," says Jenny.
In June 2015, the Jaydee Partnership stepped away from the conventional every second weekend off roster, and implemented a 7/2, 7/2, 7/3 roster.
"Looking at our own experiences, we felt that 65 hours a week wasn't safe, and there was no work/life balance for the team.
"Our farm owners were supportive of our plans to do split calving, so we now only milk peak numbers for seven months of the year," says Dave.
Dave is on the roster, with staff Dennis Dangaran, 36, Jan Baybayan, 28, and Lloyd Uy, 31. Jenny works full-time but concentrates on the twice-yearly mating and calving.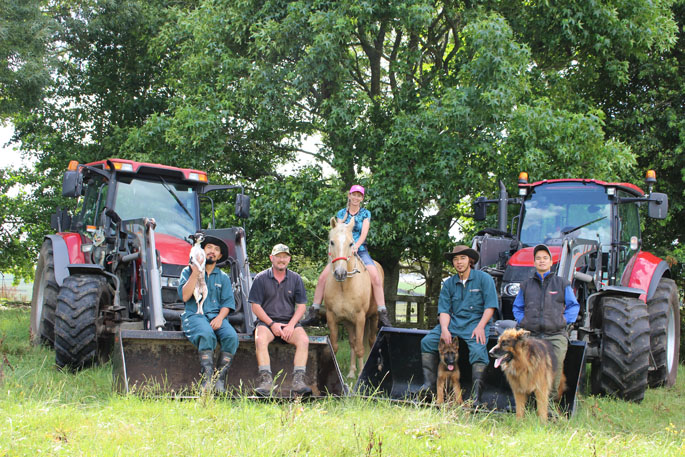 The workers average 45 hours a week during the year, and accident/incident reports have reduced by 90 per cent.
All staff are from the Philippines, partly due to difficulties in attracting appropriate staff from within NZ. The couple have previously successfully employed New Zealanders, but they have left after around three years.
"When staff leave you have to look at why they are leaving and learn from it. Ours left so they could progress up the dairy management ladder.
Filipino employees
"It's a huge time investment in training someone from scratch and then they leave, and you have to start again with someone new," says Dave.
Filipino farm employees are usually very well educated, and experienced, having completed the pre-requisite two years on a dairy farm to work in NZ. They make a massive sacrifice, leaving family and friends in order to work here and support their extended families over in the Philippines. Failure is not an option for them.
"We have really enjoyed learning about their culture and values, and using this to create a better workplace," says Jenny.
There is quite a large Filipino community in the Waikato, and the Jaydee workers enjoy basketball, sightseeing, and church during their time off.
"We understand the importance of going back to their families in the Philippines, and they're always given the opportunity to return for a five-week break," says Jenny.
Both Jenny and Dave readily admit that it took them a good year to get used to having time off. "We used to feel guilty, and find it hard to let go, but it's not healthy to work all the time," says Dave.
The couple have devised strategies for ensuring staff who are experienced and trustworthy stay in the job. They have three core values for making a great team in the workplace.
Remuneration
Financially, staff need to feel that their remuneration reflects their contribution. "We ensure their salary is competitive and matches their input," says Dave.
Professionally, staff need to feel their role is contributing to the business. All staff have certain roles and responsibilities above milking.
"Dennis is in charge of the 20ha run-off, and runs it like a little dairy farm, learning from his successes and mistakes," says Dave.
Jenny and Dave try to create career progression and responsibility within the business, and "let go" a bit.
Time off
Emotionally, staff have plenty of time off to rest, spend time with friends and family, and pursue recreational activities. "These values create a highly motivated team who give their best and are happy," says Jenny.
Despite being rather humbled and overwhelmed by the interest the award has generated, Dave and Jenny feel very strongly about championing a work environment model that attracts people into the dairy industry. "It's simple – a happy team is a productive team," says Dave.