The world's first robotic logging truck scaler was unveiled at Mount Maunganui last month, transforming safety, efficiency and accuracy of the measurement of export logs at the Port of Tauranga.
Trade and Export Growth Minister David Parker cut a ceremonial ribbon to mark the commissioning of two Robotic Scaling Machines at ISO's log scaling facility on Hull Rd.
The job of measuring logs has been an existing manual system, used worldwide, which requires people to hand scan the logs and climb between trucks and trailers, says ISO chief executive officer Paul Cameron.
The RSM now gathers this information with a robotic arm, which passes over the logs on a truck and a trailer. This makes the process much safer for workers. "The technology moves people off the ground from areas where they could be at risk to areas that are controlled
"They can then take time to assess the detail coming from the images to get a far better recognition of the volume of the log, which then flows all the way back to the forest owner and for the tree that was planted almost 25 years ago.
"It's also much faster, taking between three and four-and-a-half minutes to scan and measure a truck and trailer, no matter how many logs. In contrast, the manual process can take up to 40 minutes."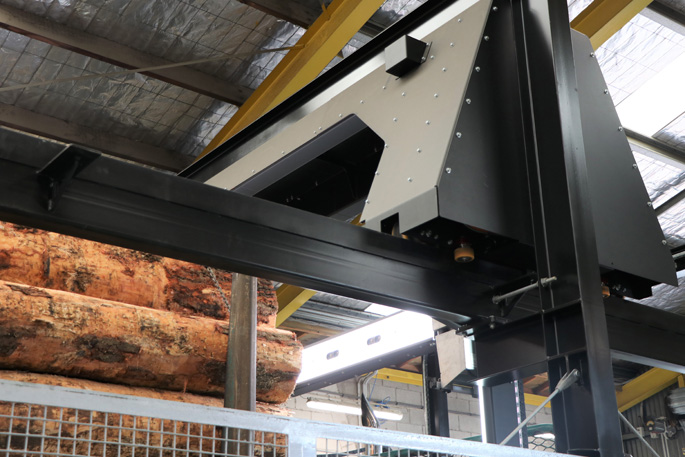 Paul says they've also found the RSM to be much more accurate. "So far, we're achieving 95 per cent accuracy in the measurement of packets of logs. This has exceeded our expectations."
Paul's company had been looking to improve efficiency and safety of measuring truckloads of logs as they come to the port, with more than 25 million logs per year coming through NZ ports.
The machine was initially a concept of ISO's, and they searched for a partner to transition the concept to full commercial reality.
They formed a development partnership with Tauranga-based firm Robotics Plus to develop a full-scale, commercial model complete with custom robotics and sensing systems for meet their requirements.
Robotics Plus chief technical officer Dr Alistair Scarfe says automation of the prototype provided some complex technical challenges. "Logs come in all sorts of sizes and number on each truckload. Sometimes the ends are caked in mud and light conditions vary constantly.
"To overcome these issues, we developed an array of cameras that take multiple images and process them into a three-dimensional representation of the load of logs. The RSM then calculates accurate dimensions of the load which are uploaded to ISO's database."
Alistair says the way the technology is being applied and the problem-solving that's made the log scaler work is world-leading. "We're very proud of what our team has achieved."
The Minister says the technology is a real example of adding value to volume. "The value here arises from not just selling the log, but from the technology that Robotics Plus and ISO have teamed together, which is world-leading technology. It reduces cost, improves efficiency and creates new jobs."
Paul says the RSMs create new higher skilled jobs and help address a long-term, chronic labour shortage. "We always have a number of vacancies for the manual measuring, so the new machines are helping address that. They also need highly skilled people to run the processing side. So far, we've employed five people to do this with six more to come."
Alistair says local suppliers also made important contributions to development of the RSM, showing "the potential for robotic technology to create clusters of excellence".