Views of bush-clad hills and lush green paddocks, grazed by calves and Suffolk sheep, surround Simon and Caroline Marriott at their Coromandel Peninsula property – but 15 years ago their outlook was completely different.

Simon Marriott has created his own 'wildlife reserve' by damming a small wetland on the family farm.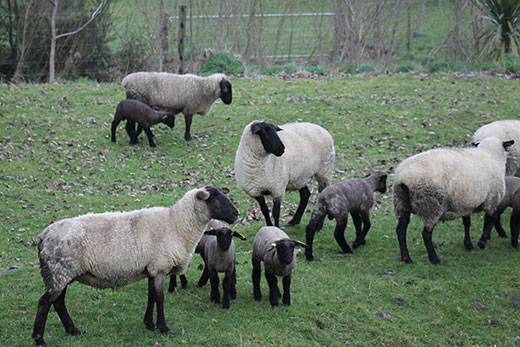 Suffolk sheep are also bred on Simon and Caroline Marriot's farm.

Back then the couple lived among the spectacular landscapes of northern Kenya, where 'livestock' included rare black rhino and Grevy's zebra.

The contrast between their secluded 12.4 hectares in Omahu Valley, near Thames, and Lewa – a 22,257.7ha Kenyan wildlife conservancy – couldn't be more extreme.

Instead of green pastures there were savannah, wetlands and forests roamed by elephant, giraffe, buffalo, antelope, lion, cheetah and leopard.

In 1995, Simon, a former British Army officer became the privately-owned conservancy's administrator. So together with wife Caroline, a physiotherapist, and children Clare, four, Sally, three, and Tom, 15 months, the family left England for Lewa.

"It was a huge step to leave England with such a young family, and another child, Emma, on the way; but it was a wonderful opportunity for our children to experience Kenya and the wildlife there," says Caroline.

The four years the Marriotts spent at Lewa were challenging and exciting, and they loved it.

But they came to New Zealand in 1999 to further their children's education, although the family retains close links with one of the most successful and innovative wildlife conservation projects on private land in eastern Africa, and perhaps worldwide.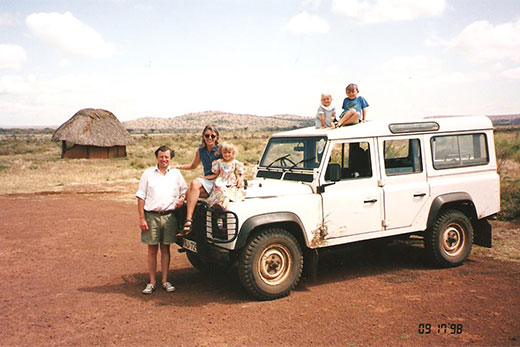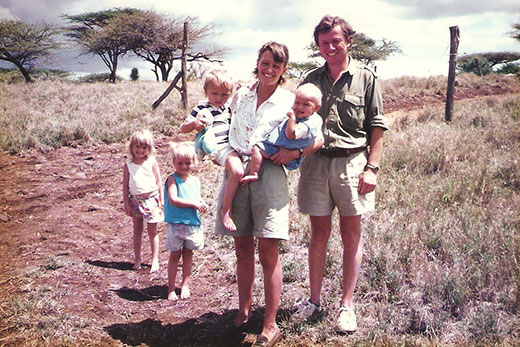 Anna Merz
Simon says Lewa had its beginning thanks to English woman, the late Anna Merz, who was passionate about conservation of the critically endangered black rhino.

In the early 1980s Anna approached the Craig family, who owned a large cattle ranch in northern Kenya, to establish a rhino sanctuary on their land.

Ngare Sergoi Rhino Sanctuary thrived and became the Lewa Wildlife Conservancy in 1995. Lewa's strategic adviser Ian Craig, with Anna, and his late father David Craig, ran the sanctuary.

Ian also spearheaded formation of the Northern Rangelands Trust, an umbrella body supporting community conservancies in northern Kenya.

Simon's role at Lewa included arming and training guards to protect wildlife from poachers; and he was also involved in Lewa's programmes to provide a sustainable future for the conservancy through tourism, and ensure the co-existence of wildlife and human populations in the area.

"We were able to demonstrate to local people the value of live animals, because of the tourists they attracted."

Thanks to tourism and international donations, Lewa and the people within the area continue to benefit from improved roads, schools and income.

Perimeter fence
"The perimeter is fenced but there is 30 metre gap in the north side, which migratory game like elephants and antelope can pass through, but with a low wall that prevents rhino from crossing," says Simon.

As the benefits of the conservancy were recognised by adjoining landowners and the government, Simon says the conservancy boundaries have grown.

Plus, even more ways of protecting wildlife have been found, including a highway underpass that allows elephants to follow their traditional migratory paths.
"There were many sceptics that the elephant underpass wouldn't work, but it did."

It took just one bull elephant named Tony to walk through the underpass for it to become accepted by the herd.

Small farm
Buying a small farm wasn't part of the plan when the Marriotts arrived in New Zealand but after the wide open spaces of Lewa, urban living didn't appeal.

When they found the property in Omahu Valley Rd in 2000 it was love at first sight. Then came the realisation a small farm can be almost as much work as a big one, and it needed to pay its way.

Caroline and Simon employed a consultant for advice and decided to plant citrus trees – 900 of them during two years. There is about 0.6ha of Yen Ben lemons and the same area of Bearss Limes. Other citrus trees on the farm include tangelos, tangors, grapefruit, lemonade, mandarins and various types of oranges.

The whole family planted most of the orchard and shelter trees. Now Simon and Caroline manage the orchard themselves, pruning, fertilising, mowing, spraying and picking fruit.
"The good thing about citrus is you don't have to pick it all at once," says Simon.

As well as running the orchard, Simon joined the Waikato Mounted Rifles as its commander. For 11 years Caroline has worked as a physiotherapist at the Thames Hospital, while at the same time building up a small flock of pedigree Suffolk sheep and making marmalades, pickles and preserves from the orchard fruit.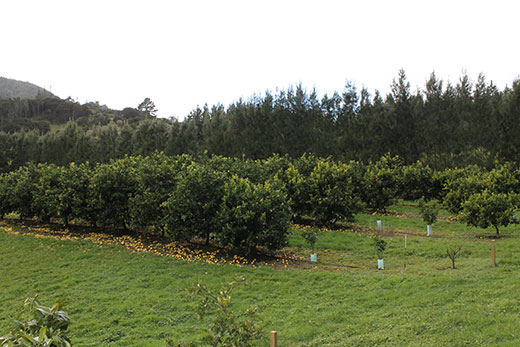 There are about 900 trees in the Omahu Valley Citrus orchard.
Thames market
"I was selling fruit at the Thames Market when I inquired about selling homemade marmalade too, only to be told I needed a registered kitchen to be able to
do that."

Caroline and Simon didn't want to go to the expense of building a commercial kitchen until they knew the business would be viable, so Caroline went to Thames-Coromandel District Council for advice.

"The Environmental Health Officer was very helpful, and after visiting my home kitchen, said it could be registered provided I followed strict food safety protocols using a Food Control Plan," says Caroline.

She also attended a food-handling course and began producing a range of sweet and savoury products, all preservative-free with no artificial ingredients.

These are sold under the Omahu Valley Citrus label, using fruit from the orchard.

The popularity of her products at the market has grown and Caroline also supplies a number of retail outlets, including Farro Fresh Food in Auckland.

Always aiming to refine her products, Caroline decided to enter the 9th World's Original Marmalade Awards in England because judges give detailed reports on each entry, whether it wins or not.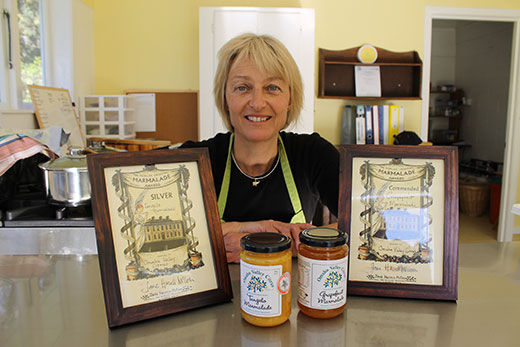 Caroline Marriott's Omahu Valley Citrus Tangelo Marmalade won a silver award and its grapefruit marmalade was highly commended in the 9th World's Original Marmalade Awards in England.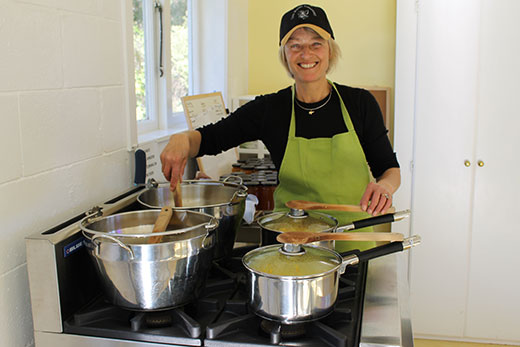 Caroline Marriott makes a wide range of sweet and savoury products from Omahu Valley's orchard.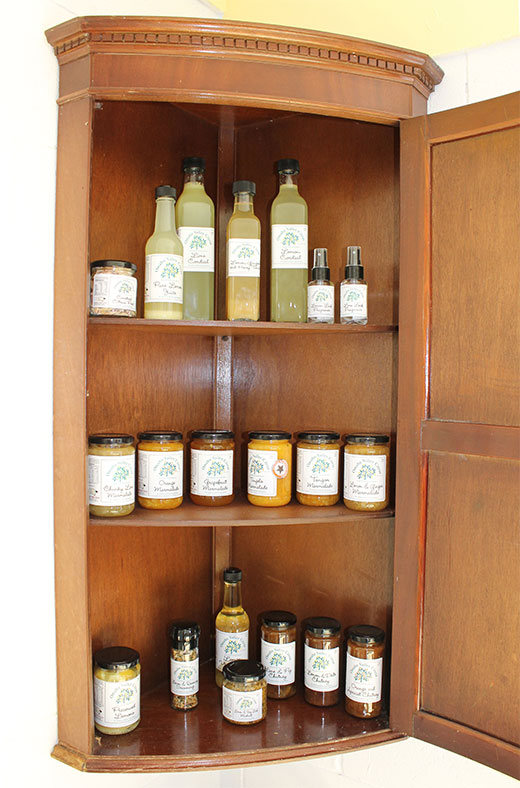 Silver award
To her delight, Omahu Valley Citrus Tangelo Marmalade won a silver award and its grapefruit marmalade was highly commended. Confident Omahu Valley Citrus products had a future, Caroline and Simon converted their garage into a modern certified kitchen,
completed in mid-August.

"It's a wonderful space to work in, bright and light; and having a separate and professional kitchen will greatly help to expand the business and increase production of the Omahu Valley Citrus range," says Caroline.

To find out more about Lewa, visit www.lewa.org/ To order Omahu Valley Citrus products email simon.marriott@actrix.co.nz